Written and Illustrated by Inio Asano
Vertical Comics (2016)
Summary: When Koume and Keisuke's relationship begins to take shape, it is apparent that they are both searching for something. Maybe Keisuke wants something more than a kiss from fair Koume. Maybe Koume is looking for someone better than Misaki, the local playboy. But what they find in each other over the course of a summer might be far greater than anything they were expecting. Their lives are going to change. And this will all transpire before high school exams! [From the back of the book.]
Review: If Inio Asano's name sounds familiar, it's because last year I reviewed the entirety of his acclaimed manga series Goodnight Punpun which as of this year finally got licensed in America. With A Girl on the Shore, such as he did with Goodnight Punpun, Asano continues to explore the trials and tribulations of adolescence. This time focusing on a couple of kids growing up in a small seaside town whom attempt to grow up and grow past the events of their pasts that haunt them.
Unlike Punpun however, this short series does not feature a main character depicted as a bird in order to give some innocence to a story devoid of any, no in this work he uses nothing but humans dressed up as humans amongst gorgeous small town landscapes, depictions of the sea, and his iconic detailed art style that makes everything feel as real as if it were happening to you.
Like the summary spouts, Koume and Keisuke – a young girl and boy – drive the series as their lives cross paths and they learn to give their all to one another and even lose faith in one another. It's a very adult story that in fact does happen to kids in reality, whether we like to admit it or not, and thus such Asano doesn't pull any punches when choosing to depict the graphic sex (and some violence) that takes up a good bit of this story.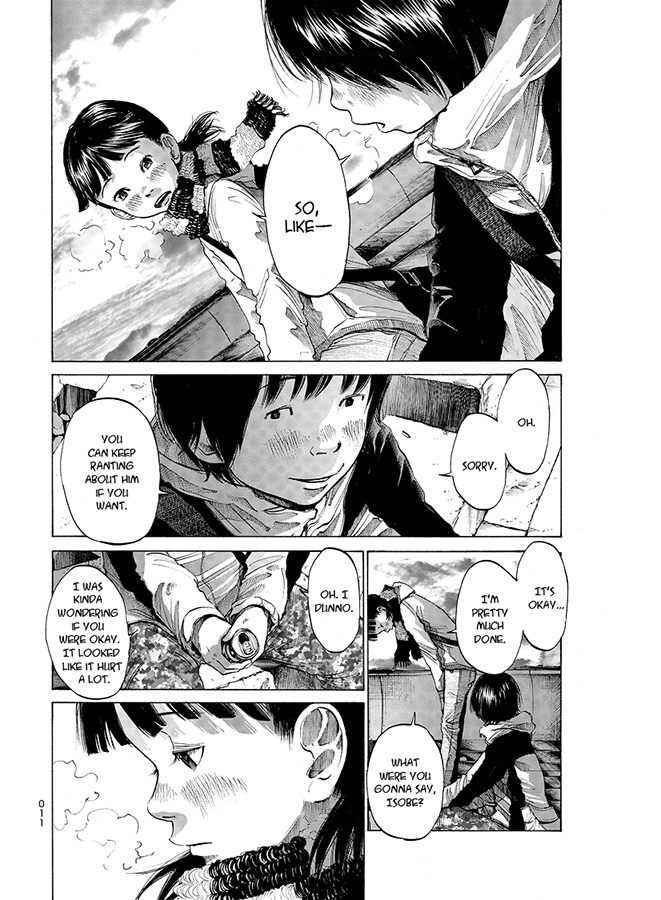 Koume opens up her story as coming off of an abusive relationship with Misaki the local playboy. She finds something to hope for in Keisuke who likes Koume but doesn't have the guts at first to let her know that. The two are innocent enough together, Koume is an average girl who doesn't really get computers or technology all that well, and while Keisuke doesn't he doesn't seem to have her abashment for blunt truth.
Of course as the story goes the two fall deeper in lust with one another, Koume who wishes to rid herself of her memories with Misaki and Keisuke who has an unknown history with Misaki beyond seeing the girl he loves constantly abused by him. Misaki as a character really plays a background part in all of this. Once Koume leaves his life we don't really see a lot of him again until near the end when all of Keisuke's anger and hatred towards this man comes to a head.
And what of the titular girl on the shore? Well the title isn't symbolic of Koume who lives on a seaside town, no instead it represents a literal girl on the shore. One of the side stories involves Keisuke finding a memory card from a camera on the shore and when he uploads it finds pictures of a girl he's never seen before within. He then becomes obsessed with finding her, much to Koume's distress.
Keisuke's fascination with the girl does help to drive a wedge between the two kids but ultimately the overall 'girl' doesn't really ever become incredibly important in the story. Which continues the Asano tradition (at least as far as Punpun and this book go) of introducing a plot thread you think will become important later but in fact is something you can take out completely and it would be the exact same story. It is annoying but it's far less of a concern here than it was with Punpun.
The ending is also quite anticlimactic, and in my personal opinion the final pages don't make a whole lot of sense when looking at the story as a whole. Yes we get to see Koume's a little more grown up and moving past her adventures from Junior High, and Keisuke has met a fate I feel is probably as natural for his character as Asano could get with that. But there is a conversation between Koume and another side character from the book at the end that starts out real nice but in the last few pages devolves into Koume saying she finally found what she had been looking for this whole time, something bigger than everything else, the sea. And I promise you the ending doesn't do much to mesh well with the overall tone and nature of the story as much as I would love to tell you it does.
Inio Asano is a fantastic artist, and he's actually a pretty great storyteller, but in my opinion he doesn't know how to stick a landing or take out fluff in his stories. Now I've only read two of his works so far and I will definitely be checking out more. But for now this is the impression he's given me. That being said, like Punpun, I do recommend this book to fans of mature stories about the human soul.
Just be forewarned of the graphic sex in this. Some people can handle it, others can't. I bought this book legally here in the U.S. where it's being sold by Vertical Comics. It's a good story overall, it just may be hard to handle for some people in some areas.
Final Score: 3.5 Sleepy Seaside Atmosphere Pages out of 5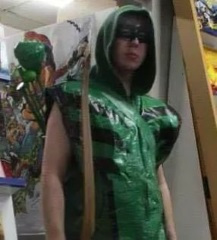 Derrick is a born and raised otaku with a love for comics, anime, manga and movies. The full list is pretty long, but that's just the basics. Stories set in space are his bread and butter.
You can find more of his writing at IndieComix.net
@KazekunForever