(Image Comics 2016)
Story: Jeff Lemire & Emi Lenox
Script: Jeff Lemire
Art: Emi Lenox
Colors: Jordie Bellaire
Letters: Steve Wands
Cover: Emi Lenox Review by Paul Bowler
Plutona is one of those new comic book series that arrives like a bolt from the blue, capturing the imagination and completely blowing you away with its thoughtful premise, great writing, and beautiful artwork. The new Plutona trade paperback now collects this wonderful five-part Image Comics super-hero series by Jeff Lemire and Emi Leox, in which we follow the adventures of five everyday suburban kids who just happen to stumble across the body of Plutona - one of the worlds superheroes - after they go exploring in the woods one day after school.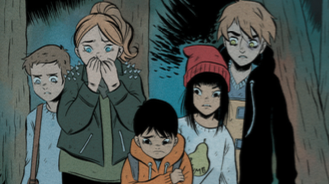 What really makes Plutona so special though is the way that writers Jeff Lemire and co-writer / artist Emi Leox have grounded everything within the context of normal life; the superhero antics going on in the world are merely a cursory backdrop to this insightful, teen-angst fueled, and often moving coming of age-tale that simply tells it how it is. Lemire and Leox set the tone of this series perfectly, you are effortlessly drawn into the story right from the first issue, and Lemire's knack for making all of the characters seem so believable and realistic makes for compelling reading, and every single line of dialogue brings the characters to life on the page in the most extraordinary, emotionally powerful, and sublime way imaginable.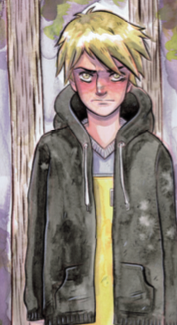 Plutona is a beautifully structured tale of how the fateful discovery of the body of superhero Plutona in the woods bring five miss-matched kids together as friends and custodians of a terrible secret. It is through these bonds of friendship which writers Jeff Lemire and co-writer / artist Emi Lenox make their compelling cast of characters so believable and relatable to us all. Ted is the geeky cape watcher / blogger, Ray's a boisterous tearaway whose swagger masks his terrible home life, then there's Diane, she is very conscious of her weight, and also has a new puppy, called Loki, while Diane's best friend Mie is the no-nonsense outgoing one of the group, and Mie's little brother, Mike, is always glued to whatever video game he's playing. Lemire and Lenox skillfully chart the characters individual story-arcs and friendships over the course of the series, blending everyday school life, along with a minefield of teen angst, and the discovery of Plutona's body to weave a wonderfully frank, thought provoking, and often dark storyline that exceeds all expectations.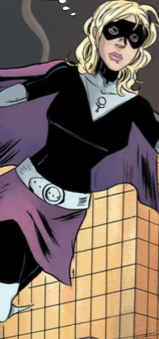 Emi Lenox's art for Plutona is simply beautiful. The page layouts will completely immerse you in the story, you often feel as if you are right there with the characters and their individual situations, and the empathy you feel for them resonates powerfully though Lenox's artwork. The attention to detail is highly impressive, yet strikingly subtle in its simplicity, as the friends are gradually brought together by their discovery of Plutona's body, but their secret eventually becomes a terrible burden, and every moment is skillfully realized by Lenox's art, and Jordie Bellaire's magical colors further heighten the tone and atmosphere of every issue. The backup story cleverly relays the events set before Plutona's death, where we follow Plutona's last adventure and fight against the White Wasp - providing extra weight and gravitas to the main story-arc.
As the pact made by Mie and her friends to keep Plutona's body a secret gradually begins to crumble around them, the startling conclusion to this spellbinding comic book series will have you on the edge of your seat. With their friendship torn apart by the terrible repercussions of betrayal, lies, and a fateful argument, the kids now find themselves lost in the woods, and what happens next will change their lives forever.
Plutona is a uniquely brilliant super-hero version of Stand By Me, with its superb story by Jeff Lemire and co-writer Emi Lenox, together with Emi Lenox's incredible artwork and colors by Jordie Bellaire, and letters by Steve Wands, this Image Comics series impresses on every level, and then some! The Plutona trade paper back beautifully collects this outstanding series together in one sumptuous volume, including a cover gallery, character sketches, brilliant pin-ups, and creator info, it's a great collection for fans and new readers alike. So if you are looking for a TPB that's a cut above the rest, I'd certainly recommend Plutona.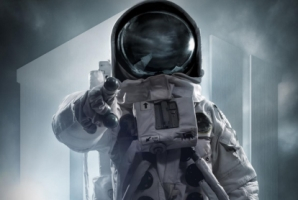 Paul Bowler is a self-Confessed Sci-Fi Geek, Doctor Who fan, and Zombie Disposal Expert. He likes movies, comic books, and all things PS3. He likes to write about his interests, would love to write a novel one day, and also enjoys chatting to the many people he has gotten to know on Twitter. When he's not busy being an Impossible Astronaut, he likes to take a break from his adventures in time and space to enjoy some of his favourite tv shows and movies, preferably with a nice cuppa tea & a sandwich! You can follow him on Twitter @paul_bowler, or find him at his website, Sci-Fi Jubilee.