(IDW-2016)
Writer and Letterer- Fred Van Lente
Art- Ryan Dunlavey
Colors- Adam Guzowski
Are you interested in comic books? Do you have an appreciation for the comic book art form, and how it came to be? If you are reading this you love comics. If you are reading this you also have a mind that whats to delve into more than just the comic books themselves. You are a high-minded sponge wanting to contextualize the books in more than its finished form.
Am I buttering you up, dear reader? Maybe. Do I have a book I think you will find interesting? 100 percent!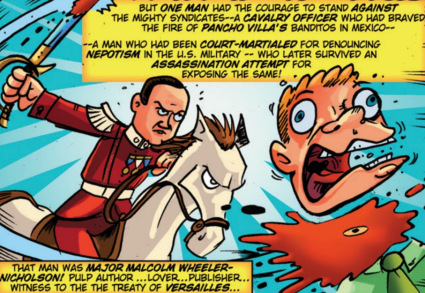 IDW has given comic book readers a mini-series in comic book history. Writer Fred Van Lente (Ivar, Timewalker: Breaking History) and artist Ryan Dunlavey (The Dirt Candy Cookbook) take us back in time to when comic books were first emerging from their gooey slim to enhabit the earth, and change the imaginamtion of the world.
The second installment of six leads us out of Eygpt and into the real meat and potatoes of what we all recognize as comic books (1938-1942).
Here we get the history of Dell, Eastern, and the original "stick it to the man" independent comic book company, National Allied Publishing. We are introduced to the head of NAP, the swashbuckeling Major Malcolm Wheeler-Nicholson, and his SUPER (pun intended) freelancers, Jerry Siegel and Joe Shuster, as they take on the mainstays of the comic book world.
We see the Golden Age rise with the talents of guys like Jack Kirby and Joe Simon, and the lows as the cutthoat business of comics tramples their superstars just as fast as they built them up.
The Comic Book History of Comics is a wonderfully fun look at the world we all love. It shows a glimpse into the good and bad history of the industry, and does it in an extremely captivating and interesting way.
Anyone that is interested in comic books should check this out soley based on the talent working on it. What makes this special though is the information it provides. It gives readers an in-depth and will expand your view of the industry, and the ones who created it.
Well done IDW, and well done Lente and Dunlavey.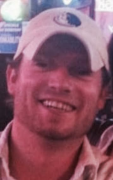 Jonathan Winchester is a writer from Dallas, TX where he lives with his wife Maddie and their annoying cat.  He believes Han was the lone shooter, that nothing looks better than a silver age comic in Mylar, and that there is no better feeling than walking into a dimly lit movie theater.
Twitter- @TexasWingnut