(IDW 2016)
Writer: Joe Harris
Art: Wayne Nichols
Colors: Sebastian Cheng
Letters: Chris Mowry & Tom B Long
Cover: Menton 3
It is the season of goodwill in the X-Files X-Mas Special 20116, where a spooky seasonal box of uncanny delights and intrigue await Mulder and Scully as they investigate a school holiday pageant that becomes a Christmassy extraterrestrial mystery. Mulder must face ghosts from the past, threats in the present day, and the unexplained truths of the future. Along with Scully, and a wealth of seasonal visitors, this is one Christmas that Mulder and Scully are never going to forget - so long as they survive Christmas Eve.
FBI Agents Mulder and Scully embark on a decidedly bizarre X-File this holiday season in this year's X-Files X-Mas Special from IDW Publishing, written by Joe Harris, with art by Wayne Nichols, colors by Sebastian Cheng, and Executive Produced by Chris Carter. Yes, the X-Files brings its own unique spin on a Christmas Carol in this issue as mysteries both paranormal and extraterrestrial collide to bring Mulder and Scully the true spirit of Christmas!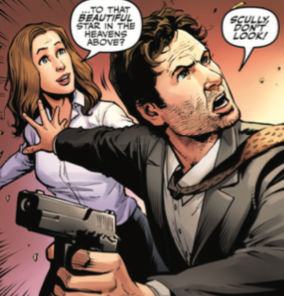 Christmas Eve falls over Washington DC as a mysterious force gathers, but is this manifestation making an assessment the people of Earth over the holiday season or just gathering intelligence about special FBI Agents Fox Mulder and Dana Scully? So, when a deluded Fox Mulder races to meet Scully at a children's Christmas pageant, where events have already begun to take a bizarre turn, Scully and Mulder find themselves facing an inexplicable threat this Christmas that's unlike anything they've encountered before.
From its dramatic scene setting and fourth wall breaking opening, writer Joe Harris ensures that the X-Files 2016 X-Mas Special is chock full of surprises and suspense in the truest X-Files tradition. After that uncanny start this special festive themed issue flashes back to events earlier in the day on Christmas Eve, where Mulder has accompanied Scully to a holiday market. But with Mulder acting all Ebenezer Scrooge, together with a fleeting glimpse of an ethereal figure Mulder believes could be his sister Samantha (who was abducted by aliens when they were children), the Christmas festivities begin to prove a bit too much for Mulder to stomach.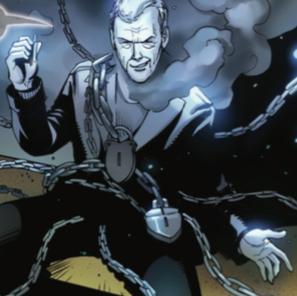 So, while Scully decides to accept Miss Holly's invitation to attend a Christmas Pageant, Mulder retreats to his office back in FBI Headquarters, and it is here where this X-Mas Special really kicks into high gear. This issue features some great artwork by Wayne Nichols, especially in the sequences were Mulder is visited by the ghosts of Christmas past, present, and future, with Nichols brining a distinct X-Files twist on this classic tale as iconic X-Files characters and themes are deftly spliced and magically transformed as the story unfolds. I really liked how this aspect of The X-Files 2016 X-Mas Special explores the story of Samantha Mulder in a completely new and different way - and Nichols art, together with. Sebastian Cheng's rich colors proves the perfect accompaniment to Joe Harris' intricately plotted and emotional story.
Everything is resolved a little bit quickly at the end of the issue, but that's just a minor point really, because the journey Mulder takes in this issue is at times actually quite moving, so it was nice to have everything get wrapped up neatly for a satisfying conclusion. The mysterious Miss Holly remains an enigma throughout, there's even a kiss under the mistletoe, a wonderful closing scene between Mulder and Scully to enjoy, and as an X-tra special treat we also get a bonus sneak peak at The X-Files #10 (released January 2017).
From the moment you glimpse The X-Files 2016 X-Mas Special, with its brilliantly spooky looking Cigarette Smoking Man cover by Menton 3, and begin reading you'll soon realize this is a very special and different kind of X-Files story. The tone is somewhat lighter for The X-Files than we are normally used to in IDW's ongoing comic series, but it is Christmas after all, and you'll soon find yourself swept along with this delightfully weird and wonderful Christmassy special form Joe Harris, Wayne Nichols, and Sebastian Cheng.
Happy Holidays Everyone!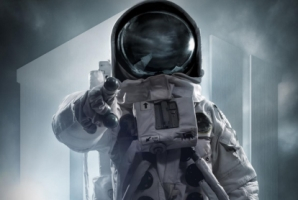 Paul Bowler is a self-Confessed Sci-Fi Geek, Doctor Who fan, and Zombie Disposal Expert. He likes movies, comic books, and all things PS3. He likes to write about his interests, would love to write a novel one day, and also enjoys chatting to the many people he has gotten to know on Twitter. When he's not busy being an Impossible Astronaut, he likes to take a break from his adventures in time and space to enjoy some of his favourite tv shows and movies, preferably with a nice cuppa tea & a sandwich! You can follow him on Twitter @paul_bowler, or find him at his website, Sci-Fi Jubilee.