2016: For Better or Worse, the Year of the Reboot
By: Shawn Warner
     It's that time of the year again, when everyone gets a case of short term nostalgia and finds it oh so necessary to make lists; the ten best movies, the fifty best books and so it goes. Well, not to be outdone by those list making gadabouts, I sat down to compose my list of the best comic books of 2016.
To begin I feel I should preface this compilation of noteworthy comic books by commenting on the climate in with they were created; 2016 was a damned crazy year, not only in the political arena but for comic books as well. We started the year with Marvel promising an "All New All Different" post-Secret Wars Marvel Universe and for the most part The House of Ideas delivered in staggering mediocrity. Meanwhile DC had a Rebirth of their own restarting every title with a Rebirth issue (which was essentially a zero issue or one-shot, if you prefer) followed by a brand new number one. This they followed with the introduction of their Young Animal imprint, where the more esoteric titles, like Doom Patrol would find a home. The smaller publishers pretty much stayed their respective courses; Image continued to turn out Vertigo-like creator owned properties, some stellar, others not so much, Dark Horse scrambled to recover from losing their long held Star Wars publishing rights. Valiant shook things up with a bit of a soft reboot, turning control of many of their top tier titles, like Bloodshot and Divinity over to Matt Kindt and Jeff Lemire, a very shrewd move in my opinion as I consider both of these guys to be among the best and brightest creators working in comics today. Overall it was a year of change for better or for worse many of our most beloved characters and franchises underwent extreme makeovers; what follows is my list of the best of a tumultuous year in comic books.
      First up is DC Rebirth which for me, was the most ambitious and outstanding line-wide retooling undertaken by the big two publishers. Under the guidance of Geoff Johns the Rebirth initiative corrected the most glaring missteps of the New 52 and instead of focusing on new costumes and "cooler" character iterations, Rebirth was more concerned with DC's illustrious history and complex continuity.
The strength of this brilliant reboot is solid storytelling and to that end Johns' and company have employed some of the very best the industry has to offer; the prolific Tom King took over the writing duties on Batman from fan favorite scribe Scott Snyder and has done a fantastic job of keeping the stories dark, grim and engrossing, Peter Tomasi tells a Superman story full of heart and human drama firmly rooted in family, James Tynion IV has taken Detective in the direction of a team book which has worked incredibly well thus far focusing on Grant Morrison's Bat Woman as the team leader  and the list goes on. It's not just the A listers that are garnering all the praise at DC either, in fact Deathstroke has been consistently one of my most looked forward to books as written by comic book mainstay Christopher Priest, Dan Abnett  has a double team of great books with Aquaman and Titans, both of these books make my top ten.
     One book that always exceeded expectations before the DC Rebirth was Batman as written by Scott Snyder with art provided by visionary creator Greg Capullo. The penultimate and final issue of their run both find spots on my top books of 2016 as. Snyder pens a poignant thank you letter, as heart-felt as it is enthralling is the perfect conclusion to their epic five year run on Batman. The narrative takes the reader on a one night tour of Gotham filled with iconic scenery and characters. Snyder has always had the unique ability to write Gotham as a character, as alive and full of pathos as any other in the Batman cannon. This has been an on-going element of Snyder's Batman work even before the New 52; his stellar Gates of Gotham mini-series and his short but exciting and dark stint on Detective Comics both likewise feature his organic take on Gotham, handling the city more as a character than a setting. This along with Greg Capullo's gorgeous artwork are two of the many reasons why Batman will always hold the number one position when listing the highlights of the New 52 and why the series finale has nabbed a place on my list of the best in comic books 2016.
As amazing as Rebirth is DC didn't stop there, in fact 2016 would be the year that Young Animal would roar onto the scene. Visionary writer and Grant Morrison protégé Gerard Way led the charge that included a brand new Doom Patrol series, a Cave Carson title and a new face on the streets of Gotham. Much like the Vertigo imprint of yore, Young Animal is home to the more eclectic side of the DCU, a place where the ethereal and off beat stories can be told. However, DC insists that this is not a separate continuity and that the events that occur in the Young Animal titles will have a very real effect on the DCU as a whole. I was extremely happy to find this out as it gives a weight and impact to these narratives that would otherwise not be possible.
     Marvel may not have had as many shining moments as the "distinguished competition" in 2016, but in this post-Secret Wars era it didn't take very long to find some very bright spots amid the myriad of mostly mediocre Marvels. Topping my list is Tom King's amazing 12 issue run on Vision.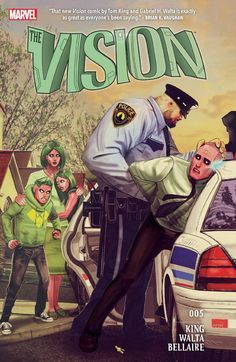 This character has always been one of my favorite, even among his Avenger teammates, Vision intrigued me at a very early age, and admittedly it was at first his rather distinctive look, kind of like a red devil sans horns mashed up with a vampire sans fangs. Image aside Vision quickly captured my young imagination and I was off scouring flea markets and the sole comic book store in my area for back issues of Avengers featuring the caped Sythezoid. Although vision was made by Ultron (at least in the comic books, Tony Stark created him in the MCU) the android was often depicted as the most human of his teammates and it is precisely that humanity that Tom King focuses on in his series. King delves ever deeper into that humanity by adding an entire family to the narrative, a wife, Virginia and two teen-aged siblings, a son, Vin and a daughter, Viv. As a family they share the almost unobtainable goal, the unquenchable thirst for normality and although they strive to be the family next door they possess the capability to eradicate the entire population.
Tom King is such a capable and brilliant storyteller that he is able to show us a glimpse of our own humanity through the eyes of this family of artificial beings. At its core King's Vision story is something of a murder mystery though we see the killing take place and know who commits the act as it happens, the fun begins when the body must be disposed of; imagine Weekend at Bernie's via David Lynch and Croninberg. This is just one of Tom King's genius offerings of the past year which also includes; Batman, Sheriff of Babylon and Omega Men. I love this guy's writing style so much and he deserves every bit of success and praise coming his way not only for his amazing talent but for being one of the nicest, funniest and just likable people I have ever had the good fortune to meet.
     Speaking of the prolific Mr. King, no best of 2016 list would be complete without mentioning yet another of his many awesome offerings, published by DC Comics' Vertigo imprint The Sheriff of Babylon. This series shares the murder mystery element and early revelation of the killer with King's Vision series however that's where the similarities end, this time the narrative is set in Iraq at the end of Saddam Hussein's régime. The plot is meticulously detailed as are the characterizations of the main cast which is made up of Christopher, a police trainer, a diplomat named Sofia and Nassir a dissatisfied ex-police officer; this trio begin a dance of near misses and coincidences that build the tension to an almost unbearable degree. To speak more on the plot would be a disservice to anyone yet to treat themselves to this complex political statement and damned fun read.
     To say Tom King knocked it out of the park in 2016 would be an understatement, even worse it would be an understatement via sports metaphor and we can't have that. So let's say in a year of so many deaths Tom King killed it; not only did his work end up on the lists of just about every critic's best of list, but he accomplished this by creating amazing work for both Marvel and DC. King refuses to be pigeon holed in any form or fashion, his work transcends the boundaries of the usual hero fiction enhancing the protagonists' humanity thus making these larger than life characters so much more relatable and at times endearing, what better quality could we ask for in the current Batman scribe.
Any year end piece on 2016 would be incomplete without the inclusion of one more name, Jeff Lemire. Like King, Lemire refuses to be easily tucked away in a genre or even sub-genre; instead Lemire creates engrossing, poignant and darkly humorous stories that encompass the entire human (and super-human) condition. Take his Black Hammer series from Dark Horse which on the surface seems to be homage to the Doom Patrol. The story is set in a dystopic world where all but a small clutch of heroes a have disappeared; the group is now weary and worn-out from innumerable times saving the world and now seeks solace, at least some of them, on a nondescript farm.
Lemire creates something of a Watchmen for a new generation and while I am definitely old enough to be a child of the Watchmen generation myself, this book really resonates with me anyway, in fact maybe even more so because I was an adolescent at the time the seminal Alan Moore series was published. Beyond all the heady critical praise this book is just one hell of a fine piece of writing by perhaps the best character writer in the game. Lemire has the uncanny ability to make the reader care about his characters, be they hero or villain. That is the thread that joins all of his work; Moon Knight, Thanos, Old Man Logan and Extraordinary X-Men all share that fantastic attention to detail when Lemire works with these iconic Marvel characters in exactly the same way that Bloodshot, Barbalien, Madame Dragonfly, Abraham Slam, Talky-Walky and Tammy for smaller and creator-owned characters. Jeff Lemire creates characters with surgical accuracy and brings them to life with all the flaws and attributes of real people.
     Well that's my 2016 as it pertains to comic books in other areas of course this was an awful year; we lost Leonard Nimoy, Carrie Fisher and David Bowie, three of my personal heroes, but that is only the beginning of that terrible list. Comic books have always been therapeutic to me; since I lost my grandmother when I was 19 years old I have been diagnosed with severe clinical depression. That was only the start of my battle with mental illness; meds never really worked and believe me I've been on most of them at one time or another. It's because of courageous people like Carrie Fisher and Tom King who have been brave enough and compassionate enough to speak out on their own battles with these demons and it is through the wonderful world of comic books and the escape they have given me that I have been able to conquer my own. 2017 promises to be a year full of great comic books and fantastic stories; Marvel, DC, Image, Valiant and many other publishers have raised the bar and we as readers are going to reap the rewards. So I am looking forward to continuing this journey through the sequential art cosmos, won't you join me? See you on the other side of 2016 at the inception of 2017 and beyond, Excelsior!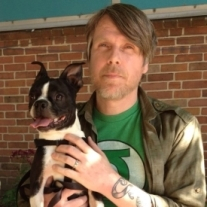 Shawn is an aspiring writer/ artist who has been reading, collecting and living comic books for over 30 years. He lives in Baltimore with his wife, their son, lots of cats, dogs and other various finned and furry friends.