(HBO 2004-2006)
Created by David Milch
Starring Timothy Olyphant, Ian McShane, Molly Parker, Robin Weigert, etc.
Deadwood is more than a town in South Dakota.  Once a gold strike location, then later the location of that fateful card game in which Wild Bill Hickok was shot, it has been the home base for countless films and television shows since the dawn of them moving picture.  But in the early 2000's David Milch changed the game, and the face of that little South Dakota town, forever when he created the show Deadwood for HBO.
The Preconception:  Anyone I'd talked to said the same thing.  "You have to watch Deadwood.  It's amazing.  It ended too soon."  Such complete positivity is unusual when it comes to my sometimes discerning friends.  There was also the warning, "Keep the volume down if your kids are up."
The Binge:  Three seasons of Deadwood, some 36 fifty-minute episodes, would run around 32 hours or so.  I watched it over the span of a couple of weeks.  It was extremely difficult to watch just one episode.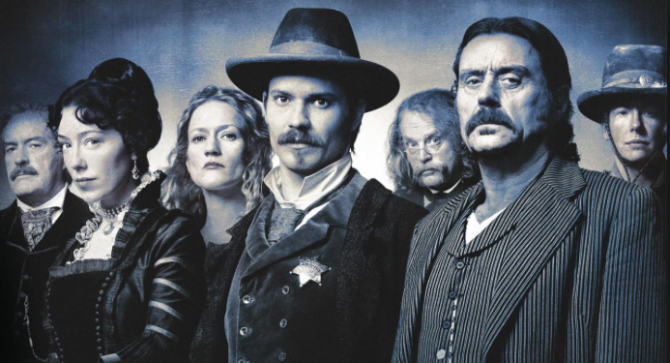 The Show:  Deadwood follows the lives of the people of the town.  Seth Bullock (played by Timothy Olyphant) comes to town with his friend and business partner to start a hardware store.  Seth has some experience has a lawman, and immediately makes it known when he stands up to the local town boss, Al Swearengen (Ian McShane).  He finds a romantic attraction to widower Alma Garret (even though he's already married to his brother's widow).  The seasons follow an increasingly stressful power grab as the town of Deadwood tries to become an official part of the South Dakota territory, and introduces many characters that will be familiar to you if you have ever been a fan of Westerns.  In fact, even though you know that Wild Bill Hickok (played by Keith Carradine) is shot and killed, you get completely roped into his story as well. 
The Reality:  Deadwood is a superb piece of television.  The portrayals of the main characters, by Olyphant and McShane, are so fantastic that they could have carried the whole show by themselves.  But the addition of the the Calamity Jane character played by Robin Weigert, Charlie Utter played by Dayton Callie, and the smaller character like William Sanderson's E.B. Farm and Paula Malcomson's Trixie make the show so completely strong.  McShane is a standout.  Between Milch's characterization and McShane's portrayal you run the gamut of emotions when watching him.  You hate him, you love him, you feel sorry for him.  It's fantastic.
The language in the show has always come up when I've read anything about it.  It's salty to say the least.  I wouldn't want my kids hearing it.  There have been claims made that it was over the top, and the opposite side says that it was historically accurate.  I don't know one way or the other, but it didn't bother me that much.  After the initial shock I quickly became accustomed to it, and it did seems to work with the characters.
The end result is, if you have the time and the means, watch Deadwood.  It indeed seems like it was cancelled too soon, but we can't ever know how it would have ended.  Rumors continue to circulate that perhaps David Milch will finish the series off with a couple of tv movies, but the chances of getting the entire cast back for that kind of reunion seems far-fetched.  Not that I wouldn't be completely giddy at the idea of seeing Ian McShane stride out onto that balcony and survey his town once again.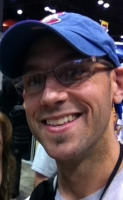 Brad Gischia is a writer and artist living in the frozen Upper Peninsula of Michigan.  He is married and has three kids and a dog, all who put up with his incessant prattling about comic books.
Twitter - [email protected]