(Valiant 2015)
Writer:Robert Venditti
Art: Raul Allen with Patricia Martin
Art Assistant: David Astruga
Colors: Borja Pindado
        From the pages of Book of Death, Wrath of the Eternal Warrior #1 sees Valiant's immortal master of war cast into a realm far older, and deadlier than anything he's ever encountered before in this brand new series from New York Times best selling writer Robert Venditti (Book of Death, X-O Manowar) and breakout artist Raul Allen (Bloodshot Reborn)!
This is a landmark new series for the Valiant Universe, where the Earth's Fist and Steel begins a perilously dark adventure that will tear him from everything he once knew and protected, transporting
him to a desolate land on a treacherous voyage beyond Earth and
eternity.
        In over five millennia, the Eternal Warrior has played a key role throughout history, battling empires and fighting armies as the immortal soldier and protector of Earth. Now in Wrath of the Eternal Warrior #1 writer Robert Venditti quickly establishes the new statues-quo for the Eternal Warrior following the events of Book of Death #4.
        An epic conflict beyond time immediately plunges us right into the heart of the action as Gilad faces Slather and a nightmarish horde, as this bold new Valiant series finds Gilad in a place where he's come before for brief periods of time before setting out to save
the Earth once more. Immortal characters can be tricky to write, but the emotion and family life conveyed in these early scenes really helps grounds everything, if only momentarily, and gives us further insight into Gilad's life away from all the battles and carnage.
        The art by Raul Allen, with Patricia Martin (along with art assistant David Astruga) and additional colors by Borja Pindado really captures the tone and feel of Robert Venditti's story and characters right from the offset, the panel layouts are clean and concise, and
you soon find yourself becoming immersed in the story and art. The characters are all well defined and realized, the more emotional scenes in particular come across well, and the stunning opening battle scenes unfold across a foreboding craggy vista of mountainous peaks in
a dark barren land seething with unspeakable monsters. But it is the flashbacks to the events of Book of Death where Raul Allen's art really impresses, these sequences detail the events of Book of Death with a vivid dream-like quality, mesmerizing silhouettes of color
hauntingly capture the imagination, and seamlessly weaves everything together into the impending threat that Gilad must soon face as dark forces gather against him.
        Whilst the decidedly non-linear narrative of this first issue might be a little difficult for new readers to follow, there is still a lot to enjoy here, and I'm sure newcomers and fans of the characters alike will be intrigued by this new story-arc. This first issue builds all the mystery and suspense perfectly. The character has a great mythology to explore, Robert Venditti has crafted a exceptional start
to this new series, and it looks like we are going to be in for one hell of a ride.
As Gilad inevitably follows the calling back into the realms of darkness, he soon finds himself in a strange alien land, and is confronted with the terrible evil that await him there. Wrath of the Eternal Warrior #1 gets Valiant's new series off to a terrific start,
with its intriguingly mysterious story by Robert Venditti, together with excellent art by Raul Allen, this promising new series is already shaping up to be something very special indeed.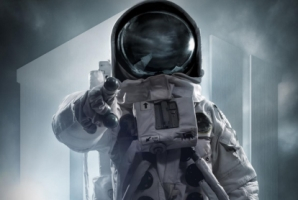 Paul Bowler is a self-Confessed Sci-Fi Geek, Doctor Who fan, and Zombie Disposal Expert. He likes movies, comic books, and all things PS3. He likes to write about his interests, would love to write a novel one day, and also enjoys chatting to the many people he has gotten to know on Twitter. When he's not busy being an Impossible Astronaut, he likes to take a break from his adventures in time and space to enjoy some of his favourite tv shows and movies, preferably with a nice cuppa tea & a sandwich! You can follow him on Twitter @paul_bowler, or find him at his website, Sci-Fi Jubilee.