An All New All Different Marvel Universe Begins
By: Shawn Warner
October has been a busy month for The House of Ideas, the maverick masterminds at Marvel has turned out a multitude of new number ones over the past two weeks; perhaps the biggest of these is the Marvel Point One which serves as an introductory to the narrative that will run through several of these new books. Of these visionary versions of old favorites one of the most inspired and imaginative is the new Contest of Champions. Written by Al Ewing with some mind melting visuals provided by Paco Medina this series has the feel of a video game franchise which is understandable when you get to the end of the first issue to find all of the video game tie-ins. The story doesn't tread much new ground nevertheless it does entertain particularly fun is the British Punisher in action. The premise is one we have seen before, in fact back in the original Contest of Champions series but, it's the promise of seeing these new takes on our favorite characters go head to head in battle that makes this book so engrossing and certainly worth the price of admission.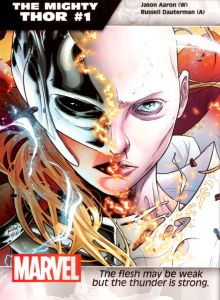 Marvel has gone to great lengths to make this All New All Different era more than just a universe wide reboot; what the powers that be at Marvel are trying to sell us is that these new books are the result of events taking place in continuity thus these changes are organic and permanent, at least for now. The new versions of iconic heroes like Daredevil and the Hulk are much more than simple costume updates or origin tweaks, in some cases the changes go to the core of the character. Take Thor for instances, now that this is not a spoiler we can freely speak about Thor's gender change being much more than superficial. Thor is now Jane Foster and that speaks to the very essence of who Thor is beyond gender. Jason Aaron has done such a fantastic job of handling this change that what could be jarring or even off-putting worked like a charm. His take on the new Thor is nuanced and genuine and while I definitely miss Thor Odinson being the wielder of Mjolnir, I can appreciate and enjoy this new chapter in the epic saga of one of Marvel's mightiest. Jason Aaron has been quite busy not only handling the writing duties on Thor, Aaron's first issue of his new Doctor Strange series hit the racks last week and boy is this one a heck of a lot of fun. Aaron's take of Stephan Strange is much more human than we have seen the Sorcerer Supreme before. He appears somewhat less self-assured and though the many of the changes are subtle they alter the dynamic of the character in a way that makes this series feel completely fresh. Chris Bachalo is at the top of his game here, giving this series an imaginative look that befits the mystical subject matter. This one my favorite book the week it came out and I am very enthusiastic about future arcs.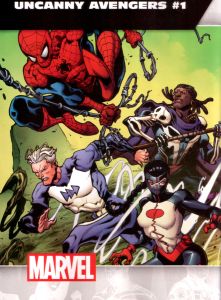 Gerry Duggan and Ryan Stegman brought out the big guns on their new Uncanny Avengers number one. This is most assuredly one of the most eclectic rosters in Avengers history. We get Brother Voodoo, Quicksilver, Rogue, a geriatric Steve Rogers and Deadpool to name just a few. From the cover it appears that Spidey will be playing an important role on this team however after reading the first issue I'm not so sure we will be seeing the Friendly Neighborhood Web-Slinger in action as an Uncanny Avenger, especially as long as Deadpool is a card carrying member of the team. This book is a lot of fun as well; Duggan does a bang up job of crafting kinetic dialogue full of humor and energy. His work with co-writer Brian Posehn on the last Deadpool series was more comedic in tone but, this iteration of the mouthy Merc certainly is no slouch when it comes to knee slapping jocularity. The diversity of the team makes for a really dynamic chemistry which I am positive will provide more than enough mayhem to fuel the first several arcs. Ryan Stegman's art continues to evolve and impress. His character designs are imaginative and innovative giving this book an extremely vivacious feel.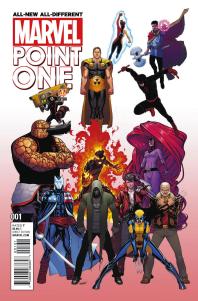 The All New All Different Marvel Universe is definitely upon us; along with the new number ones I've already mentioned some of the other titles making their debut so far are the Amazing Spider-Man, Spider-Man 2099, Guardians of the Galaxy, Invincible Iron Man, The New Avengers as well as a special zero issue to launch the new Avengers line written by Mark Waid, James Robinson, G. Willow Wilson, Al Ewing and Gerry Duggan with art by Mahmud Asrar, Leonard Kirk, Gerardo Sandoval, Kenneth Rocafort, Ryan Stegman and Victor Ibanez. This issue highlights the various teams including A-Force which will also be getting a new number despite the fact that the recently launched title is only five issues old. The coming months are full of All New All Different debuts which promise to illuminate the fallout of Secret Wars. The Inhumans, Daredevil, The X-Men and The Hulk all have debut issues coming very soon which will certainly redefine exactly what the Marvel Universe will look like going forward. There will be lots of new elements but hopefully there will be enough of that old Marvel magic to keep things authentic and retain the feel of the old 616 and Ultimate universes that kept us all engrossed and captured our collective imagination for almost 80 years. So True Believers, if you are like me you will be continuing to say, even after all the smoke clears and this new, different universe is fully actualized, Make Mine Marvel, excelsior!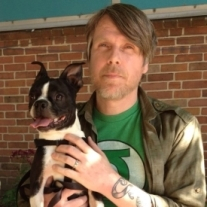 Shawn is an aspiring writer/ artist who has been reading, collecting and living comic books for over 30 years. He lives in Baltimore with his wife, their son, lots of cats, dogs and other various finned and furry friends.