(IDW -2017)
Writer: John Barber
Art: Fico Ossio
Colors: Sebastian Cheng
Letters Tom B Long
Regular Cover: Tradd Moore & Felipe Sobreiro
From the aftermath of IDW's REVOLUTION crossover event comes REVOLUTIONARIES #1, and the future begins here with this brand new ongoing series from The REVOLUTION creative team of John Barber and Fico Ossio. A sudden burst of Dire Wraith-like energy sets in motion a spellbinding confrontation between Mayday's (Ayana Jones) new squad, ROM, Major Bludd and the Oktober Guard; and it provides the catalyst to bring an unlikely new team togetherÖ The REVOLOUTIONARIES! But the secrets they might uncover could well have ominous ramifications for the world, and even the entire universe itself!
REVOLOUTIONARIES #1 sees The Reconstruction: united IDW / Hasbro Universe beginning to take shape in the new shared world of the Transformers, G.I. JOE, ROM, and Micronaut comic book titles, with an all-new team and adventures spinning out of The REVOLOUTION featuring the battle hardened Transformer war veteran Kup, the worldís greatest special agent Action Man, G.I JOE leader Mayday who is set on saving her fist command, and Blackrock the ancient Cybertronian sleeper that believes heís still human!
Crisis Intervention gets IDW Publishingss action-packed new REVOLOUTIONARIES series of to an exciting start. With an outbreak generated by something attributed to Dire Wraith energies in Verenya Schleteva causing everything caught in the blast to mutate into hideous Dire-Wraith-like creatures, writer John Barber quickly sets the scene by filling us in on this former war-torn nations connections to past events involving G.I JOE and Cobra, before Maydayís team enter the fray in spectacular fashion to deal with this new threat.
ROM the Space Knightís impromptu arrival on the scene also proves as fortuitous as it does divisive for some of Maydayís team, but its not long before differences are set aside, and their investigation leads them underground to find the source of the blast, where they team-up with Action Man, Sovereign (Blackrock), and Kup, to try and stop Major Bludd and the Oktober Guard from acquiring a mysterious device called the Talisman.
John Barber does a great job of clearly defining and establishing the REVOLOUTIONARIES extensive cast of characters. Mayday gets the lions share of the action, serving as a focal point for all the characters to sound off, and her leadership skills make her stand out head and shoulders above everyone else. We also get a real sense of what the teams dynamic will be like. Our first meeting with Action man and Blackrock is fittingly action-packed and fun, ROM is as stoic and honorable as ever, and I like how the ongoing gag of everyone thinking he's a Cybertronian keeps cropping up. Major Bludd and the Oktober Guard make great adversaries for this fledgling team as well; my only gripe really is that we didn't see much of the Transformer Kup in action in this issue - although he sure knows how to make a scene stealing entrance!
The artwork by Fico Ossio is exceptionally good, with bold layouts deftly relaying every nuance of the action, characters are all well defined, and there's a distinct flow and pace to each scene that brings the team together in an entirely natural and unforced manner. Events and circumstances quite literally throw the characters together, and Ossio's artwork skillfully defines the characters traits and personalities right from the off. The opening scenes in Verenya Schleteva are exquisitely detailed, the mutations the Dire Wraith energy causes distinctly Xenomorph-like Wraith creatures to be spawned, and the battle to capture The Talisman is fast and frenetic. Sebastian Cheng's colors are nicely rich and vibrant, subtle use of shadow heightens the tension of the underground scenes, and I especially liked the purple hues that surround Titan Master Sovereign's transformation into his human persona, Garrison Blackrock. Frico Ossio and Sebastian Cheng really excel themselves when it comes to that final page though which is probably one of the most hauntingly a jaw-dropping set-pieces that I've seen in a long while, and it also sets up one hell of a cliff-hanger as well!
REVOLOUTIONARIES #1 is an exciting, all-out-action, and blisteringly fast paced first issue from John Barber, Fico Ossio, and Sebastian Cheng. It sets everything up in fine style for a series that is sure to become a major highlight of the IDW / Hasbro shared universe, and the cross-pollinating storytelling framework it establishes has limitless possibilities to explore and develop in the future. There's also a handy timeline recap for newcomers and long-term readers to enjoy, along with a character roll call to bring everyone up to speed on who's who, as well as the prerequisite of impressive cover variants to choose from too!
REVOLOUTIONARIES #1 is a confident start to this new ongoing series, there's lots of fan pleasing moments to look out for, and it's a great jumping on point for new readers as well. So, if youíve been thinking about trying IDW comics but didn't know where to start, I'd certainly recommend REVOLOUTIONARIES #1, especially if you want to hit the ground running and jump straight into the action!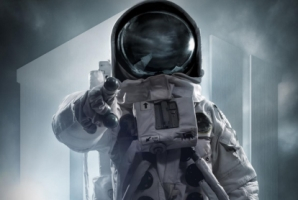 Paul Bowler is a self-Confessed Sci-Fi Geek, Doctor Who fan, and Zombie Disposal Expert. He likes movies, comic books, and all things PS3. He likes to write about his interests, would love to write a novel one day, and also enjoys chatting to the many people he has gotten to know on Twitter. When he's not busy being an Impossible Astronaut, he likes to take a break from his adventures in time and space to enjoy some of his favourite tv shows and movies, preferably with a nice cuppa tea & a sandwich! You can follow him on Twitter @paul_bowler, or find him at his website, Sci-Fi Jubilee.