(Interview by Bj Duvall - 2015)
Todd Black is no stranger to comics. He launched his first series, Guardians, last year. Black is looking to fun his newest project through Kickstarter. Home is a science fiction/fantasy comic about a girl who is looking for the one thing that most of us take for granted. BagandBored.net's own Bj Duvall had the opportunity to ask him a few questions about his newest comic project.
 Let's say we are on a roller coaster together, and I am screaming in terror. Take my mind off my imminent death by pitching me this thing as quick as you can before we pull into the stop.
lol. A young woman named Elysia is born with natural blue hair, gets ridiculed her whole life. Now in young adulthood she finds herself all alone in the world so to speak. One day she finds out she can see and interact with living computer code. And then the code opens up a portal to another dimension, pulling her in against her will! Now she's stuck in a world full of futuristic knights, monsters, and much more. And she has to help them in order to get home…if she can get home.
So from the preliminary art and some of the facts I've been able to gather, it looks like "Home" is a fantasy series, yet involving technology and computer coding, Can you tell a little about the setting, and the world of "Home"?
Yes, it's very much a fantasy series, but there are some sci-fi elements too. Especially in Elysia's story we have plenty of instances of culture clash. The world of Altaria is a hodgepodge of various sci-fi/fantasy elements, and its fun to see how both the citizens of Altaria deal with it, and it's fun to think how the readers will comprehend it.
How do the "Knights of Altaria" use "The Code"?
           How The Code is used is very important to the story. While I won't say everything, I will note that much like DNA, the Code is unique to each knight. Each one has a different suit of armor; each has a different weapon or abilities that The Code gives to them. It's very personal in a way. I think people will not only like that element, but they'll also like how Elysia's abilities are very different from "standard" tropes in fantasy stories.
It sounds like the main character, Elysia, is a bit of an underdog. What can you say about her character motivation, and what kind of person she is?
Underdog may not be the right term here, but she is someone who has had a rough life. I wanted to make Elysia an incredibly relatable character. And the best way I found to do that was in making her someone who was picked on her whole life. Who had an odd "quirk" that people just couldn't help but make fun of, no matter what those insults did to Elysia.
I know there are a lot of people out there who will relate to Elysia, heck, I relate to Elysia, I went through what she goes through, and it makes me connect with her even more. For her motivation, at first it's just to have a better life. That's why she embraces The Code when she realizes what she can do with it. Then once she's in Altaria, she wants to leave as quickly as possible, so she'll help out however she can to get that goal realized. However, things will change, and I hope people enjoy how they change.
As for Elysia herself, she's a girl of two mindsets in a way. She loves who she is, she loves her blue hair, wouldn't change it. But, she wishes her situation were better, she wishes she could do what she wants in life instead of being stuck in it. Again, something I think people will relate to. She's strong, she doesn't give up on herself, and she has a fun evil side. You'll see what I mean in Home #1. Blue hair aside, Elysia is your average girl that was thrown into an extraordinary situation.
Why "Elysia"? Why not "Madge", or "Cinnamon" or "Zena"?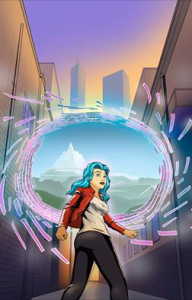 Well Zena is a warrior princess…lol. Kidding, kidding, and yes I know it's "Xena". Honestly, the name came from a video game character I liked, I changed it a bit to fit a character of another book I was writing. That project never finished, and when "Home" came about, and I knew I wanted a female lead, I looked back at my old projects and saw I hadn't used that name yet, so Elysia it was. I liked the name; it made her sound a little special, just like how her hair made her something besides average.
The title "Home" suggests a quest of some kind, What can we expect from Madge, I mean Elysia, in terms of finding a place to call home in this story?
It is very much a quest. The "slogan" for this story is "Where is your home?" and that applies to Elysia in many ways. You could argue that although she lives in a house, and has a "life", that she doesn't have a home. And now, she's going to be in an alternate dimension where things couldn't be more different than where she lives now! Through this miniseries, Elysia is going to learn about herself, about life, and about what a home really is. By the end of the miniseries, she will be happy with her home.
Can you tell us who all the creative team members are, and what kind of previous work we might have seen from them?
My penciler/inker is Dinh Nguyen, he's worked on some small comics before in his home of Vietnam, also worked video games in Japan for a bit.
Bethany Varni, who's my colorist, has done some indie comics before like Luchadoras, INFECTED!, Dust Bowl Dancer.
Zakk Saam, he's our letterer, has done numerous comics. Comare, Unlawful Good, he's worked for publishers. He's the real deal.
What format is this series, monthly single issues, GN length work, interconnected refrigerator magnets? Needlepoint? Something different?
We plan Home to be a miniseries, though we have larger plans if it is received well. Right now, we're flirting with 5 issues for Elysia's story. If the story needs a little more time, I'll do six, but nothing more than that.
Where is this set of refrigerator magnets, I mean this comic, going to be available? Mostly online? Regionally located in comic shops? Available in previews? Should we just stop by your house to pick it up? Help me put money in your hands, and get a copy of these magnets. I mean, this book.
That is the question. Well, right now actually, we're doing a Kickstarter for Home to fund the first issue, and possibly beyond. You can check it out via the link below. You can get digital and physical copies through the Kickstarter. If the KS is successful, I see no reason why we won't offer it online and offer print versions wherever we can.
Anything else you would like to add?
I think we have something special here. We haven't revealed some of the big things that happen in Home, and I think readers will really dig it. Also, we have a special guest helping us with our Kickstarter and Home #1 in the form of cosplayer AZ Powergirl. She's going to make a variant cover for us as well as cosplay as Elysia, and use the prints of the photo shoot she'll do as Elysia as rewards for the Kickstarter. It's very exciting!
I love making comics, and if people could help fund and spread the word about the Kickstarter so we can make Home full stop? I'd be eternally grateful.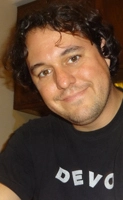 BJ DuVall is a novice comic creator, and nerd. He likes to spout opinions, whether people like to listen or not. Usually not.