(Image Comics 2015)
Writer: Phil Hester
Art: John McCrea
Colors: Michael Spicer
While science may form the basis of our understanding of reality, it is actually little more than an illusion for humanity. Magic is the true force that makes the world go round and oils the wheels of the universe. But when the magic goes wrong the secret operatives of MYTHIC have to step in and put things right - whilst keeping the public oblivious to their work. Mythic #2 follows one such crack team of specialists, Apache shaman Waterson, a Greek immortal Cassandra, and their newest recruit former cell phone salesman Nate Jayadarma, when their mission to investigate freak drought conditions in Colorado requires Waterson to reunite the sky and mountain elementals. Meanwhile, another team must also face a crisis of their own, and soon a terrifying new horror is unleashed with dire repercussions for all the Mythic field teams.
Mythic #2 continues this new Image Comics series; it's a dark, thrilling tale written by Eisner nominee Phil Hester (Green Arrow, The Coffin), and featuring art by Eisner winner John McCrea (Hitman, The Boys). With the premise now firmly established, Giants in the Earth shows the characters working more closely as a team, and we also get to see another Mythic Lore team in action as well. Phil Hester really picks up the pace with Mythic #2, as the teams mission takes on a whole new perspective while dark forces begin to rise against them.
After a lumbering monstrosity starts causing all sorts of problems for field team 5 over the Giants Causeway in Northern Ireland, over in the Western United States, Cassandra and Nate look on as Waterson attempts to get the mountain and the air entities banging to end the unexplained drought by summoning his twin alter-ego the fearsome Killer of Enemies. This grotesque creature - who carries its disembodied head around in its hand - quickly sets about stirring things up between the sky and the mountain, with some surprising amorous results!
Mythic is a quirky blend of action and the supernatural; a kind of paranormal version of Men in Black with a hint of Ghostbusters thrown in for good measure. Phil Hester has crafted an exciting storyline that quickly builds on elements established in first issue. Although it may not exactly be the most original set-up for a comic book series, the story is really engaging, and there is certainly a wealth of potential waiting to be explored here. Sure, the characters could still do with a little more fleshing out, but it's still relatively early days, and I look forward to discovering more about them in future issues. The drama is often punctuated with moments of levity, the great banter between the characters also highlights the madcap nature of their uncanny work, and overall the fine balance between all the action and humor feels just about right.
John McCrea's art is exceptionally good. I really liked the bold panel layouts, the action is well realized, and events unfold with a kinetic sense of urgency that really pulls you into the story. The characters and expressions are all well defined, there are some impressive splash pages, and the creature designs are fantastically inventive. Michael Spicer's colors are also superb, and the intricate tones bring added depth and clarity to each scene. From the lumbering giant in the opening moments, through to the unsettling emergence of a new monster, it is Waterston's grisly twin the Killer of Enemies that easily steals the show in this issue!
The issue rounds off with some crushing news for Waterson and his teammates, sinister events unfold during a tour of the British Museum, and we glimpse the true face of the evil machinations gathering in the shadows.
Mythic #2 is a strange mix of mystery and mayhem, and this is certainly one of the most inventive new titles I've encountered in a long time. Phil Hester and John McCrea have created something that's decidedly off the wall, fun, and more than a little bit bizarre here, but it is the dark undercurrents running throughout that really form the backbone of this series and makes it such a compelling read. Mythic #2 has it all: there's a liaison between a mountain and the sky, some chilling moments of horror, and it probably has one of the best next issue blurbs you'll ever read in a comic book. Be sure to let Mythic #2 casts its spell over you this new comic book day, I'll bet time and a half you wont regret it.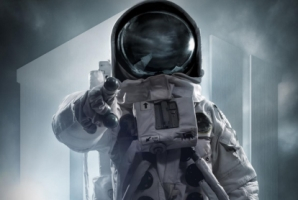 Paul Bowler is a self-Confessed Sci-Fi Geek, Doctor Who fan, and Zombie Disposal Expert. He likes movies, comic books, and all things PS3. He likes to write about his interests, would love to write a novel one day, and also enjoys chatting to the many people he has gotten to know on Twitter. When he's not busy being an Impossible Astronaut, he likes to take a break from his adventures in time and space to enjoy some of his favorite TV shows and movies, preferably with a nice cuppa tea & a sandwich! You can follow him on Twitter @paul_bowler, or find him at his website, Sci-Fi Jubilee.