Attack on Titan – Chapter 79
(Kodansha 2009)
Story & Art by Hajime Isayama
Storyline Ongoing
Summary: In an alternate telling of the history of the world, mankind has been pushed back behind walls where for the last 100 years they've been protected from monsters known as Titans. One day these Titans appeared again and brought one of those walls crashing down – the result almost sent humanity into extinction. This is the story of the last remnants of mankind.
[SPOILER WARNING!!]
Little-by-little, day-by-day, the battle for humanity grazes its way to an end. This chapter sees Eren and his squad take on the Colossal Titan whom in turn begins destroying all the nearby houses to create a scene of carnage amongst those surviving.
While in Erwin and  Levi's group on the other side of the wall the Beast Titan launches a rock throwing competition as he begins pelting those remaining to their faction with boulders. The tactic is sound but I do wonder what the Beast Titan's end goal is in wiping out our heroes.
As we've seen in the past just sicking several dozen Titans on them would do the trick. Eventually everyone would die because there are too many Titans to contend with, and apparently the Beast Titan has plenty at his command.
This is a fun chapter in the action it displays, but I don't understand the war tactics being used here by the enemy. Literally just take a giant horde of Titans after the foe and be done with it, but instead he chooses the waiting path. They still need Eren's key to get into his basement.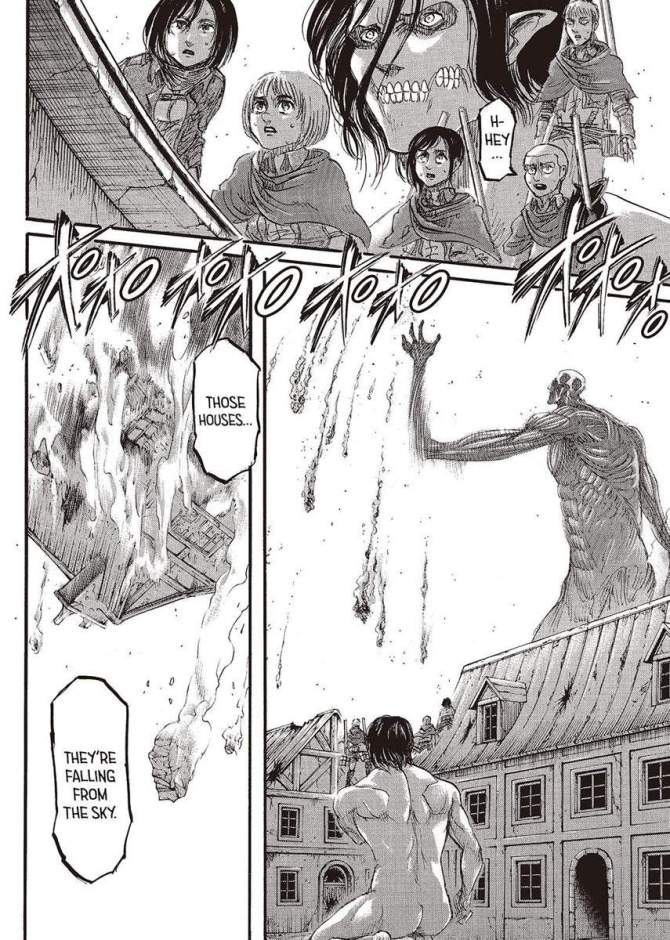 I also found myself laughing a lot during this chapter. Isayama has a rather good penchant for allowing his characters to point out information on the event at hand or pour out their feelings honestly in ways that often is never used by any other series. But when Connie started laughing hysterically and yelling about the houses the Colossal Titan was destroying might be some of their houses I had to chuckle.
Connie, even in the midst of battle that's a dumb thing to say. And it kind of got worse from there. It might just be me but the dialogue between characters this chapter just wasn't good at all.
It's nice to see the Colossal Titan in action but really after all the revelations surrounding him and his secrets I have been disillusioned by his badassery and I really just want him to go away. I want them all to go away and I want this to be a story about Titans vs. Humans not Humans dressed as Titans vs. Humans. Ever since that revelation nothing in this story has quite compared to the original magic of the mystery of not knowing what the Titan's truly were.
We're so close to the end. I will see the series through, but whatever is in that basement better be damn good.
Final Score: 2 Firefights out of 5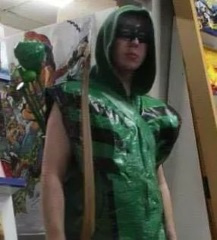 Derrick is a born and raised otaku with a love for comics, anime, manga and movies. The full list is pretty long, but that's just the basics. Stories set in space are his bread and butter.
You can find more of his writing at IndieComix.net
@KazekunForever