(Dynamite 2016) 
Writer: Matt Wagner
Illustrator: Dan Schkade
Colors: Brennan Wager
Letters: A Larger World Studios
The Spirit is a comic taken straight out of the 1940s. In some ways I love it, and in others, I was disappointed.  But let's focus on the positives to start…
Opening on a picture of a Street Bazaar, the setting is instantly set. The artwork screamed 1940s to me – and I loved that. While I'm usually a fan of realistic artwork, I felt that the older style helped set the setting. Add that to the opening panels – panel one shows two men (one with a sword and one with a gun) looking at a pool of blood, and panel two shows a birds-eye-view of the Bazaar – and your setting is set. It's obvious that this is an action adventure. Of course it's parallel to Indiana Jones doesn't hurt with setting the setting (pun intended).  I also loved the 1940's language. As cheesy as it was to read thing like "Holy cats! That's a sniper." It really did help me believe that this is the 1940s.

Where I was disappointed is the 1940s comic book feel. When I say feel, I'm talking about the characteristics of the comic. The characters were too stereotypical for me. The Spirit wears a royal blue suit and fedora with a mask. In almost any 1940s/1950s cop story and show someone is wearing a royal blue suit and fedora.  Now I get that was set back in the 1940s when the comic first came out. But its 2016, how many other heroes have gotten updated wardrobes, It would be nice to see some updating. But even The Spirit would be fine if the other characters weren't so stereotypical. The Commissioner is an older man who is balding, has a mustache, and is smoking a pipe. And the Commissioner's daughter, Ellen, really pushed the stereotypical characterization over the edge. And what made me very disappointed in this comic. Women have not always been shown well in comics. And while things are getting better, there is still a ways to go. But this comic just seems to throw us right back into 1940s comics. And just because the setting is the 1940s doesn't mean the comic is.  Ellen comes storming into the hospital after the Commissioner gets shot, and she screams out for her "Daddy." First off, Ellen is a full grown woman, and very few full grown woman call there father's daddy. Then she over dramatically fusses over her father. Now I'm not saying a family member wouldn't come in and fuss over someone, but the over dramatized version, I don't think so.  The only saving grace of Ellen's character is when she stands up to The Spirit. Not only does she show some spunk, but gives hope that maybe, these characters will grow with time.
So overall, I must applaud The Spirit in its realistic setting. I truly haven't seen a comic nail it's setting so well. But I hope that the characterization doesn't get stuck in the 1940s comic style, and that we get to see the deeper characterization of 2016 comics.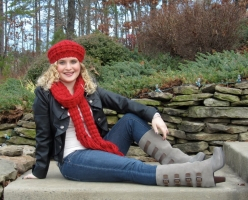 Ali is a creative writer with an emphasis on Sci-Fi/Fantasy and Comic Books. She first fell in love with superheroes when they were used to teach her to read. When not practicing at her dojo or out seeing the latest superhero movie with her friends, Ali can be found curled up on the couch with her dog and a good book.