(IDW 2016)
Writer: Joe Harris
Art: Matthew Dow Smith
Colors: Jordie Bellaire
Letters: Robbie Robbins
Cover: Menton  3
Mulder and Scully face the prospect of Gibson Praise's master plan becoming a reality in The X-Files Season 11 #8, Endgames, Part 3 of (3), the truth shattering Season 11 finale of IDW Publishing's thrilling comic book series. Scully has discovered Assistant Director Morales is in league with the faceless alien rebels, while in the Northern Utah desert Fox Mulder and Director Walter Skinner face the imminent threat of Gibson's invasion, but with all the pieces now falling in place will Mulder and Scully be able to stop Gibson in time?
Separated after the faceless aliens ambushed Camp Williams, a top secret magnetite mining operation in Bluffdale, Utah, Mulder, set out find out what happened to Scully. Now writer Joe Harris builds on the growing sense of urgency following last issues startling cliff-hanger ending, where Skinner arrived in the desert in Utah to dispatch a faceless alien rebel, having used every ounce of willpower at his disposal to resist Gibson's influence and reach Mulder - but who is really in control here as Gibson's scheme unfolds?

The X-Files Season 11 #8 races along at a breathtaking pace as everything beings to become clear, and Joe Harris gives all of the characters a chance to shine as he skillfully draws all the plot threads together for this rousing finale. From the menacingly staged apocalyptic flash-forward, The X-Files Season 11 #8 finds Skinner is once more Gibson's puppet, as the full scope of his master plan is finally revealed to Mulder, before Mulder finally comes face to face with the man whose crusade to ruin and subjugate him to further his own grand designs. Joe Harris skillfully builds the tension and drama of this confrontation, the narrative is peppered with key moments that link into the extensive mythology of TV series, thereís an interlude with the Lone Gun Men, and the faceless alien rebels - together with AD Morales and the captive Scully - all converge towards Mulder's location in the desert as the closing moves of Gibson's long game play out. There are some truly inspired moments of humor along the way as well, including Mulder's asides about Gibson's secret cargo, and a particularly fun comparison with a certain Time Lord and his iconic time machine!
Matthew Dow Smith's artwork on The X-Files Series 11 has been astounding, and issue #8 sees the bar raised even higher for the finale of this series. Matthew Dow Smith makes every page a riveting and immersing read as the story unfolds, bringing an unparalleled sense of mystery, excitement, and drama to every scene: the dark apocalyptic opening alone is a scene stealing moment that sublimely bookends this story arc in the most imaginative way possible, Gibson's temporal crucible is a hauntingly beautiful homage to The X-Files mythology, and the final showdown is a spectacular and emotional tour de force of Smith's artistic talents. The colors by Jordie Bellaire are as impressive as ever, with inky shadows, soft emerald temporal hues, and explosive action bringing out all the finer nuances of Harris's story and Dow Smith's art.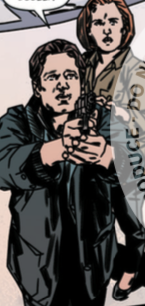 The creative team harness the style and tone of the iconic TV series perfectly. The issue rounds off this incredible X-Files storyline in fine style, the flow of events shifts dramatically in the final act, there's a supreme effort of will, Mulder and Scully are reunited, and Mulder has one last shot at fighting the futureÖ The long-form story in the X-Files comics has now come full circle, its time to begin a new journey, and the first step is taken right here with the conclusion of Season 11 and a cherished memory. Featuring another stunning cover by Menon 3, The X-Files Season 11 #8, with its intricate story by Joe Harris, fabulous art by Matthew Dow Smith and colors Jordie Bellaire, ensures this chapter of the X-Files closes on a tremendous high.
Season 11 may be over, but don't worry, the truth is still out there as we get ready for The X-Files brand new ongoing comic series from IDW Publishing (also by Joe Harris, Matthew Dow Smith, and Jordie Bellaire) debuting in April. Based on Fox's new X-Files TV event show which returned to television this year, The X-Files #1 continues the adventures of FBI Agents Fox Mulder and Dana Scully. Its never been a better time to be an X-Files fan and I can't wait to see what's in store for Mulder and Scully in IDW's new ongoing series!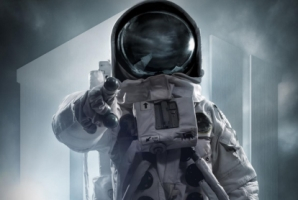 Paul Bowler is a self-Confessed Sci-Fi Geek, Doctor Who fan, and Zombie Disposal Expert. He likes movies, comic books, and all things PS3. He likes to write about his interests, would love to write a novel one day, and also enjoys chatting to the many people he has gotten to know on Twitter. When he's not busy being an Impossible Astronaut, he likes to take a break from his adventures in time and space to enjoy some of his favourite tv shows and movies, preferably with a nice cuppa tea & a sandwich! You can follow him on Twitter @paul_bowler, or find him at his website, Sci-Fi Jubilee.