(Michigan Comics Collective 2015)
Written by Greg Wright
Art by Sean Seal, Jason Jimenez, Stephen Sharar, Joe Freyre
Colors and Letters by Sara Sowles
Edited by Travis McIntire
I grew up on holiday specials. Not one calendar year would pass without me marking the upcoming holidays by running through the television checklist. It didn't feel like Christmas without watching The Grinch. (The animated one of course.) Garfield, the Peanuts gang, and a flurry of Claymation figures from Rankin and Bass are how I still mark the major American holidays of the year.
As I grew older there were these things called "annuals" that the big two would put out a couple of times a year. It was a double-sized comic with a hard, square binding, usually jacked up in price to the lofty sum of $1.25 or…be still my cash-strapped wallet…even as high as $1.75. But I always gravitated towards these. It was summer time, money was for the spending, and there wouldn't be another holiday special on television for at least five months.
The Michigan Comics Collective has tapped into that feeling for me with this book, the Wild Bullets one-shot, releasing on May 15 in print and already digitally available at Drive Thru Comics. (See link below.)
This is a holiday special in the sense that it takes place during a holiday, in this case, Thanksgiving. And this turkey feast is not served on a ping-pong table, consisting of pretzels and jellybeans and toast. This is a mash up of all of your favorite comic genres.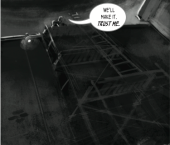 Greg Wright has crammed all kinds of awesome into this 35 page one-shot focusing on the Bullet Family and their version of a down home family dinner. Each of the Bullet Family has a stereotypical background. Daisy is a femme-fatale masked cowgirl and matriarch of the family. Her husband is bill, a wheelchair bound veteran. Their children are Steve, a P.I., Kelly and explorer/archeologist, Archie the mad scientist, and Minerva, an occult investigator. Together they form a deadly and exotic family, read to shoot first and shoot again.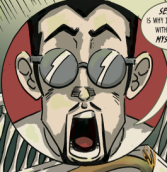 Wright weaves a many-threaded story together, each child represents a chapter of the book, and each has a part to tell in the overlapping mystery, who killed the maid? It's a great way to tell a story and introduce a cast of characters that could easily take a full issue each, but this way we get a detailed snapshot at their individual lives and how they interact with each other as the play unfolds. It's as if someone dared him to put all of his favorite things into one book and he accepted that dare. Why not have a sci-fi story, an occult story, a tomb raider story, and a hard-boiled crime story all in one? Wright puts them there, and holds them with the strong narrative of his tale.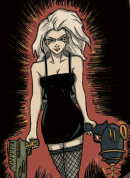 The art in Wild Bullets is spread out between five different artists. Each brings their own style and flair to their assigned story. Sean Seal takes the helm with Steve Bullet, and uses his painter's style to create a dark and moody atmosphere that fits perfectly with the noir tale. Jason Jimenez flips the switch back into the fun comic adventure side of Kelly Bullet, and is followed by Stephen Sharar's sci-fi based work on Archie's story. Rounding out the main pencil and ink work is Joe Freyre's anime-influenced take on Minerva Bullet. Each of the artists does a great job of helping to interpret the characters through the art as well as the text of the story. Sara Sowles provides an additional tie through her fantastic coloring  and lettering work,     which helps to bind the differing stories and art styles together.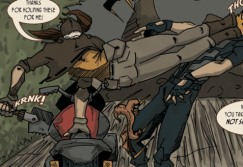 Wild Bullets is now on my holiday special list, and the word is that there will be more of these. Greg Wright and Co. have given us a reason to look forward to the holidays again. Once Charlie Brown has finally talked to the Little Red-Haired girl, once the Bumble has stopped bouncing, when finally that "dabu dores" song is out of your head, you can lean over and read a great comic. (In all reality, that song will never be out of your head, and I apologize for putting it back there in the middle of May.)
Wild Bullets can be found by clicking on either of the following links.
http://www.michigancomicscollective.org/
http://drivethrucomics.com/product/149070/Wild-Bullets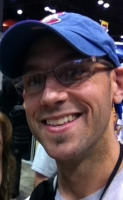 Brad Gischia is a writer and artist living in the frozen Upper Peninsula of Michigan. He is married and has three kids and a dog, all who put up with his incessant prattling about comic books.
Twitter - brad@comicwasteland