(Image Comics, 2015)
Writer: Kel Symons
Art: Nate Stockman
Colors: Paul Little
Lettering and Design: Pat Brosseau
When the sorceress Seph was injured, Reyn scaled the Haunted Peaks to return Seph to her father and the Follows of Teck to be healed. After learning the secrets of the Follows of Teck from Seph's father, Adon, Reyn agreed to join them and help thwart the Venn's scheme to destroy the Land of Fate. Now in Reyn #4 the adventure continues as Reyn, Seph, and the Followers of Teck infiltrate the Venn stronghold concealed in the shadowy depths of the Rift. The evil Venn have constructed a machine capable of harnessing unimaginable power. Now as Reyn and his newfound allies confront the strange facilities mechanical defenses they inadvertently gain access to a chamber where incredible secrets are waiting to be discovered.
Reyn #4 uncovers further mysteries and wonders in the Land of Fate as this Image Comics fantasy series, written by Kel Symons (The Mercenary Sea), with art by Nate Stockman, colors by Paul Little, and lettering and Design by Pat Brosseau, finds Reyn and Seph facing terrible jeopardy inside the Venn stronghold.
Having found where the Venn come from inside the Rift, the adventures carefully approach the huge structure for a closer look. It seems that the device the Venn are building is capable amplifying energy in some, as yet, undefined way. However, there's little time for our heroes to ponder over the true propose of this bizarre machinery, as their presence has already been detected by the buildings uncanny security measures.
Writer Kel Symons has created a magically structured world filled with intricately defined characters and legacies. Last issue Reyn discovered the truth about the Followers of Teck. Far from being a dark coven of sorcerers and witches their people are actually scholars and archivists, keepers of the light, whose powers are derived from ancient technologies. Since the Venn invasion and the Great Cataclysm the Followers of Teck have kept the fires of innovation burning for the benefit of a better future for all humankind.
The juxtaposition of magic actually being based on technology has brought a complexly fresh perspective to this tried and trusted Sci-Fi staple. By splicing it with old school fantasy and adventure, Kel Symons has successfully blended these genres in a totally new and exciting way for this Image Comics series. With Reyn #4, Kel Symons continues to expand the myths and legends of the Land of Fate, this time brining us even greater insight the unusual schism that's been forged between technology and the beings of this realm.
While Reyn still remains a somewhat skeptical and unsure about the technology the Follows of Teck employ to scan the Venn facility and to defend themselves from the buildings spider-like drone defense systems, the bond between this reluctant Warden of the Land of Fate and Seph continues to develop nicely. It's also good to see Reyn interacting with some of the other characters, including Haron and a particularly fun scene with Bram.
Nate Stockman's art continues to impresses, with this action-packed issue, he gets the chance to explore the more technological aspects to the Land of Fate in even greater detail. We are treated to the imposing sight of the Venn stronghold, sleek Sci-Fi corridors become cold menacing places via Stockman's clever use of perspective, and there are some decidedly creepy scuttling robots that are every bit as unsettling as they sound. It's great to see the Followers of Teck in action as well in this issue; fighting alongside Reyn, and using their Teck enhanced weaponry. The colors by Paul Little are bright and vibrant, embellishing the tone of the story perfectly, and the lettering and Design by Pat Brosseau is also right on the money.
Reyn #4 builds towards an exciting cliffhanger as Reyn, Seph, and the Followers of Teck reach a storehouse in the heart of the Venn stronghold. The big reveals here are rattled off in quick succession: with hints about Reyn's past, the role of Aurora mistress of Light - the unseen entity who put Reyn on his quest whom only he can hear - becomes even more significant, and everything we've learned so far about the Land of Fate is thrown into question as the storehouse gradually divulges its secrets when dormant answers begin to awaken.
This is another exciting and well paced issue. Reyn #4 rapidly moves the plot forwards, with its great story by Kel Symons and excellent art by Nate Stockman; this adventure fantasy series is really hitting its stride now. This issues wonderful cover by Nate Stockman is worth the price of admission alone! So, if you like your comics with a bold fantasy edge to them make sure you add Reyn #4 to your pull list, you won't regret it!
---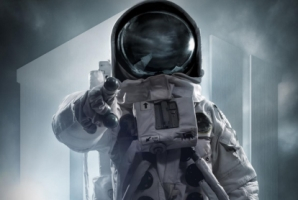 Paul Bowler is a self-Confessed Sci-Fi Geek, Doctor Who fan, and Zombie Disposal Expert. He likes movies, comic books, and all things PS3. He likes to write about his interests, would love to write a novel one day, and also enjoys chatting to the many people he has gotten to know on Twitter. When he's not busy being an Impossible Astronaut, he likes to take a break from his adventures in time and space to enjoy some of his favourite tv shows and movies, preferably with a nice cuppa tea & a sandwich! You can follow him on Twitter @paul_bowler, or find him at his website, Sci-Fi Jubilee.