(Marvel Comics, 2015)
Written by Gerry Duggan and Brian Posehn, Various
Art by Mike Hawthorne, Various
Inks by Terry Pallot
Colors by Jordie Bellaire
Gerry Duggan and Brian Posehn have spent their entire run bringing us the comedy and the drama that have been Deadpool's existence in the Marvel Universe for the past 44 issues or so, give or take an annual or a digital first limited series, but never have they contrasted those diametric attributes so acutely in a single issue before. This final issue, whether #250 or #45 ostensibly represents the end of Deadpool, however co-writers Duggan and Posehn are perhaps not as certain about the ultimate fate of Wade Wilson. Confused? You won't be after reading this giant-size-ten-dollar-tome but you will be entertained, at least by the bookend stories handled by the series co-writers of record. The middle content is mostly like the stuff in the middle of an Oreo, filler. With the one exception of Bens Acker and Blacker's story featuring Evan the "Kid Apocalypse", the majority of the fare is superfluous and centered around supporting players as it is, much of it simply not very memorable; the jokes are mediocre, the art is inconsistent and the writing is stoic and stiff at times. However, taking all of this into account, the first and last stories make the hefty price tag a bargain while providing a fitting end to Duggan and Posehn's Deadpool opus and one of the most entertaining runs to come out of the Marvel Now era.
The opening narrative is one of the most poignant in the entire run, although it is not completely devoid of that trademarked DP humor, it is decidedly more nuanced and vastly more subtle in the delivery and amount of comedic content. That has been a hallmark of Duggan and Posehn's run, particularly the latter half of their tenure on the title. The writers have tackled areas of Wade's life that no others have touched; his daughter, his marriage, his friendships and perhaps most innovatively his conscience. Where previous scribes have portrayed Deadpool as nothing more than Rob Liefeld intended him to be, a third rate Spider-Man rip-off with a penchant for violence and a fetish for big guns and bigger pouches, Duggan and Posehn have picked up the mantle of Daniel Way, Victor Gischler and Cullen Bunn and added their own brand of kinetic energy and comedic genius to take Deadpool to new heights. This issue sees a Deadpool that is focused like never before, foregoing quips and banter for sober, well-thought-out actions aimed at an ultimate goal, his one man war against U.L.T.I.M.A.T.U.M. and Flag Smasher. Many of the elements that have gone into this kinder, gentler Deadpool are the result of his introspective experiences as the altruistic and philosophical alter-ego, Zenpool, also a creation of the imaginative Duggan and Posehn. Beyond that, Deadpool has also recently been at odds with himself over the newly found happiness that has resulted from his friends and family; this is something that is almost completely alien to the Merc' with the Mouth, other than the captive sightless old lady, Blind Al and sidekick/ tech support Weasel from earlier iterations of the character and his supporting cast, Deadpool has always been at least an outsider but more often than that he has worked alone, speaking mainly to us through a shattered fourth wall.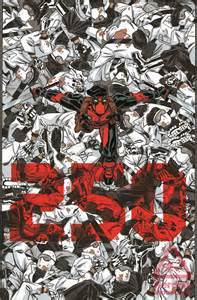 What Duggan and Posehn have given us is a Deadpool with something to lose, his loved ones and with that they have upped the ante in his battle with the New Flag Smasher and provided DP with the fuel to feed his fire for vengeance thus we see a more single-minded Deadpool than ever before. The resulting altercation is more intense as well affording some of the most bombastic sequences of the entire issue. Visually, Mike Hawthorne captures all the big action in exciting detail. His cinematic sense of staging and precision timing ramp up the already break-neck pace that Posehn and Duggan have maintained pretty much from the opening panel. Hawthorne's fastidious attention to detail also pays off big in the more dramatic scenes as he is able to adeptly portray a full range of emotions through facial expressions and mannerisms. His visual approach to storytelling works extremely well with the varied tone of the narrative. The list of other contributing artist including colorists Jordie Bellaire and Val Staples all do fine jobs in bringing this huge issue together, one of the stand-outs, artistically is definitely the amazingly talented Todd Nauck. He and writer Jason Mantzoukas collaborate on Benjamin Franklin in All About the Benjamins, a light-hearted, comedic romp featuring that ever-lovin' blue-eyed Thing Benjamin Grimm and the ghost of the beer brewing, inventor cum founding father, Benjamin Franklin as they face down a giant squid riding, electronic dance music blasting villain known as The Electronic Destructive Man. This one is worth reading certainly for Nauck's dynamic artwork alone but, the story is solid as well. Along with Acker and Blacker's contribution, these two represent the best of the rest leading up to Duggan and Posehn's second full length story, Deadpool Roasts the Marvel Universe: An Infinity Gauntlet Tie-In. This comedic gem is another of the co-writers send-ups of past Marvel classics such as the previously lampooned Demon in a Bottle story that received similar treatment earlier in their run. This time around it's the Infinity Gauntlet that gets the business end of the writers' rapier wit. Beginning with a confrontation with Thanos in the now classic Thanos Copter, the narrative quickly morphs into a psychedelic melding of obscure references and confounding jokes most of which are spewed acrimoniously from the acidic beak of Howard the Duck. Just about the entire roster of the Marvel Universe makes an appearance before this kinetically pedantic excursion into the mind of Wade Wilson is over with including editor, Jordan D. White and Adolf Hitler. The animosity most of these heroes (and villains for that matter) have for Deadpool is extremely thinly veiled at best. Most of them take the podium to express their contempt for his face, his odor or in one case the odor of his face. The whole scene is hilarious in an experimental, original Not-Ready-For-Prime-Time Players style; it's raw and chaotic with enough edge for every hipster in Brooklyn to shave on.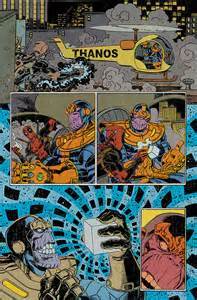 Ultimately the question most will ask is does Deadpool die in this issue? And that's a fair inquiry in light of the months of hype surrounding this book, but the answer is not so simple. Death can be subjective, it can actual, philosophical and in comic books it can temporary or less likely permanent, the extent of said death in the case of Deadpool I will not describe here because if someone spoiled a ten dollar comic book before I read it I know I would be pretty upset. Suffice to say there are endings and new beginnings in this issue; Gerry Duggan maybe finished with Deadpool but he is taking on the writing duties on the Secret Wars titles featuring DP's wife and if nothing else we know for sure the Merc with a Mouth will be turning up on the big screen so Marvel is not close to done with Deadpool. This issue doesn't answer every question or tie up every single dangling plot thread but it does what Duggan and Posehn have done throughout their entire run it thoroughly entertains and ultimately satisfies and that my fellow True Believers is the way to end a run, Excelsior. (4/5)
---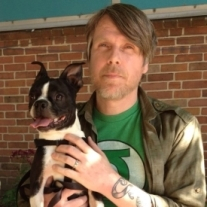 Shawn is an aspiring writer/ artist who has been reading, collecting and living comic books for over 30 years. He lives in Baltimore with his wife, their son, lots of cats, dogs and other various finned and furry friends.