(Boom! Box, 2015)
Written and Illustrated by Madeleine Flores
Colored by Trillian Gunn
This book is dripping with cuteness. It's really something to see. I loved the tone and the execution of the book. This was my first exposure to Help Us! Great Warrior. It is written and illustrated by Madeleine Flores, and colored by Trillian Gunn. Both creators do a superb job. Flores has crafted a charming and vibrant world, filled with interesting and well-designed characters. Based on a web comic (I haven't read) this world is obviously well imagined, and due to the solid execution of the book, it draws you right in. I'm not one for fantasy typically, but the sword and sorcery feel to this feels fine to me. The manga influenced, and Kirby-esque look to the warrior and the general cuteness overall constitute a really pleasing look and feel. When I said Kirby, I meant the little Nintendo Marshmallow Kirby, not Jack the King Kirby.
Anyway, the art and writing are well handled. The Warrior is battling demons, and having issues with her best friend as well. The action/drama interplay is nice, and handled well for a book that at least by appearances is aimed at a younger audience. I was drawn in and felt that the action portrayed the characters in legitimate harm, and with a great fight scene. The designs of the demons were scary enough and dangerous looking enough for a book with this kind of very cute kid friendly tone. It has some gravitas is what I am saying.
I love the aspect of the great warrior being filled to the brim with self-confidence and self-assuredness. The fact that this seems like a novelty is a sad indication of the typical attitudes given to young female characters. The warrior is really capable, and very heroic, but still shows flaws. A pretty well rounded character.
Gunn's colors are really well done, soft, bright, colorful and textured. It compliments the art perfectly. There are several spots where the coloring feels pretty virtuoso to me. There were some atmospheric/cloud/fog effects that played really well.
This book isn't going to be for everyone, given the tone, or look and feel. I hope it connects with its audience though, because I think it's a gem. It's an important kind of book to get in the hands of people for which the message of self-assurance and self-confidence is helpful. And really, doesn't that describe any of us?
---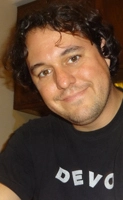 BJ DuVall is a novice comic creator, and nerd. He likes to spout opinions, whether people like to listen or not. Usually not.