(Angry Eggman, 2013)
Written by Sam Eggleston
Pencils by Jason Baroody
Inks by Josh Oakes
Colors and Letters by John Hunt
Edits by Kim Eggleston
In 1969 the United States landed men on the surface of the moon. Anyone who was alive that day can tell you where they were, who they were watching it with, and how it made them feel. It was the end of JFK's "space race", and in that ending was the beginning of so many possibilities for the human race. 42 years later, that race would end for the U.S. with the dissolution of the shuttle program by NASA.
I don't mean to be a bummer or sound like a history professor (two thing which may not be mutually exclusive) but it's an important thing that has passed and seems to have been forgotten by most average people.
On the other hand, Sam Eggleston (Combat Jacks, Cazadora) hasn't forgotten, nor will he let us forget, the wonder of all that can happen in the wide reaches of space. His independently published comic Last Breath is the story of one astronaut's struggle to get home.
Unlike most science fiction stories, this one does not reach to the far-flung galaxies that may or may not lie beyond our solar system. It does not look to aggressive alien races that wish our planet for their own, or see humans as a plague to be wiped out. Sam's book looks literally to our first and final planet conquest, the Moon.
Last Breath takes place in the uncomfortably close year of 2022. Jason Gustafson is an astronaut stationed on the moon. A war has broken out on Earth, one so bad that he can see the results of it from space. His world is shattered when he is attacked by a group of Chinese astronauts also stationed there. The result is that Jason is alone, marooned with a dwindling supply of oxygen and no way home. Jason's ingenuity and perseverance are at the core of this story, fringed with the love for his daughter, and the hope that people can make right what was once wrong.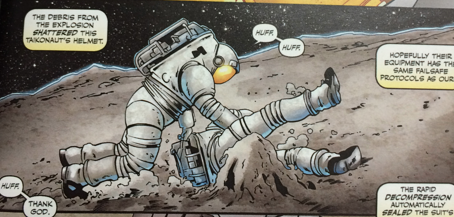 Jason Baroody (Combat Jacks, Robin Hood: Outlaw of the 21st Century) pencils the book, and his detail in the machinery and robotics of space equipment make all the difference in lending a note of solid reality to the tale. There was research done in the drawing of these things, and care put into making them seem like the actual equipment used by astronauts. Josh Oakes and John Hunt fill out the inks, coloring, and lettering crew, setting the bar high against other independently published books.
Eggleston does a fine job with this one-shot comic, successfully Kickstarted in 2013. It's a short story in the mode of The Twilight Zone, just close enough to our current timeline to feel like it could easily happen. It also rings of Isaac Asimov in that he describes a technology that doesn't exist yet but very well could in our lifetimes. Sam has passion for his subject, and it shows in his story.  

Last Breath is a science fiction story that focuses on the character, not on the technology, and that's the hallmark of great sci-fi. It's through the characters that we see pieces of ourselves, and because we see that familiarity, all of the space stuff and gadgets that surround it don't seem that far-fetched. Last Breath is certainly worth your while and a welcome addition to my collection.
*To find more of Sam's work visit angryeggman.com or at Comixology under Angry Eggman.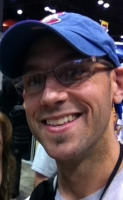 Brad Gischia is a writer and artist living in the frozen Upper Peninsula of Michigan. He is married and has three kids and a dog, who all put up with his incessant prattling about comic books.
Twitter - [email protected]