(Image Comics, 2015)
Written by Grant Morrison
Art by Chris Burnham
Colors by Nathan Fairbairn
Letters by Simon Bowland
Part of the attraction of comic books is that, for as long as I can remember, the artist and the writer both get a good deal of fame. (Colorists and Letterers are on the upswing now as well, as they should be.) It's a symbiotic relationship that the artist and writer need each other, despite past accomplishments, to make a book work. Any comic with a great story and awful art will just sit on the shelf forever because no one wants to pick it up. Good art will make a sale perhaps, but the story is what keeps pull boxes full. Grant Morrison is one of those names that will sell books no matter the artwork. His accomplishments are varied and many. He's authored some of the most major story-arcs in comics, and is battle-tested when it comes to writing. His was the first name I saw when I looked at the cover for Nameless, out from Image Comics this week.
This is Morrison to the nth degree. He weaves the psychic sucker punch of a major disaster in with the coming apocalypse. I mean, of course he does. This is Grant Morrison.
Nameless begins in a dream and ends in a fantasy. The main character is literally called "Nameless", so chosen because he un-named himself to hide from the "veiled lady" who haunts his dreams. Nameless is a lucid dreamer for hire, trying to steal a key from the veiled lady that will do…some pretty bad stuff. The government wants in on Nameless' abilities, and confronts him with a dire prediction that corrals him into their own plan.
Morrison doesn't pull any punches and keeps your mind racing throughout the book. He creeps you out just enough to make you want to turn the next page, only to make you squirm some more.
This is where the symbiotic relationship really comes into effect, because despite the great wording of Morrison's story, there is no replacing a great artist. Chris Burnham has worked on Batman, Incorporated and Elephantmen. He's got a gritty and realistic style that is perfect for this book, and is part of the reason you'll squirm so much as you read it. In Nameless Burnham's style make it feel like you're reading an EC horror comic from the 50's.
The coloring by Nathan Fairbairn and letters by Simon Bowland only add to the great overall look of the book. Fairbairn balances the color, splashing a red panel amidst the blue/grey/greens to make it pop. It's an aspect of comic creation that is often overlooked. Think about that for a second. When I turn the page, or scroll down as the case may be, my eye is drawn to the red panel amidst the blues. Before I read one word, really before I've had a chance to process the image, I'm looking at that panel first, seeing what's happening, using it to inform how I read what has preceded it on the page before I've even read it. That's an amazing talent, one that should be acclaimed and considered when coloring a book. As well the placement of letters, which need to be hidden within a panel so that they don't disrupt the flow of the art or the story, but are still legible and make sense. I've seen Simon Bowland's work before, and he is top notch.
Nameless reminds us how important the artist(s)/writer team is when applied to a comic book. The balance of the visual medium with the written word, the balance of color to image, word to panel. It's all a high-wire act. But when you've got Grant Morrison and Chris Burnham in the lead, you can bet that Nameless will be on your pull list, and that it will stay there.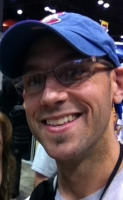 Brad Gischia is a writer and artist living in the frozen Upper Peninsula of Michigan. He is married and has three kids and a dog, who all put up with his incessant prattling about comic books.
Twitter - [email protected]