(ComixTribe, 2015)
Story by Sam Read
Art by Alex Cormack
Letters by Tyler James
Edited by Steven Forbes
Comic books are a big business. Apart from many businesses though, it is also an art form, which brings it's own set of complications. How do you judge art? It's in the eye of the beholder of course, but there is a way to tap into the collective consciousness that makes something culturally popular and therefore financially successful, and at this point in time the term "comic book" seems to bring out wallets like never before.
Still though, we feel like we must judge things. (As a reviewer, I'm not at all blind to the fact that this article is judgey by its very nature.) Twitter and other social media sites are a haven for critics, both professional and not so, to voice unfettered opinions about everything in the four-color world.
So, opinion time folks, ComixTribe has got a good thing going.
And Then Emily Was Gone was a surprising hit in 2014, and I was hopeful when I saw the company's logo in the file heading. I'm hoping, now that I've read Find #1, that this is not the last of the new books that will bear the ComixTribe logo.
Written by Sam Read with art by Alex Cormack (I Play the Bad Guy, Future Proof), Find is a child's tale, one that speaks to the simple fantasies of children, and the hope that will always reside there. This so far feels like the niche that ComixTribe can comfortably nestle in.
Find focuses on Teddy Chance, a boy whose parents find him a disappointment, or even worse, someone not worth their attention. He finds solace in familiar, young boy things. Sneaking out of the house, going on adventures, and most importantly comic books. When he spies a meteor hit near his house, it is the perfect opportunity to investigate.
We go on and on about how comics are becoming grittier, how the "super-hero" has become a conflicted, inner-darkness kind of character, and how that makes everything, from comics to the movies they inspire, more interesting. But we also often forget that the people who write these gritty books were inspired by the All-American, clean-cut, superheroes. Would The Walking Dead be as popular if we didn't have Superman to hold it against? No. The super hero ideal that was based on classical myths and built up by the likes of the Lee/Kirby's and Schuster/Siegel's' is a concrete foundation on which we can then lay the blood and gore that now cements those bricks.
What I'm saying here is that Sam Read has shown how those early comics could inspire, and still do, how generations of children think about the world. Teddy Chance, in Find, shows that despite what could seem archaic in today's comic world still has value when seen by the right eyes.
Alex Cormack brings a seasoned eye to the book, including his great and totally creepy design for the…spoiler here…alien. I love the lack of solid form in the design, so that he's free to do what he wants as the story progresses.
Find #1 could be a stand-alone book, but Sam Read keeps it open for all kinds of inside stories as well. Alex Cormack's art keeps the book grounded even while it takes off in new directions, and ComixTribe once again hits the ground running.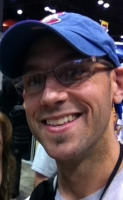 Brad Gischia is a writer and artist living in the frozen Upper Peninsula of Michigan. He is married and has three kids and a dog, who all put up with his incessant prattling about comic books.
Twitter - [email protected]