Marvel Studios 2015
Summary: It's 1946, WWII is over and Agent Peggy Carter finds herself working for the SSR. Begrudging the position of a pencil pusher, stranded in an era where the male presence runs basically everything, Carter secretly attempts to continue doing what she does best: being a secret agent. But everything comes at a cost, when Howard Stark appears to be selling his most dangerous inventions to the black market, Peggy is hired on to clear his name at all costs – even if it brands her a traitor. In the ensuing battle a new enemy arises, and those dear to Peggy continue to get hurt. How much of it can she take before she breaks?

Episode 1 - "Now is Not the End"
Directed by Louis D'Esposito; Written by Christopher Markus and Stephen McFeely
Episode 2 - "Bridge and Tunnel"
Directed by Joseph V. Russo; Written by Eric Pearson
Review: Truth be told, this has been my most anticipated Marvel project in years. Even more so than Avengers, even more so than Guardians of the stinkin' Galaxy. Why? Because I love Hayley Atwell and I love the character of Peggy Carter. Her character was the best part of Captain America: The First Avenger, I loved her Marvel One-Shot, and I've been dying for more old school spy action since both. Agents of Shield had a bit that I loved in its first season, and Captain America: The Winter Soldier had a bit, but this is show take place in the era where that kind of stuff is prevalent.
It seethes cool. So how do the first two episodes stack up in my excitement and as a fine product of storytelling?
Despite being written and directed by men, Agent Carter is off to a wonderful start that features an incredibly strong willed woman who's mind is primarily on the job, not on the heart – although she's not heartless, very far from it – Atwell gives a wonderful warmth and sentimental performance as Peggy  Carter. She knows this character inside and out. It's a welcome change, and these episodes go to prove that Marvel is ready and willing to make sure that they're women characters are more than just fodder for the man to save, and rightly so Carter does a lot of the saving of men herself in these first two episodes.
The dialogue is incredibly witty, and the comedic timing is spot on. Although related: I'm not an entirely huge fan of how Edwin Jarvis, Howard Stark's butler, is being portrayed. It's partly due to the fact that I am much more used to him as an old, Avengers pro butler from the comics and this Jarvis is new to all this super heroic action. He comes off as naïve at times, even though he is, and it's not always handled properly and a lot of times he comes dangerously close to being nothing more but comedy relief.
Carter finds herself in a lot of sticky situations and hilarious situations, but with the help of this being an era where security cameras don't exist in every nook and cranny of a building things become much easier for her to navigate without her bosses discovering her every move. - Speaking of her bosses, the SSR agents are pretty chauvinistic, which is about par for the time. They don't see Carter as anything more than a pencil pusher even though she continues to prover herself in the field. I'm not a huge fan of how they're being handled either, more so than Jarvis these guys ARE the comedy relief camera fodder.
I get the whole women empowerment, make sure Carter is always outshining the ignorant males surrounding her, but despite their far-flung attitudes it doesn't make since to portray them at far worse at their job than she is. In reality, they'd probably be just as good as she is, and she'd just have to work that much harder to stand out and above.
I'm incredibly intrigued by the storyline and the setting up the villains for the season. At 8 episodes, 2 of which have already aired, the series will have to move quickly in order to make sure that 6 episodes from now we're coming to a satisfying conclusion to the villain arc. In these episodes we learn that a secret criminal organization known as Leviathan is after Stark's stolen technology which has landed him in deep hot water with the American Government and has came close branding him a traitor – it's because they believe he sold his terrifyingly powerful inventions, but obviously we know the truth as otherwise. I am curious to see where they go with Leviathan, and I'm curious if they'll tie the organization to Hydra at all. Maybe an offshoot organization fit to rise from the depths after Hydra fell in the war.
The old spy action isn't completely on display in these few episodes, but we do get a bit – like a wristwatch that's also a safe cracker. We get tons of action, which is a great thing and one incredibly funny scene where Carter is beating the snot out of a Leviathan agent while in the background a Captain America radio play is going on and it features Cap saving "Betty Carter." The symbolism of the scene is not lost on me, and I absolutely adore the addition of the Cap radio plays.
I really like this show. I really, really like this show. Agent Carter is off to a wonderful start, with a stronger first episode than even Agents of Shield had in their first season, and without them this show wouldn't exist right now. I am hopeful that AC will outshine people's expectations and do well in the coming weeks so that next year we can get a season 2. More Carter, and more Atwell, is always a good thing in my book. I'm looking forward to the rest of this season with gusto.
Final Score: 4 Dubious, Knockout, Lipstick Covered Kisses, Darlin' out of 5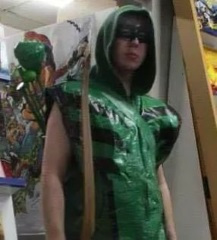 Derrick is a born and raised otaku with a love for comics, anime, manga and movies. The full list is pretty long, but that's just the basics. Stories set in space are his bread and butter.
You can find more of his writing at IndieComix.net
@KazekunForever