(Action Lab Entertainment 2014)
Story and Letters by Eric Grissom
Art, Cover, and Design by David Halvorson
Additional Art by Will Perkins and Phil Sloan
Welcome to 2015 and all those things that were promised us. Hoverboards, self-tying shoes, and the ability to get fired by fax lie in the coming year. But lest you forget that a short week ago those things were still a year away, here is a review for a book that promises more than a auto-fitted, auto-drying jacket, this promises fun and adventure and clever story writing. This is Planet Gigantic from Action Lab Entertainment.
If you're unfamiliar with Action Lab, they've been slowly and steadily creating comics since 2011, making a splash with books like Fracture and the two-time Eisner and five-time Glyph nominated Princeless. I was fortunate enough to read through issues 0-4 of Planet Gigantic, and while I'm not on any awards panels, I'd not be surprised to see it in the running.
Planet Gigantic is a space adventure. A pair of intrepid and enigmatic children named Yuri and Valentina, twins bred in by the Wunderkind Corporation, have been sent into space with that noble an probably profitable mission to travel through space, search for new life forms, find…rock monsters? That last was not part of their mission statement but part of what they found when they tangled with space spiders and crash-landed on a nearby gigantic planet. Did I say space spiders? Oh yes. And that isn't all. Yuri and Valentina aren't your everyday genetically enhanced, super intelligent children. Oh no. They've also been given abilities that will aid them in their voyage. Valentina can create gravitational fields (that's flyin' folks) and Yuri can control electro-magnetic energy. They're accompanied by their sometimes-disembodied "mother", a robot who helps them out, lends advice, and often saves their bacon. The adventure in the first four books is only a portion of the planet, so after the shadow ninjas, dragon riders, Blood Mines, and Castles of Terror, there is still a whole planet to explore.
Eric Grissom (DeadHorse, Chickens) takes what seems to be a lifelong love of sci-fi and fantasy and jams it into an all ages book that is constantly fun and continually enjoyable. Yuri and Valentina are an approachable pair as far as heroes go, and easily readable as far as their intentions go. Reading this book recalled many hours spent with characters like the Wonder Twins, the Marvels, the Fantastic Four, and those moments when you realized that Luke and Leia were brother and sister. It's the family aspect that was lost for so long in comics, and has recently become more popular with characters like X-23 and Daken. The main idea is that it's cool to have family on a team together, because there is an instinctual nature that comes from living together from a young age, a connectedness that you can't get from just being a teammate. Grissom captures that in Planet Gigantic.
David Halvorson (DeadHorse, Bulletproof Chicken) has a cartoon-based style that sets the tone for this story from the start. It's light and loose and helps instill Yuri and Valentina with that sense of freedom and joy from chaos that is so strong in younger children. (Oh Gawsh. Sounding like an "old guy" now.) But Halvorson draws from a fantastic imagination, bringing to some truly bizarre and wonderful creatures to life as the story progresses.
In addition to all of the above awesomeness, each of the first three issues also includes a short tagged onto the end, a "Story from Planet Gigantic", that helps to fill in the gaps on some of the history of this world and bring in some very important characters. Two of these additional stories are drawn by Will Perkins (Angelica Tomorrow) and Phil Sloan (DeadHorse) whose work only adds to the book.
Ed Grissom captures the tradition of a Flash Gordon style exploration book and infuses it with the fun of a Wonder Twins cartoon. David Halvorson brings a cartoon look and feel to the comic that only increases the overall enjoyment. Planet Gigantic may have come out last year, but keep your eyes open, because this is one huge planet and those kids are pretty darn great.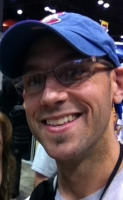 Brad Gischia is a writer and artist living in the frozen Upper Peninsula of Michigan. He is married and has three kids and a dog, who all put up with his incessant prattling about comic books.
Twitter - [email protected]