(Dynamite Entertainment, 2014)
Written by Steve Niles
Art by Nacho Tenorio
Colors by Kelly Fitzpatrick
Letters by Marshall Dillon and Dave Lanphear
Rev up your engines, snap that chainsaw into your arm socket, and shade your eyes from the flashing blue light.  Ash Williams has returned, and not in any way you've seen him in previous comic incarnations.  This is the sequel to Army of Darkness; this is Ash Gets Hitched #2.
Steve Niles has grabbed the weighty mantle that is the Evil Dead franchise, adding to the mythos with this sordid little tale that takes place right after Army of Darkness ended.  Ash is still in the medieval time, and Sheila is his steady.  Along the way, through the first issue and into this one, we see familiar faces from the last film.  Arthur, Eric the Red, and the wizard all play prominent roles, as well as the hag from the well, but this time Ash is facing a more sinister foe than Evil Ash.  This time he faces the "Faceless One", the creature who's face now graces the cover of the Necronomicon.  (Read that sentence back and it sounds like a demented Dr. Seuss story.  I love words.)  The Faceless One is a hulking man who wears a hood of human flesh and tears through two armies because the don't have a champion to face him.  This issue is full of the dead: being run over, cut up, stabbed, shot, burned…it's just like the films.
Niles is best known for his work on 30 Days of Night and other horror titles, as well as Batman and Criminal Macabre, but this is not his first foray into the world of Evil Dead.  He's written for Sheila and Ash before in Ash and the Army of Darkness, and he's up to par again in these pages, taking the Raimi original and expanding it in all the right directions.  The only thing I'm missing a little of here is the snark that became so evident in Ash's everyday behavior.  It seems like there is a more serious tone to the story, and that doesn't seem as much in line with the character.  As for world building, I was ecstatic to see familiar faces again, and Niles juices up the important of the wizard, which makes it a fun read.
Nacho Tenorio (Dark Shadows) does the artwork, and he captures the feel of the films very well, from the look of characters that we already know to the introduction of new ones who feel like they belong.  That seems a sticking point for many artists, when you go off-book and have to start designing new characters that will blend in.  Tenorio does a fine job, especially with the couple of panels after a slaughter when Ash has got that distinctly Campbell-esque glint in his eye and smirk on his face.  He captures the character perfectly.
Weather you're a fan from the first Evil Dead, or just coming aboard for a fun comic, Steve Niles and Nacho Tenorio have a cure for what ails you.  That cure is AOD: Ash Gets Hitched #2 and comes with a good dose of chainsaw exhaust and the "ka-blam" of a boomstick.
___________________________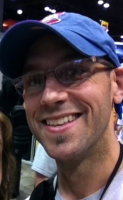 Brad Gischia is a writer and artist living in the frozen Upper Peninsula of Michigan. He is married and has three kids and a dog, who all put up with his incessant prattling about comic books.