(Comix Tribe, 2014)
Story: John Lees
Art: Iain Laurie
Colors: Megan Wilson
Letters: Colin Bell
Let the creepy return!  Now that horror comics have slipped into mainstream popular culture, when it has become commonplace to see zombies walking across your television screen, a new terror has arrived to make you check the shadows.  Just when you thought it was safe to go to sleep, to bring your children to Scotland for a relaxing vacation, that's when you pick up And Then Emily Was Gone and decide that things anywhere within a hundred miles of the Orkneys is preferable to those isolated isles north of the Scottish mainland.
John Lees (The Standard, Oxymoron) took the stories he grew up on, the very mythology of his homeland, and brought it to international and terrifying life.  And Then Emily Was Gone is the story of a man haunted by his past.  (And piles of scary demon things.)  Greg Hellinger sees the dead and it has ruined him.  He lost his place on the police force and is currently running a failing P.I. business.  Despite his crumbling life he may be helpful yet to a young girl who is terrified for her missing friend.  (Emily.)  In disguise the pair travels to Merksay Island, which is filled with locals of a somewhat unusual nature.  The Orkney's are a group of islands just off the coast, but that's enough to give them enough separation that makes them something apart.  It's a beautiful, ancient, isolated, crumbling, terrifying…whoops.  Lee's story shows the inherent weirdness that comes from that separation.  He's also added two sub-plots in the guise of Vin, Louise, and their demonic employer, and Emily's parents, who have a pair of dirty secrets hidden in a fancy box in their basement.  All this revolves around Bonnie Shaw, a creature who comes in the night to take children from their parents in return for an easier life.
Iain Laurie's art is not traditional for a comic, but it has a character almost all its own.  There's something slightly disturbing about the disjointed noses, the pointed teeth, and bulging eyes of his drawings that speaks to the fear they're feeling, and helps personify that "it's coming through the dark for you" feeling. (And those are the regular people; wait till you meet Mental Jimmy.)  It's the same unsettling feeling I used to get while watching certain Monty Python episodes where the strangeness was, for them, the funny part, and for me, the slightly scary part.  It's the "otherness" of the drawings, the innate difference-ness (I know that's not a word, but it fits.) that makes it seem perfectly at home in this odd little corner of the world.
Lees and Laurie have brought back the creepy with And Then Emily Was Gone and introduced the Orkneys as a place to avoid, unless you want to meet Bonnie Shaw.  Either way, I have no idea where this story may be going, and the seemingly disparate sections are drawing together with their endpoint being wherever Hellinger is.  Keep a wary eye to the shadows and be sure to thank your parents.  Bonnie Shaw could be waiting…anywhere.
___________________________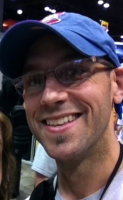 Brad Gischia is a writer and artist living in the frozen Upper Peninsula of Michigan. He is married and has three kids and a dog, who all put up with his incessant prattling about comic books.