(Dynamite Entertainment, 2014)
Writer & Letterer: Frank J. Barbiere
Artist: Joe Bennett
Colorist: Lauren Affe
Well, reader, I'm jumping in with Solar: Man of the Atom this week. Though originally published as Dr. Solar in the 1960's, I found this Issue #1 reboot enjoyable and unlike any other #1 I've ever read. Usually #1's are origin stores, but, Solar #1 isn't just an origin story, it's also the end story. Yes, you guessed it, this story finds Solar at the end of his life and the rest of the series will be a flashback of how he became Solar.
The comic starts showing an explosion with a person inside it. These few panels are accompanied by a "voice" saying "This all started with an accident. A spark. A change. Change is our only constant. It propels us. Makes us something more. Something greater." As the voice continues to speak about change, we see a bank being robbed and as the robbers prepare to take the money, Man of the Atom appears (he likes going by that name).  At this point in his superhero career, Man of Atom is a known hero, so upon seeing him, the robbers react – allowing us to see his powers for the first time.  Within his mind, Man of the Atom thinks of a chemical creation turning the bullets coming at him into steam. He uses his powers a few more times – turning guns to hot iron and turning a woman's head permeable so that a bullet can pass through her without harm. Almost instantly after this, things start to go wrong with our hero. Man of the Atom loses control of his powers. While trying to apprehend one of the robbers, he blows him up quickly followed by himself.
The comic now switches to a high-end science facility where we meet CEO Colin Seleski. Colin is meeting with a scientist named Preston, and informs Preston that he is not happy about not knowing what "project" Preston and his father are working on.  After the talk, Preston returns to the lab where he is looking for Colin's father, Phil. As he is looking for Phil, his name is called. When Preston turns we see  the red gloved hand of Man of the Atom and Preston calls out to him saying "Phil?" in which he responds by calling out for a woman named Erica.  The scene changes to a house where a female architect, presumably Erica, is working on a house design. Her husband soon comes in and tells her she has a visitor – you guessed it, Preston. Preston asks her if she is Erica Seleski and she responds by pointing to her wedding ring and saying Robertson and goes into a spiel on how her and her father do not get along. She tells Preston that the only reason he should be seeking her out is if her father is dying – Preston doesn't respond.
Now remember, reader, I told you that this is the end story of Man of the Atom – in fact he even says that. As Man of the Atom, aka Phil, is dying (and I'm not going to tell you exactly how he dies, you have to read it to find out, but I promise you it's not laying in a death bed drifting off to sleep) he says:
This all started with an accident. A spark. A change. Change is my only constant. It propels me…makes me something more. Something greater. This is the story of Solar, Man of the Atom. Of how the power consumed me. This is the story of how I died.
And that, reader, is what makes this comic so awesome. It's not an origin story; it's an end story. And when you start an Issue #1 at the end, you are up for one heck of a comic series.
___________________________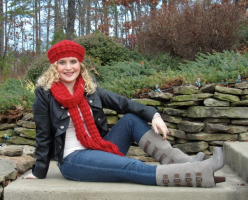 Ali is a creative writer with an emphasis on Sci-Fi/Fantasy and Comic Books. She first fell in love with superheroes when they were used to teach her to read. When not practicing at her dojo or out seeing the latest superhero movie with her friends, Ali can be found curled up on the couch with her dog and a good book.