(Image Comics / Skybound, 2014)
Story By: Joshua Williamson
Art By: Davide Gianfelice
Color By: Miroslay Mrya
Cover By: Matteo Scalera
Searching the jungles of Mexico to find a kidnapped girl, Jackson T Winters, a haunted thief with a dark past, and his associates Trick and Skinner, made a dangerous journey into the lair of the Brotherhood of the Closed Book. Jackson is captured by the sadistic El Silbon and brought before their leader, the wizened El Maestro De La Muerte. As Jackson discovers the full horror of what Brotherhood of the Closed Book has done, Trick and Skinner attempt to rescue him. Jackson finds Nina and they escape from the temple, but the jungle is haunted by the Brotherhood's evil and soon the spirits of the wildlife begin to close in on them. Jackson might think he knows all about the supernatural world, but he soon finds the jungle is teeming with all manner of ghosts…
The penultimate issue of this second arc of the Image Comics / Skybound series written by Joshua Williamson, with art by Davide Gianfelice, and color by Miroslay Mrya, continues to enthrall with its graphic mix of supernatural horror, dark humour, and distinct Oceans 11 vibe. Ghosted #9 rejoins Jackson Winters and Nina as they being to make their way thought the haunted jungle. These scenes are loaded with menace and atmosphere as Jackson and Nina begin to sense the jungle stirring with movement as the spirits of the animals grow ever closer. When Jackson confronts Nina with the terrifying reality of what the Brotherhood had planned for her, Nina tells him about the evil spirit of the witch that possessed her, and it becomes clear why Wenona wants her back so badly.
When the true secret of the Cult of the Closed Book was revealed last issue, the scale of what this cult has done, and the fate that awaits the possessed women they have kidnapped, is truly the stuff of nightmares. The notion that one man, the Maestro, could be responsible for the creation and distribution of such tomes of evil is just the kind of fascinating premise that makes Ghosted such a compelling horror series. The scale of such a vile endeavour is mind boggling, especially considering the sinister works that have spawned from this temple.
The haunted jungle environment in Ghosted #9 is vividly brought to life by artist Davide Gianfelice, with the tension building quickly as Jackson and Nina find themselves surrounded by the ghostly wildlife. Miroslay Mrya's colors are also excellent, red eyes glow within the depths of the vegetation, and when the animals strike they appear to have an unearthly golden sheen about them.
We also catch up with Jackson's ghostly partner in crime, Anderson, who is still drifting though a flashback from Jackson's shady past after she was affected by the Maestro's totem. This glimpse of events from a previous heist continues to offer further insight into Jackson's character, which in turn leads to some genuinely disturbing and horrific scenes.
When Jackson fails to meet Trip and Skinner at the rendezvous point, Wenona Blood Crow arrives to take charge of the situation personally. However, it seems there are others who also share a vested interest in finding Jackson and Nina.
I really liked this issues cover by Matteo Scalera as well; it's stunning, with the ghostly animals emerging from the jungle, their eyes glowing with spectral energy. Ghosted #9 is another superb issue from Joshua Williamson. There is hardly a moment's pause as Williamson entwines the powerful narrative with numerous plot strands, together with some great pacing and witty dialogue, that quickly builds into a gore drenched cliff-hanger. Ghosted #9 is a great issue, with quality storytelling and solid art, and I can't wait to see how this story arc concludes.
___________________________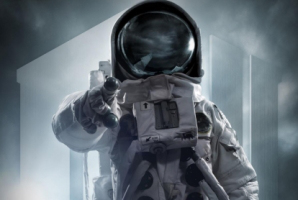 Paul Bowler is a self-Confessed Sci-Fi Geek, Doctor Who fan, and Zombie Disposal Expert. He likes movies, comic books, and all things PS3. He likes to write about his interests, would love to write a novel one day, and also enjoys chatting to the many people he has gotten to know on Twitter. When he's not busy being an Impossible Astronaut, he likes to take a break from his adventures in time and space to enjoy some of his favourite tv shows and movies – preferably with a nice cuppa tea & a sandwich! You can follow him on Twitter @paul_bowler, or find him at his website, Sci-Fi Jubilee.