(Boom! Studios-2015)
Creator and Story- Arash Amel
Writer- Marguerite Bennett
Artists- Antonio Fuso(Chapters 1&2) Stefano Simeone(Chapters 3&4)
Colorist- Adam Guzowski
Letterer- Steve Wands
Butterfly is the story of Rebecca, a lethal assassin that works for The Project, a secret government sect of the Department of Defense. When things go bad on a mission she is thrown into chaos when her extraction numbers go unanswered. She finally gets instructions via a last resort number that eventually leads her to a vineyard where she discovers her, thought to be dead, father. Her father was in the same secret organization and faked his death to get away from the group and started a new life, and with it a new family. This causes an extreme strain on the new discovered relationship between the father and daughter and leads them to going on the run. Can she trust him? Was his abandoning of her and her mother justified? She has to choose between trusting him and trusting The Project.
Butterfly is sold as a hardcore espionage story, but is a lot more than that. It delves into the relationship of a father and daughter and what broken trust does to that relationship.
I really enjoyed the story when it was given to me straightforward. The backdrop of secret organizations and the corruption that comes into play with something started with good intentions is intriguing and kept me interested. The father and daughter relationship is what gets you invested emotionally. The layering of the two gives this book needed depth that caries it, but the flashbacks are where the plot got muddled a little.
The flashbacks give you a great look into the small things that build character and story, but the confusion of the flashback timeline is what is frustrating about it. You go into a flashback and then the next page is a flashback further back. The flashbacks are dated, which helps, but it throws the reader into a Memento type experience where you have to flip back and forth checking dates to make sure you know what's going on. And since the flashback story is coming at you in reverse it makes it very difficult to follow. I would have rather had the flashback story in order. It just felt like Bennett, the writer, tried to make it more complicated than it had to be. I can't imagine the frustration of this reading issue to issue.
Although it has complicated during some parts that's also what makes this a fun read. The writer of this story does what I wish more writers would do in not dumbing down the story for the reader. You have to take an active part in understanding and getting your hands dirty looking for the meat of the story. Read this when you have time to let it soak in and don't just blow through it.
The art is one of the highlights of this book and really complements the uncertainty of Rebecca's relationship with her father and The Project. The art on the first two chapters is by Antonio Fuso and the last two chapters are by Stefano Simeone. For being two separate artists they do a good job staying on the same page artistically. You can tell a subtle difference, but it isn't a distraction. The seamlessness was helped I think by colorist, Adam Guzowski, which nailed the earthy downplayed color scheme.
I do recommend picking up the newly released hardcover book if you are going to read this. I think it works well reading it all together and having the physical book to be able to flip back and forth to reread the flashback scenes. Having the whole story at your fingertips is the way to read this. In a story like this, that has a lot of subtle information coming at you, you need the book.
In the end I enjoyed the book and would recommend it to someone that is a spy genre fan looking for something that they will read carefully and really get emotionally invested in. Besides some problems with the flashbacks not flowing it was an overall solid effort all around and worth checking out.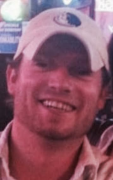 Jonathan Winchester is a writer from Dallas, TX where he lives with his wife Maddie and their annoying cat. He believes Han was the lone shooter, that nothing looks better than a silver age comic in Mylar, and that there is no better feeling than walking into a dimly lit movie theater.
Twitter- @TexasWingnut