(Alterna Comics, 2013)
Story by Mike Loniewski
Art by Dan Lauer
Letters by E.T. Dollman
Three issues of Myth were sent to me by the creators, and landed on my computer desktop with an imagined "thud". I'd seen some screen caps of panels from this book. I'd heard that a guy from the site was going to interview them. I was terrified.
I didn't want to read this, but not because I was afraid I wouldn't like it. I knew I'd like it. I could tell from the snippets of art that this was going to look good. I could tell by the buzz around it that it was a good story. But, as with most people on the fringes of this comic industry, I've got a few projects going on my own. One of them involves mythic-type figures. I was terrified that I would read the story that I'd started to write.
Now, I know that this is not a rational fear. The idea that people have similar ideas is no surprise. Look at Edison and Tesla. But I didn't want to read it and find out that this guy, this Mike Loniewski, had had my idea and gotten it out there before me. (Just so we're clear, I've had this happen to me in the past, where I thought of an idea for a good invention and then saw it ten minutes later on the street.)
That of course, is not the case. Mr. Loniewski has had his own idea, and has translated it perfectly. (I shudder to think that my idea may be half this good.)
Myth Team is a fantastic fairy tale. It is based around Sam, an orphan living next to a mystical forest, where an ancient doorway leads to a magical realm. He befriends a giant and fights a witch. This is story telling like I remember from my childhood. I'm not going to give much away because that would do a disservice to the comic, but Loniewski weaves an epic adventure story that will have you rapidly flipping pages, frantic for the next page and ruing its' inevitable end.
There's also a psychological portion to the story, the underlying themes that Loniewski has consciously or unconsciously put there. (I suspect based on the rest of the story and the skill with which it is laid out, that he knew all the time the talented bugger.) There are themes of loss and fear of the unknown, and the acceptance of things that children know on a base level they cannot change.
It was the basic feel of the book that got to me. A forest filled with magical creatures, witches, orphans…this is Labyrinth and the Dark Crystal and Calvin and Hobbes and Of Mice and Men rolled into one.
Dan Lauer brings a minimalist style that works so well in this comic. I look at his art and it makes me want to draw better. Black and white done right. There is one panel of three cars cresting the top of a hill and catching some air that I actually just sat and looked at for a minute. You can see where the chiseled edge of his marker was used at the edges, if you're just looking at those edges. But when you take the picture as a whole, the chisel lines disappear and you see it as the panel edges. The way that Lauer draws uses the white on the page to just as much effect as the black, and that is a sure sign of a talented artist. He knows when to leave it blank.
Myth is an excellent book, the kind of book I love to read now, and the kind that I'll love to read five or ten years from now. It's a "myth"-tery that I waited so long. (Groan.) If you enjoy books like Rust by Royden Lepp or any of the previously mentioned films, then this book is one for you. It takes the best parts of fantasy and childhood and combines them into a three-part book that you won't be able to put down.
___________________________
To Purchase "Myth" Issues #1-3 Please Visit Alterna Comics' ComiXology Page.
___________________________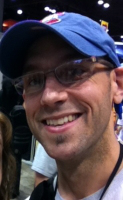 Brad Gischia is a writer and artist living in the frozen Upper Peninsula of Michigan. He is married and has three kids and a dog, who all put up with his incessant prattling about comic books.