(Diamond Steel Comics, 2015)
OGN
Created by John Ferguson
Art by Claire Roe and Lauren Knight
Saltire is a book that I feel unreasonably close to. I'm not Scottish. I don't have Scottish ancestors, or even any from the U.K. This is a book that debuted when I first began reviewing comics. It was one of the first indie books that I had the opportunity to read and review. So as this series has evolved I feel like I've been evolving with it, and that's how it is when you're invested in a story.
The character of Saltire is the creation of John Ferguson, and in this character and this comic we have the literal creation of a mythology. Saltire is the spirit of Scotland (their flag is also called the Saltire, blue with a white cross) and he comes in times of great need of the people. In the first arc it was the invading Romans, who historically had an awful time with the notoriously tenacious Scots. In Annihilation Part 1, the Mercyan army aided by a vampire witch was attacking the Scots. Saltire saved the day but lost two of his guardian companions to the undead. The Mercyans and their warrior king are unfazed by the loss of the vampire, and now in the 2nd part of Annihilation they are again looking to overthrow the guardians. Saltire, after the celebration from part 1 is under the weather like you remember from college. And that's all you get. This story is too good to spoil in any way.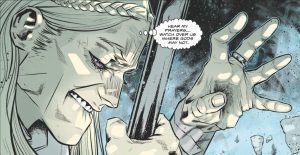 The first time I read about this story, I remember thinking "This is a lot of characters for one story…and they all have special powers…" It's the truth. The guardians in this world are one man or woman from each tribe, chosen by the gods to be the champion of their particular clan. When there's a problem, they get together, and sometimes it's so bad that Saltire is called into the fray. This comic is like the dark ages Avengers. Ferguson keeps each of the characters individual while still making sure that they perform and act for the good of the whole team. Each of them wants what is best for the country and its people. Ferguson is playing the long game with this book, and it's a world that is large enough to hold piles and piles of cool characters.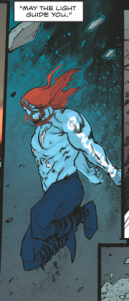 Now to the art. I really can't say enough about how great this book looks. Claire Roe has shown with this second book that her style is as much a part of the Saltire universe as Ferguson's story. As a reviewer, when I'm trying to explain to someone who hasn't seen what this book looks like, my brain is trying to make a connection to another artist, someone that will remind others of what Roe's work looks like. My first thought as I read this comic was Mike Henderson of Nailbiter. Then I was thinking of the work that Riley Rossmo did in Curse. There are shades of both of those artists, but I also see a style distinctly her own. Her art is full of movement. It's dynamic and exciting, a perfect match for the fast-paced action that Ferguson is plotting.
Lauren Knight is the colorist, and so much more important in a book that has such a huge cast of characters. How do you distinguish this muscular guy with long hair from that muscular guy with long hair? How about that arrow-slinging guy from the other arrow-slinging guy? Knight uses subtle tones and highlighting to make each person stand out, and great background coloring to make the figures really pop on the page.
Saltire is a new mythos based on ancient beliefs. John Ferguson really brings the story to a great ending in Annihilation Part 2, sucking me into the story for good. I'm a Saltire fan, not because I started at the same time as it did, but because of the high quality world building done by Ferguson and the ecstatic art by Claire Roe and Lauren Knight. Not to worry, there is an epic teaser ending that will have you clamoring for the next issue. This creative team has cemented Saltire on my pull list.
Saltire comics are available at http://www.diamondsteelcomics.com/ and on Comixology
Saltire: Annihilation Part 2 is out on April 11th.
---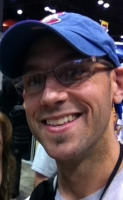 Brad Gischia is a writer and artist living in the frozen Upper Peninsula of Michigan. He is married and has three kids and a dog, all who put up with his incessant prattling about comic books.
Twitter - [email protected]