(Image Comics, 2015)
Written by Joshua Williamson
Art by Mike Henderson
Color Artwork by Adam Guzowski
Lettered by John J. Hill
I'm gonna put something out there right off the bat, it shouldn't be a surprise to anyone; image comics is putting out some of the best books on the shelves today. This, of course, is just my humble opinion but you should check for yourself. Now, back to what we are here for; the awesomeness that is Nailbiter.  This story of a small town and it's unfortunate legacy for turning out some of the worlds worst serial killers is gripping, haunting and overall entertaining.
The story takes place in Buckaroo Oregon, a picturesque small town, and the type you'd see in the movies. The one big thing that puts this town on the map is everyone's fascination with why 16 of the worse serial killers grew up in this one small town. Ranging from the book burner, a man who locked people in libraries and burn it to the ground, to the guy who used wrestling moves to kill his victims. The worst and arguably most famous is the Nailbiter, a local who chewed off fingertips of his victims.  The Nailbiter, Charles Edward Warren, is somewhat of a local boogey man due to the fact that he somehow got off of all charges and moved back to Buckaroo. A FBI agent goes missing after he came to Buckaroo trying dig up the secret as to why this small quaint town breeds pure evil. After he goes missing ex-army interrogator, Nicholas Finch, comes to town looking for his missing friend. Along the way Finch runs into a whole cast of characters; the local rich guy, who runs the serial killer store (yes that's a thing in this town), small town sheriff who seems like she may be in over her head and our titular character the Nailbiter.  As Finch digs deeper it seems like he just opens more mysteries that help change this town into a creepy horror movie type setting.
Charles Warren lives on the outskirts of town and tries to keep to himself, though it's not easy being a notorious serial killer who got off charges living around people who hate you. Warren is an egocentric man who loves the awkwardness he brings to the town, though the feelings aren't mutual. The parallels between Warren and Hannibal Lecter are obvious and addressed in the books as jokes that actually made me love the book more.  His one liners and overall eerie tone mixes to make a layered character that creeps you out while simultaneously drawing you into his world and leaves you wanting to see him on more pages. He often walks a fine line between being a helpful presence and conniving serial killer, it makes for a compelling read.
Nicholas Finch is another great character; the ex army officer often struggles with a moral compass that seems to lean more towards the vigilante side. Weeks away from going on trial for killing a child murderer while in custody, Finch is drawn into this gritty world after a phone call from a friend that didn't come a moment too soon. Teaming up with sheriff Crane, the duo tries to unwrap the mystery of this town and it's famous residents.  Running into a new masked mystery man, the two realize that something new is brewing and it's darker than anything they've seen before
Issue eleven picks up with Finch interrogating a tied up Warren as he spits out his usual cocky one liners, trying his best get under Finch's skin.  This whole issue is split between two events that almost mirror each other; Finch toeing the ethical line as FBI agent Abigail Barker wakes up caged in a dark room. The action bounces back and forth cell by cell showing the gruesome action with both situations. Agent Barker is told the secret to the town and it's serial killers as finch finally breaks down Warren, of course the reader doesn't get to hear the secret, leaving you in this weird balance of anger and needing the next issue. Another new mysterious man is partially shown in the shadows with a blood- covered apron, his presence is unnerving and you know something bad is coming. The man in the shadows has some weird control over the silent masked man that's been a step ahead of the investigation, a giant henchman for a devious dark character that will likely have more than a little part in this town's secret. The atmosphere in this issue is dark and somewhat desperate, Finch needs answers and barely staying on the right side of the moral compass as Abigail Barker witnesses a gruesome murder and tries to escape. This whole series hooked me, the writing is as engaging as the artwork is atmospheric and dark, and I can't wait for each issue. The minimal approach to this issue is perfect, two settings, action star to finish, a break from the deep story and settings we've engrossed ourselves in. This is an issue that I feel sets up a big pay off while keeping us on the hook and uneasy, you can almost feel the desperation and panic.
Nailbiter continues a huge wave of great books from Image. If you haven't read Nailbiter before I advise you to go out and pick up the first two trades of this series, you won't be able to put it down. To all the faithful readers, this issue is more of the same dark, gritty story telling that keeps us coming back. Either way the writing and artwork help build a world that you can easy put yourself in and feel all the emotions of the characters. This book continues to have a spot on my pull list and I don't see myself changing that anytime soon. The one side effect of reading this book is becoming more suspicious of people who chew their nails like Warren, though, I chew mine too. Hmmm…
---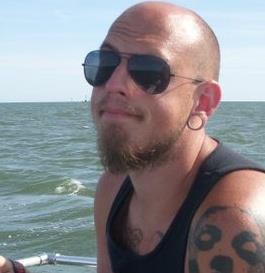 Lewis is nerd from Baltimore that is forced to work when he'd much rather spend his time reading comics, playing video games and getting fat.