(Image Comics, 2014)
Written by Rick Remender
Artwork by Wes Craig
Color Artwork by Lee Loughridge
Lettering by Rus Wooton
Rick Remender excels at writing damaged characters, characters with lots of baggage and more often than not, these characters are in a state of introspective flux. They are usually on a quest to come to terms with some element of their past or searching for something to heal the wounds of that wreckage.
Deadly Class is primarily the story of Marcus, a true down and out child of the 80's. Marcus has no one to turn to and nowhere to go; still he strives and survives on the mean streets of San Francisco. Remender has crafted in Marcus a character engaging yet dangerous; his demeanor is somewhat cocky despite his meager existence there is an air of confidence in him that reads almost like exiled nobility; not so dissimilar from William Burroughs' Junkie character.
This issue begins with Marcus and his classmate Willie prowling the streets in search of a victim to complete their class assignment. In case you missed issue #2, first of all, shame on you, but you should know that the students of King's
Dominion were given the task of killing a homeless person or someone with no real ties to society. Marcus and Willie are on the trail of a vagrant that Marcus had come to know during his own days of misfortune and aimless wandering with nowhere to call home. The two fledgling assassins find plenty of time to get to know one another on this trek through conversations full of pointed and probing personal questions. Remender writes some of the best dialog of the series thus far during these scenes. His characterizations of these two damaged young souls are heartbreakingly poignant in their stirring brutality and honesty. Particularly in the case of Willie Remender really lays these characters open for some thorough examination. The opening sequence shows Marcus and Willie leaping from rooftop to rooftop in a high risk game of chicken; neither boy would dare confess a single shred of self-doubt or fear of falling to their death. However the same scene offers a tremendous moment of humanity and bonding when Marcus has to save Willie who comes up just short on the death-defying chasm jump. The narrative goes on to more fully convey that humanity shared by the two youngsters. They find that while they are from two vastly different worlds that they are far more similar than different. Willie's past is by miles the more violent of the two but also provides him with an instance of soul-baring revelation that is equally humbling and disarming.
The real weight of the issue is carried by the final pages. Remender gives us a glimpse into Marcus' past that is jarred by an apparently innocuous comment. The brutality and violence that is released by Marcus left me in stunned silence and anxiously awaiting the next issue. It is the kind of scene that will re-play itself over and over in your mind throughout the day. Poignant is just not a strong enough word to describe this issue. It is brilliant beyond description in its honesty and genuine emotion.
Wes Craig just gets better with every issue and that is not an easy task for an artist of this caliber. His dynamic use of panels in his approach to storytelling, particularly in this issue, is truly genius. He uses everything from cascading panels to enhance the sense of urgency in one scene to a cinematic tightening close-up to convey an air of fear and trepidation in another. Craig elevates the tense moments and enlivens the action to a fevered pitch all while maintaining beautifully rendered imagery. Lee Loughridge's palette of earthy shades and somewhat muted colors works extremely well with Craig's visuals. These colors bring an almost dour sensibility to the imagery which compliments the narrative perfectly. This creative team was born to tell this story; each member is irreplaceable and brings with them a singular contribution that strengthens the team as a whole thus strengthening the book.
If you haven't been reading Deadly Class I would recommend rectifying that mistake on your very next visit to your local comic shop or online establishment. This is a story that gets more engrossing as it unfolds; these characters are like beautiful but deadly flowers opening more with each chapter full of character developing events and revelations. Remender is at his brilliant best here and I say that as an unabashed full-on fan of his writing and follower of every title he is currently on. This issue is my favorite so far but, I have said that of each successive issue. (5/5)
___________________________
Click Image to Purchase "Deadly Class" #3 From Amazon.com: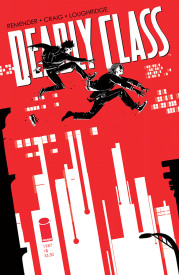 ___________________________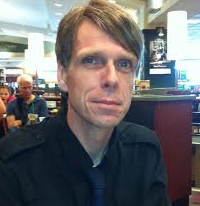 Shawn is an aspiring writer/ artist who has been reading, collecting and living comic books for over 30 years. He lives in Baltimore with his wife, their son, lots of cats, dogs and other various finned and furry friends.