(Archaia 2016)
Story and Art by Hannah Christenson
Letters by Warren Montgomery
Spot Illustrations by David Petersen
Jim Henson's The Storyteller: Dragons #3.  It's a mouthful.  But worth every letter.
If you've read any of my other reviews of these books, you'll have no surprises when you hear of my feelings about Jim Henson.  It's the most popular of opinions.  I could go on forever about how great I thought he was, what an inspiration, how he really shaped the way I looked at the world as a young person. 
But that's not what this is about.  Not really anyway.  This is about how the artists and creators of today are taking that vision and shaping if for themselves and thus expanding the Henson reach.
Hannah Christenson has taken the creative reins on this book, tackling the Dragons theme with a story that takes place in Russia.  Or a place very  much like Russia.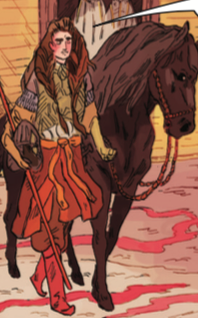 Albina Popovich was a girl born better.  Her priestly parents raised her with knowledge of her strengths, and she was never satisfied with what she had, always striving for something better.  Just as you would hope your daughter would do.  Alaina was a terror on the battlefield, but found no solace from the peace of home and hearth, so went out into the world to find her way, accompanied by Mara.  Once in service to Prince Vladimir she encounters Tugarin, the Son of the Worm who takes human form and feasts on all the Prince has to offer.
What follows is a tale worthy of Henson and epic myth alike, with Albina and Mara finding a way of working together and besting the beastie.
This is mythic girl power and fantastic.  Christenson's art style is very artistic and looks to be based in water colors.  I like the light hand she uses and the fluid style to her inks.  Her dragon matches the style, a great beast worthy of the terror it inspires in the characters.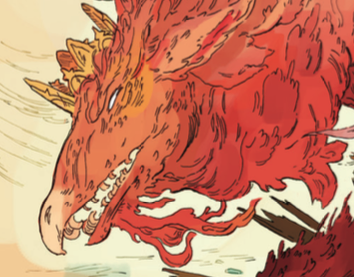 Albina is a heroine in the style of Wonder Woman.  She is, if not royalty, nearly so, and imbued with powers greater than everyone else around her.  She also is constantly looking for the next Herculean task to undertake, one that only she can accomplish.  Christenson pairs Mara with her for the perfect foil, the mouth behind the might, though from the buildup in the story it seems that if Albina wanted to she could be just as clever as Mara is in the story.
Once again, Jim Henson's The Storyteller: Dragons #3 is a great read that takes the Henson storytelling style to heart and more importantly to page.  With each story I find myself wanting at least one more, and fortunately in this case, I'm in luck, because there's one more of these dragon stories coming down the pike.  Next month, perhaps, I'll hang my head, but for now, it's Dragons Dragons Dragons.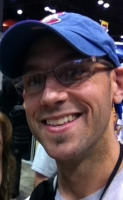 Brad Gischia is a writer and artist living in the frozen Upper Peninsula of Michigan.  He is married and has three kids and a dog, all who put up with his incessant prattling about comic books.
Twitter - [email protected]