(IDW Publishing, 2014)
Writer – Steve Niles
Artist – Damien Worm
Editor – Chris Ryall
If Mary Shelley could have known what she was doing, would she still have done it? The same question could have been asked of the doctor in her most famous work. From a vacation on the banks of Lake Geneva with Lord Byron was born the stuff of legends, and constant reinvention, as well as re-animation, of one of the classic characters in literature. Everyone has had a go at Frankenstein's monster, from Boris Karloff and most recently Aaron Eckhart in films, to a secret agent in DC New 52 re-boot, the monster has had as much use as the number of bodies sewn together to make him can take. Why bother with another?
Because this time Steve Niles has written it.
For those of you who don't remember Steve Niles, here's a quick and incomplete primer. He wrote 30 Days of Night for IDW. He wrote Breath of Bones. He single handedly brought horror comics into prominence at the beginning of the century. (Okay that last bit may be my own bias, he may have had help.)
Monster and Madman picks up on the frozen wastes where Frankenstein ends, with the monster wandering, looking for the death that has eluded him thus far. Rumors of his destruction by his maker were highly exaggerated. This is the prequel to what is certain to become a distinctly interesting study. What can happen when the Madman pairs with the Monster? In this case, the madman makes no appearance until the last page, but it is a beautiful reveal, a silhouette of the distinct top hat and long coat of the Ripper…one of history's most elusive criminals.
Damien Worm is relatively new to comics, though a search online shows multiple fantastic and creepy works. As far as I'm concerned he is most welcome in comics, a medium that can only benefit from work like his. The first thing I thought of when I read this book was, hang on to your Tardis here we're taking a little trip back in time, Scary Stories to Tell in the Dark. Remember those? I've heard that they've since be re-released with new illustrations, but I'm talking about the ones that were out in the 80's, illustrated by Stephen Gammell, those short stories with the black and white illustrations of disturbing and perfect horror. They were a large part of my current love of the genre, and now I see this book, and that's what came to mind.
Worm has a style that is forlorn, dark and brooding, which perfectly emotes the mindset of the monster has we see him at the beginning of this adventure. He is confused, wandering and lost at the same time, unsure of his future. The story shows his capacity for violence and also that he can change, can reinvent himself. It's a nature vs. nurture battle, and the nurture in this case was a distraught madman who couldn't live with his creation. What better father to introduce to the monster but another madman?
I have high hopes for this book, and with the first issue dropping today, I'm sure I won't be disappointed. Steve Niles' writing chops have not dulled, they still are poised to tear and render all before them into mush, and with the addition of Damian Worm on the art those chops have lethal intent. Monster and Madman is not just another monster-mash, but a true horror tale, a remake of the best by the best.
___________________________
Click Image to Purchase "Monster & Madman" #1 From Amazon.com: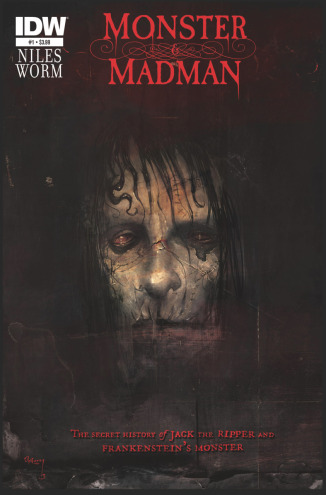 ___________________________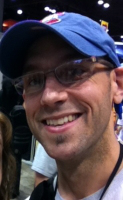 Brad Gischia is a writer and artist living in the frozen Upper Peninsula of Michigan. He is married and has three kids and a dog, who all put up with his incessant prattling about comic books.