(DC Comics, 2014)
Written by Amanda Conner & Jimmy Palmiotti
Artwork by Chad Hardin
Color Artwork by Alex Sinclair
Lettering by John J. Hill
Happy Valentines Day from Harley Quinn! This new issues is filled with utter brilliance and delivers a boisterous laughable side to the dumbest holiday of the year. Even those of us with significant others will surely laugh at Harley Quinn as she fumbles her way through a V-Day without her Mr. J.
If you are new to the Harley Quinn series, then I welcome you to the best new comic book of 2014! This new treasure in the DC Universe is fun and witty, yet still preserves a certain level of madness that can only be found with Harley Quinn.
Harley is discouraged, but she will not let her fortitude for fun ruin her night. After sulking in the tub and finding out she got the therapist job she interviewed for, Harley decides that it is time to take her new found excitement out on the town. Before heading out, she notices a plant that was gifted to her from Poison Ivy (see Issue #2) and decides to gulp down a few of berries that are growing on it. If only she had known that the berries she was eating would completely change the night that she was about to have!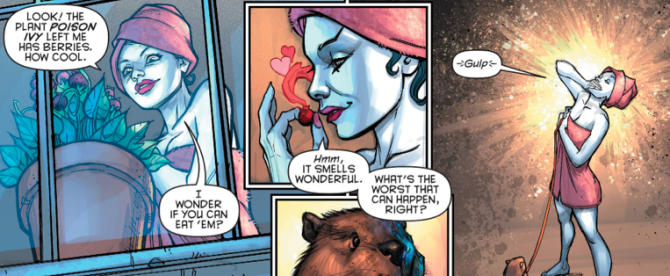 These strange little aphrodisiac berries turn Harley into an appetizing magnet for everyone and everything (stuffed beaver included) that she passes by. The meat of this comic takes place when her potent aroma causes a police prisoner transport to crash and multiple maniac criminals are turned lose on the streets. With there first scent of freedom, they also catch the Harley bug and immediately their will for freedom turns into torturous intentions towards the sweet little vixen.
As one would expect, Harley leads these ravenous wolves to the place that she would feel most safe in a confrontation - a hardware store. Fully equipped with all the goodies and gadgets she would need to have a successful V-Day, Harley paints her own blood splattered version of My Bloody Valentine throughout the next few pages of the book. Finally, her worst Valentines Day has turned into her best as she is able to mix it with her love for Halloween and destruction.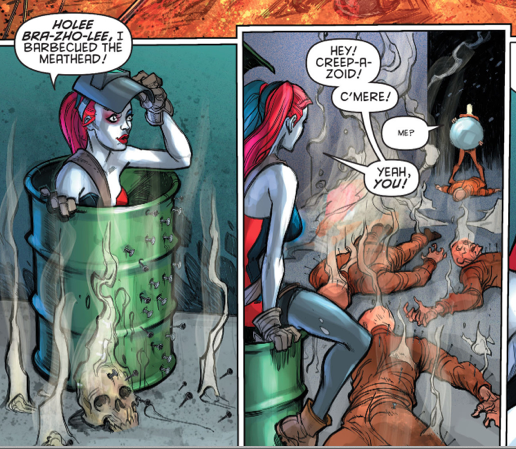 My favorite part of this series is the art by Chad Hardin! His illustration skills bring pleasure to my eye sockets in this fun-filled issue. The artistic strong point by Hardin in this issue is the comedic facial reactions that he gives to standby characters. When people respond to Harley's love pheromones, Hardin puts this complete awestruck look on their faces that is priceless. I love that he includes different medias in his art style that are rather noticeable. Pay close attention to the inmates in this issue and tell me that you don't think one of them looks like an orc.
Amanda Conner and Jimmy Palmiotti work really well on this book together and I am excited to see where they take Ms. Quinn next. The title of the next book in this series is called One Big Crappy Family and I can only hope that it includes her new family of puppies! If you haven't given this one a try then you should definitely jump on board right away. Great comic!
___________________________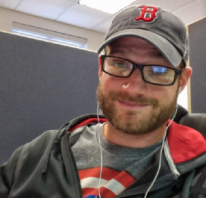 Galen is a Graphic Designer in Wake Forest, NC. He is the husband of a wonderful Oklahoma girl and dad of a future Marvel Comics fan. He enjoys comic-related anything, the Boston Red Sox and sharpening his axe for the zombie apocalypse.