(Marvel Comics, 2014)
Written by Mark Waid
Artwork by Chris Samnee
Color Artwork by Javier Rodriguez
Lettering by Joe Caramagna
With one flawless issue Mark Waid has written both a perfect, poignant ending and perfect, promising beginning in the on-going Daredevil story. This issue represents closure in many areas of Matt Murdock's life while equally illustrating the boundless potential and limitless opportunities that await the lawyer and the super hero just three thousand miles away in his former digs of San Francisco. Waid has been spot-on perfect since the first issue of this series and when Chris Samnee took over the artistic duties thus becoming Waid's co-storyteller, it was the comic book equivalent of Lennon and McCartney and history was made from that point on. Daredevil is certainly no stranger to great creators, over the years the character has inspired the genius of Frank Miller, Klaus Janson, David Mazzucchelli, Brian Bendis, Ed Brubaker, Andy Diggle, John Romita sr and jr, Alex Maleev, Joe Quesada and the list of comic book virtuosi goes on. However Waid and Samnee's run has been characterized by taking the character out of the dark, gritty and violent world that had come to be a common element in all the best Daredevil stories thus far and placing a more audacious Daredevil in a brighter world. In so doing Waid lightened the sometimes oppressively heavy tone of the narratives and took the series in a more dynamic direction. This turned out to be just what the character needed, after decades of grim, violent, true crime-like stories Daredevil was now ready to enter the next phase of growth as a character and a series. Waid and Samnee have achieved a degree of chemistry that only the most prolific and innovative creative teams ever reach, giving their work a single-minded sense of direction.
Daredevil #36 ties up The Serpent Society thread that has been running through the last several issues as well as brings closure to this chapter of Matt Murdock's life overall. Matt very shrewdly one ups the villainous society by playing their hand and effectively rendering them inept in their threat to out him as Daredevil. This turn of events sets up the issue's most dramatic scene which so appropriately plays out in the courtroom. Waid's sense of timing and impeccable pace allows the narrative to unfold organically without feeling rushed. The majority of this issue is set in the courtroom adding an air of tension and providing Matt a perfect venue in which to stage this final act. However, when all is said and done, this issue does not have any of the melancholy normally associated with endings, instead it closes on an optimistic note. Perhaps in knowing that the same brilliant creative team is returning to navigate Matt and company through the new west coast terrain of the upcoming series we are spared any of the bothersome doubt that can surround such finales. We can rest secure in the knowledge that Daredevil is in very capable and competent hands for the foreseeable future.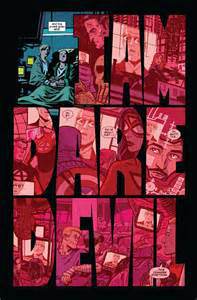 Samnee's visuals are as dramatic and dynamic as ever in this issue. His brilliant sense of design as well as his talents as an illustrator makes this issue a stand out in an altogether amazing run. One particular page stands out to me as indicative of Samnee's genius, in which he uses the actual words of Matt's declaration to form the panels of the page. This inventive approach gives the scene so much added weight and significance that it serves to sum up the arc in a single page. Samnee's interpretation of the entire courtroom sequence is magnificently rendered, his attention to detail and nuance sells these scenes in a way no other artist could. This issue is a perfect indicator of why Daredevil has become perhaps THE single most visually captivating and dynamic comic book in contemporary recollection. Waid and Samnee have indeed set the standard for the super hero genre for some time to come.
This issue as well as this series overall succeeds because Waid's version of Matt Murdock takes his lumps but keeps going. He is bold in his approach to all areas of his life, epitomizing the good man who just cannot be kept down. This is a character we can look up to but moreover we can relate to because we may know someone who embodies these qualities in our own life; maybe it's a plucky old Irish grandfather who taught us the value of an honest day's work or a teacher or coach who showed us the virtue in standing up for what we believe in. Whoever it is, each of us knows a man without fear like Matt Murdock who has taught us an important life lesson. If for whatever reason you missed this phenomenal series you owe it to yourself to pick up the trades and make sure you are there for the first issue of the next chapter of Daredevil. (5/5)
___________________________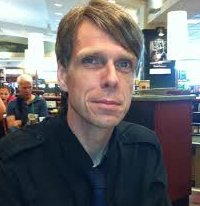 Shawn is an aspiring writer/ artist who has been reading, collecting and living comic books for over 30 years. He lives in Baltimore with his wife, their son, lots of cats, dogs and other various finned and furry friends.