(IDW 2016)
Writer: Joe Harris
Art: Matthew Dow Smith
Colors: Jordie Bellaire
Letters: Robbie Robbins
Reunited at last, Mulder and Scully find themselves one step closer to the truth in The X-Files Season 11 #7, as we reach the penultimate issue of Season 11 in IDW's excellent comic book series. With the help of the Lone Gunmen to decipher a clue provided by Gibson Praise, Mulder and Scully travelled to a top secret facility in Utah, and discover it was really a magnetite mining operation. As Gibson's machinations unfold, the faceless alien rebels attack, and now Mulder must find out whatí's happened to Scully.
Endgames, part 2 of (3) continues this three part finale to Season 11, as Mulder and Scully begin to uncover the terrifying implications of Gibsonís plans. Picking up directly from last issue, with Scully now missing, Mulder finds himself caught up in the chaos unleashed when the faceless aliens ambush Camp Williams, in Bluffdale, Utah.
Gibson's influence is never far way as Mulder gets caught in the crosshairs of the attack by the faceless alien rebels on the base, writer Joe Harris throws us into the thick of the action right from the outset, and what follows is an explosive thrill ride. It soon become clear to Mulder that Gibson's designs are like the moves of some uncanny chess game, where untold conspiracies have become entwined with a myriad of secrets and lies, as pawns are sacrificed on a whim, and soon all the pieces will be in place for checkmate - but not before Mulder has the opportunity to seize the imitative and take decisive action of his own.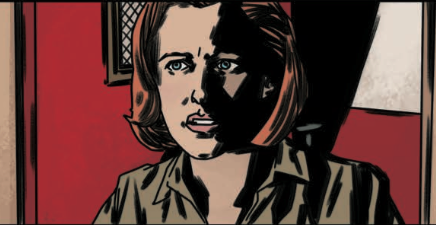 The moment when Scully awakens inside another strange facility is where this issue really kicks into overdrive. From a reflective dream-like vision, Scully finds herself lost in what appears to be some kind of hospital. This leads to some of the issues most unsettling scenes, where Scully staggers around, finding unsettling sights around every corner, before she discovers an entirely new and panoramic viewpoint on the events in Endgames that exposes a whole other level of conspiracy; one that goes right to the heart of the FBI and beyond.
Matthew Dow Smith has done some outstanding artwork for The X-Files Series 11, capturing the mood and tone of the iconic TV series perfectly, and this issue is without doubt one of his very best. From the action-packed opening between the troops and the faceless alien rebels, there are explosions, and bullets flying left right and center as Mulder uses the chaotic situation to his advantage. Scully's dream-like flashback to a pivotal encounter with Gibson, followed by her exploration of the mysterious facility, and the revelations which ultimately follow, magnificently build the tension and suspense. Thereís even a short interlude with the Lone Gunmen to pepper the narrative with the prerequisite of  new information to drive Mulder towards his goal, and a smattering of wry humor that is sure to make fans smile when Byers infringes on Mulder's trademark!
The action flows effortlessly from scene to scene, the exciting opening sequence gives way to some finely constructed moments of intrigue, and it all builds towards a surprising cliff-hanger. Joe Harris gives all of the characters a chance to shine in this issue, Matthew Dow Smith's intricate page layouts allow the story to unfold at a natural pace, and Jordie Bellaire's colors beautifully enhance the brooding atmosphere of this issue even further.
As events culminate in the northern Utah desert The X-Files Season 11 #7 shows just how diligently IDW's comic book series has built on the mythology of the TV show, and crafted something equally as special in the process. This issues closing moments blindsides us with one of the most unexpected plot developments of all! It's something few would've believed possible, especially given the extreme level of Gibson's powers, and it instigates a cliff-hanger that rams its point home in true X-Files fashion! 

This issue features another stunning cover by Menton 3, there's also a Mulder & Scully photo variant available, and a heart warming Valentines Day cover variant by Robert Hack and Stephen Downer. With its excellent story by Joe Harris and impressive artwork by Matthew Dow Smith, The X-Files Season 11 #7 provides a riveting penultimate issue for the Endgames story arc. Season 11 concludes in March, but the adventures will continue in The X-Files new ongoing IDW comic series (also by Joe Harris, Matthew Dow Smith, and Jordie Bellaire) in April, and with Mulder and Scully back on TV in FOX's brilliant new event series, The X-Files Season 11 #7 is the perfect opportunity to check out this fabulous comic book series from IDW!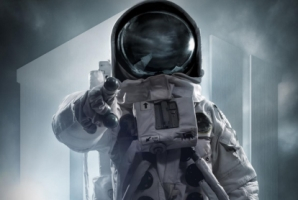 Paul Bowler is a self-Confessed Sci-Fi Geek, Doctor Who fan, and Zombie Disposal Expert. He likes movies, comic books, and all things PS3. He likes to write about his interests, would love to write a novel one day, and also enjoys chatting to the many people he has gotten to know on Twitter. When he's not busy being an Impossible Astronaut, he likes to take a break from his adventures in time and space to enjoy some of his favourite tv shows and movies, preferably with a nice cuppa tea & a sandwich! You can follow him on Twitter @paul_bowler, or find him at his website, Sci-Fi Jubilee.