(IDW-2016)
Writer: Mike Johnson
Art: Tony Shasteen
Colors: Davide Mastrolonardo
Regular Cover: Tony Shasteen
Variant Cover: Cat Staggs
The ongoing mission boldly continues in IDW Publishing's Star Trek #53, with Reunion: Part 1, written by Mike Johnson and featuring artwork and cover by Tony Shasteen. Captain Kirk and the crew of the U.S.S. Enterprise embark on an all-new two-part adventure that sees them confronted with a renegade faction of Orions that are determined to upset the truce which currently exist between their race and the Federation.
Following their recent encounter with their counterparts in a Mirror Universe, a situation they were able to escape from with the help of the augmented human Singh, the crew of the Enterprise have resumed their five year mission. Opening with a flashback to events on the Orion homeworld, where an arranged marriage will secure a family's influence and power, the scene shifts fourteen years into the future where the Federation starships Enterprise and Tereshkova have rendezvoused in deep space. While both ships make the most of this rare opportunity, to share supplies and Intel, a surprise reunion takes place between some old friends and family.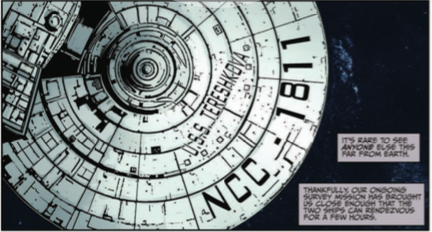 Star Trek #53 is another excellently structured issue from Mike Johnson. The first half of the issue details how Lieutenant Gaila is reunited with her brother, Kai, they also happen to be the first two Orion siblings to join Starfleet, and we get further insight into their lives following their escape from the Orion homeworld with their father. There's also a great interlude featuring Captain Kirk and Captain Campbell, and you get a real sense of how Jim has begun to earn the respect of his peers now. However, when the Enterprise and Tereshkoya have to respond to a sudden distress call from the nearby Ullushu system, there's no time to return everyone to their respective ships, and Gaila and Kai soon find themselves in terrible danger.
Reunion Part 1 is an intriguing, fast-paced story, events unfold with a concise narrative that is nicely interwoven with the flashbacks, and the crew of the Enterprise soon become embroiled in events when a rogue Orion faction strikes in a move that could be considered an act of war against the Federation. Johnson's characterization of the Enterprise crew is as flawless as ever, and it's great to have a story that explores the Orions and their culture in greater detail. Its especially good to see Gaila featuring in this issue because of her close connection to Kirk and Uhura, her characters role is a key factor in this the story, and following the nicely plotted earlier scenes on the Enterprise the issue quickly builds into a tense action-packed adventure.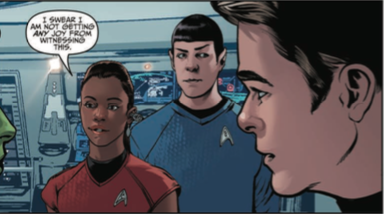 The art by Tony Shasteen is beautifully detailed and captures the likenesses of the characters perfectly. Every scene flows seamlessly together, the dynamic page layouts boast a sublime level of detail, and the vibrant hues and tones of colorist Davide Mastrolonardo makes Star Trek #53 an impressive looking issue indeed.  There are several standout moments this issue: from the stunning view of the Orion homeworld in space, to the grandeur of the Air-Chipelago, there's also a fun scene with the Captain's chair on the bridge of the Enterprise, and the epic sight of the Enterprise and the Tereshkoya emerging from warp speed together heralds the start of the big action-set-piece that ultimately leads into the issues surprise cliff-hanger.
Star Trek #53 is great issue, writer Mike Johnson's taut script flows nicely, each scene allows the narrative to evolve at a natural pace, and Tony Shasteen's art brings the scope and scale of this exciting story to life in grand fashion. This IDW series continue to impress, a must for Star Trek fans, and highly recommended!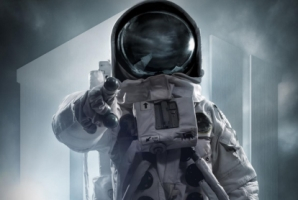 Paul Bowler is a self-Confessed Sci-Fi Geek, Doctor Who fan, and Zombie Disposal Expert. He likes movies, comic books, and all things PS3. He likes to write about his interests, would love to write a novel one day, and also enjoys chatting to the many people he has gotten to know on Twitter. When he's not busy being an Impossible Astronaut, he likes to take a break from his adventures in time and space to enjoy some of his favourite tv shows and movies, preferably with a nice cuppa tea & a sandwich! You can follow him on Twitter @paul_bowler, or find him at his website, Sci-Fi Jubilee.