(Image-2015)
Writer- Jason Aaron
Art- Jason Latour
Southern Bastards #11
Being from west Texas I understand the concept of football, hunting, and religion being the cogs that make the slow moving clock of everyday life grind forward. Recently going up 65 North through the beautifully forested land of Alabama to Birmingham, I understand the depths, beyond my humble west Texas, that is the fervor and passion Alabama folks put on these things. The sports radio is football and golf-with 95 percent being football. The billboards are fire and brimstone and the flags proudly flying are stars and bars. It is a different place and 'Bama born, Jason Aaron (Thor), nails it to a tee in the 11th installment of the Deep South saga Southern Bastards.
As Aaron says, "This is the story of the South I love and the South I love to hate.".
This statement is perfectly exemplified in Southern Bastards #11.
Enter: Deacon Boone.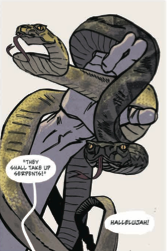 Boone is a down and dirty survivalists in every since of the word. Turn-ons: Sunday morning snake handling, bow hunting, and his grandma. Turn-offs: Coddling, rapists, and Coach Boss.
Boone finds himself with the task of taking care of a hillbilly rapist with fierce vengeance and the blessing of God almighty. This does not fully quench his thirst for justice though. He has a bigger fish on his mind, but must await the deadly confirmation from God first.
This issue was dark and gritty, but it was a lot of fun. Jason Latour on art has never ceased to be amazing in this series, and this issue is no different. The gritty dialogue and art season the vibe of the satirical Deep South giving off a perfect blurred line of reality and tongue and cheek.
Jason Aaron hardly ever disappoints, and with Jason Latour in tow, this is just another example of his quality work. Southern Bastards #11 is a definite pickup, and Southern Bastards, if not already, needs to be on your pull list.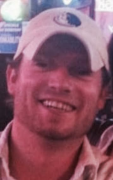 Jonathan Winchester is a writer from Dallas, TX where he lives with his wife Maddie and their annoying cat. He believes Han was the lone shooter, that nothing looks better than a silver age comic in Mylar, and that there is no better feeling than walking into a dimly lit movie theater.
Twitter- @TexasWingnut