(Seven Seas 2012)
Story & Art by Okayado
Storyline Ongoing
Summary: It's every day life with Monster Girls in this ecchi comedy, telling the harrowing tale of a young man named Kimihito Kurusu who builds a harem of young, attractive girls with animalistic features. From a Lamia (half-snake, half human) to a Centaur (half-horse, half-human) and more.
In this world, a new law has passed allowing for the co-habitation of these "monster races" and humans, and but some races are still in need of human contact before things become truly normal. Thus Kimihito is unwillingly thrown into the role of "host family" for these girls – sort of like exchange students; whether he likes it or not.
[SPOILER WARNING!!]
Review: With the newest chapter of Monster Musume having appeared, our heroes find themselves joining Mero on a trip to see her mother who's called an audience with the young mermaid. Given the revelations surrounding Mero that we discovered in the last few chapters, it makes this one all the more fun as our heroes get find even more relaxation and fun in yet another spot designed specifically for extraspecies characters.
Although all seems too good to be true throughout the chapter, it's still fun to see Miia and Centorea succumb to the magic massaging abilities of the mermaids, and Kimihito save the day when bad misfortune befalls the kitchen staff and so he helps them make new, fresh plates on the fly.
It's a pretty solid chapter that also sets up a brand new arc for our characters, this time bordering on what may prove to be superhero fair depending on how Okayado treats these next chapters coming up.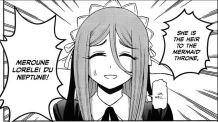 In a nutshell, Mero's mother has been secretly replaced with a dark fiend that is after Mero and now that our young princess as gone missing, our heroes must now go on an adventure to find her and I'm really, really curious to see how these next few chapters will play out and how long this little arc will last. Hopefully for at least the next few chapters.
There's not much different in this chapter than there is in other Monster Musume chapters. It's still a fun, silly harem comedy series with an interesting backdrop. And I also did not find much wrong with this chapter that I did not enjoy. It is only one chapter connected to a whole though, and it's also the start of a brand new arc so it exists only as part one of a story instead of a full story.
Either way, if you're keeping up with the series as well I hope you enjoyed this chapter as much as I did. I really like when we get to delve into the worlds that our monster girls come from and get to learn a bit more about their culture. It's always a nice treat.
Final Score: 3.5 Acts of Vengeance out of 5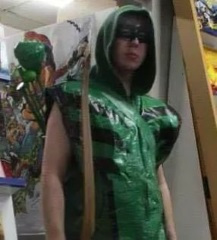 Derrick is a born and raised otaku with a love for comics, anime, manga and movies. The full list is pretty long, but that's just the basics. Stories set in space are his bread and butter.
You can find more of his writing at IndieComix.net
@KazekunForever