(Dynamite-2016)
Writers: Ben Acker & Heath Carson
Art: Dan McDaid with Bob Q
Colored: Omi Remalante with Bob Q
Letters: Simon Bowland
If I only had two words to sell King's Quest #2 it would be…WEAPONIZED TERMITES.  Thankfully I've got a few more than two.  So, lets get into it!
Lets recap, in issue #1 our team of heroes: Flash Gordon, Mandrake the Magician, Prince Valiant, Professor Za, Lothar The Phantom, Jen The Phantom in training, and Jungle Jim, discover that Dale Arden, science reporter and friend, has been taken and married by Ming the Merciless. 
Issue #2 continues the journey to save Dale, with a slight caveat.  The team is split into two groups, and asked to take on different missions.  The first is to go to Mongo, and save Dale.  This mission is taken by both Phantoms, Flash Gordon, and Jungle Jim.  The second mission is to recover an important object called the Lost Gatestone, which if recovered by Ming, will give him access to any world.  It is on Coralia, an underwater planet, and the team of Mandrake the Magician, Professor Zarkov, and Prince Valiant take up this endeavor.
First we follow the quest to Coralia where Mandrake the Magician and Professor Zarkov quip back and forth about the authenticity of science and magic.  It has a very, Jack and Locke from Lost vibe, "It's never been easy!".  That one goes out to all you Lost cats out there.  Next up is a little ditty by, Austrian band, Drive Shaft called…You All Everybody. 
DJ voices don't really translate through written text…ok, moving on.
So, on Coralia we learn Ming has completely destroyed the planet by removing the water.  There are lots of Ming-loyal ghosts that Mandrake deals with in a very magician-y way, and I don't know for sure, but I believe there may be a tribute to the late Lemmy, from Motörhead.  I don't want to spoil it, but let me know what you think.
On the second mission we find our heroes facing giant space termites while trying to land on the heavily fortified planet of Mongo.  This leads to a really interesting scene where The Phantom and Flash Gordon must exit the ship and fight them in space suits.  This scene really changed up the monotony of  guys flying around in space.
Writers, Ben Acker (Thunderbolts) and Heath Corson (Bazarro) are doing a great job on this series of successfully juggling a group of really interesting characters.  The separation of the group helps a lot to delve into each character more pointedly, and layers the plot in a way that is less claustrophobic.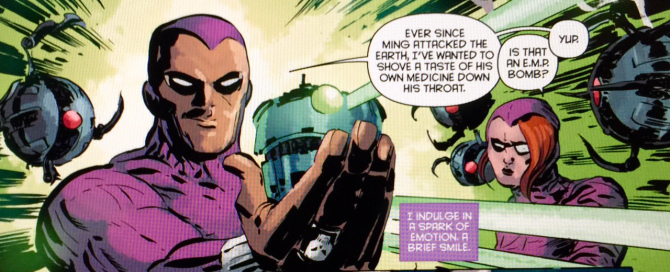 Dan McDaid (Dawn of the Planet of the Apes) and company on art are solid as always. With dynamic pencils and rich and inviting colors, they give this group of vintage characters a fresh look while still staying true to the spirit of what they are historically.
Overall this issue was extremely fun, with a fair share of twists and turns.  The characters are getting their chance to shine and develop individually, while also moving the plot along.  The ending of this issue is great.  It delivers a smart, and juicy reason to grab #3 when it comes out. 
I will be waiting anxiously for the next issue…even if the chances of seeing more weaponized termites is slim to none.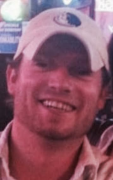 Jonathan Winchester is a writer from Dallas, TX where he lives with his wife Maddie and their annoying cat.  He believes Han was the lone shooter, that nothing looks better than a silver age comic in Mylar, and that there is no better feeling than walking into a dimly lit movie theater.
Twitter- @TexasWingnut