(IDW 2016)
Writer: John Barber
Art: Andrew Griffith
Colors: Josh Burcham
Letters: Tom B Long
The full implications of Optimus Prime's choice to annex Earth as part of Cybertron's Council of Worlds begin to unfold in IDW Publishing's Transformers #54, as All Hail Optimus: Part 5 sees Optimus' new alliance with Soundwave quickly running into trouble.
Prime ordered an all-out-attack against the Decepticons and Galvatron on Earth, but when the Autobots combiner allies were struck by the effect of the Enigma Code, Optimus Prime's team were left open to a counterattack from The Earth Defense Command forces. With everything going according to Galvatron's grand design, Optimus Prime now faces the toughest decision of all.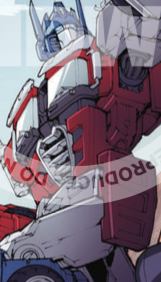 All Hail Optimus Part 5: As Above certainly rolls out the non stop action, as writer John Barber skillfully begins to bring all the various factions and plot elements closer together for the penultimate issue of this major Transformers story-arc. With the action unfolding in Monument Valley as Optimus Prime's and Soundwave's forces deal with the EDC's counter strike, the Autobots in the depths of the Indian Ocean are still reeling after Galvatron used Blackrock's Onyx source code to harness the enigma of combination and disabled the Autobots Combiner allies.
Even Buster the dog is right in the thick of the action in this issue of Transformers, indeed the impressive roll call of characters is certainly well utilized, with everyone getting a moment to shine, and John Barber ensures the characterization is absolutely spot on throughout. Optimus Prime and Soundwave clash over how to react to the EDC in Monument Valley, but the humans armed response to Prime's annexation of Earth soon forces their hand - while Circuit and Longtooth relay events for the Cybertronian news service; much to Starscream's amusement back on Cybertron. It's actually quite a terrifying prospect to have a being like Galvatron gaining the ability to manipulate the cosmic force of combination, it's a process that's not voluntary either, and with Victorion down its up to Superion to take on a deadly new Combiner beneath the Indian Ocean that Galvatron has forcibly constructed from Arcee's Autobot team to form the rampaging Sky Reign!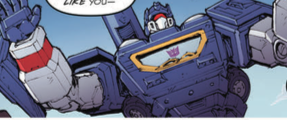 Transformers #54 is a sumptuously illustrated and action-packed issue, the art by Andrew Griffith is really impressive, and the frenetic pace of the issue unfolds across dynamic page layouts with an almost unparalleled level of detail lavished on every scene. The battle with the EDC is a real standout moment featuring Optimus Prime's and Soundwave's collective forces, but it is the underwater scenes in the Indian Ocean as Superion battles Sky Reign that really steals the show. The sight of these two giant Combiner Transformers slugging it out with each other is nothing short of awesome, as are the subsequent developments for Superion, and the underwater setting makes it feel all the more exciting. Josh Burcham's colors are also resplendent, with bright airy hues dominating the Monument Valley scenes, while the deep sea battle is awash with rich blue shades and opaque lighting that beautifully heightens the underwater setting.
The exposition and techno babble comes thick and fast as Pyra Magna wonders why the Enigma Code forced Victorion to uncombine, while Jetfire begins to understand how the code works so they can disable Galvatron's new Combiners, but will Superion be able to hold out long enough against Sky Reign to buy them they time they need? Meanwhile, Optimus Prime and Soundwave face seemingly overwhelming odds as the EDC close in, but a surprise turn of events drastically alters Soundwave's outlook, and when the proverbial spanner is thrown into Galvatron's despicable machinations Blackrock gets the chance he's been waiting for.
Transformers #54 is one of the best installments so far of All Hail Optimus. This arc has really shaken up the status quo of the Transformers Universe like never before. John Barber's writing keeps this densely plotted issue on track, juggling a vast number of characters and plot threads, while Andrew Griffith's art brings us some truly spectacular Combiner / Transformer action, and the issue rounds everything off with the most surprising - and mountainous - Transformers reveal of all! Transformers #54 continues to impress and evolve consistently on every level, there's always far more than meets the eye layered within every issue, and next issues conclusion to All Hail Optimus now looks set to be one hell of showdown between all the major players involved in this arc.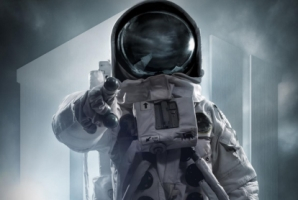 Paul Bowler is a self-Confessed Sci-Fi Geek, Doctor Who fan, and Zombie Disposal Expert. He likes movies, comic books, and all things PS3. He likes to write about his interests, would love to write a novel one day, and also enjoys chatting to the many people he has gotten to know on Twitter. When he's not busy being an Impossible Astronaut, he likes to take a break from his adventures in time and space to enjoy some of his favourite tv shows and movies, preferably with a nice cuppa tea & a sandwich! You can follow him on Twitter @paul_bowler, or find him at his website, Sci-Fi Jubilee.