(Black Mask Studios 2015)
Created by Steve Niles and Christopher Mitten
Written by Steve Niles
Illustrated by Christopher Mitten
Colors by Jay Fotos
Lettered by Thomas Mauer
The easiest comic in a series to review is the first. It's the beginning, which everyone loves, of a new tale. There's a new concept (usually) with new characters (mostly) and you always get that Christmas-morning feeling because you're not sure what's going to happen (hopefully). The hard part is keeping that first-issue pace throughout the run of the book. It seems like a lot of time issue two starts strong and then it kind of tapers off as you get into three, four, and five.
Not so with Disciples from Steve Niles and Black Mask Studios.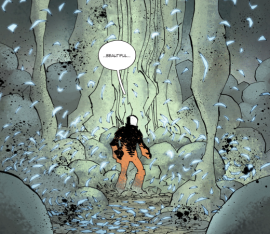 There are not many creators that I feel confident will deliver the kind of story that I enjoy reading, but Steve Niles is one of them. He's got longevity when he needs it. 30 Days of Night, originally a three-issue miniseries, has been publishing short runs and novels since it's publication in 2002. October Faction has been fantastic.
Disciples #3 continues the plight of the crew of starship Venture, on a mission to retrieve a senator's daughter who has fallen under the spell of a religious zealot. And because this is a Niles story, he adds twists.  This happens in space, on one of the moons of Jupiter.
In the first two issues we met the crew, Dagmar, Jules, and Rick (recently deceased). Now it's down to Dagmar and Jules to try and find the girl on a colony that seems deserted but for some righteously creepy creatures. Dagmar has had dreams about this mission, disturbing visions that seem like they may be coming to pass. Rick killed himself due to something they encountered on the arrival. Now she and Jules are alone on a colony that is mysteriously deserted of the religious faithful.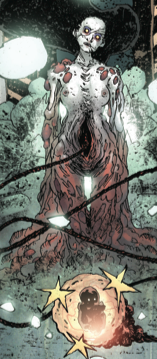 Steve Niles delivers once again with this issue; isolating the last two members of Venture's crew and making them wander the colony on their own. There is still wonder in the crew, even while they're in mortal danger, which humanizes them and makes it easy to connect with the characters. He's loaded the planet with weirdness, and made us, through the visions that Dagmar is having, doubt just about everything that we're seeing. It's the perfect set up for a horror-suspense comic. I'm not sure exactly what's going on here, but I sure can't wait to find out.
Christopher Mitten's (Wasteland, Nightbreed) art is gritty and dark, a great mirror to Niles' writing style. It's not super-polished and glossy, which makes it more fun to look at in my opinion. The colors by Jay Fotos are great at setting the crew apart from the world they are exploring. The choice of orange for the space suits is a great balance to the mostly blue/white/black look of the planet.
Disciples is Aliens meets Jonestown, and it should not be missed. The suspense keeps ratcheting up, and Niles doesn't let off for anything. Each issue is getting progressively better, and Mitten and Fotos' work only serves to elevate the story.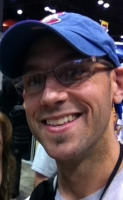 Brad Gischia is a writer and artist living in the frozen Upper Peninsula of Michigan. He is married and has three kids and a dog, all who put up with his incessant prattling about comic books.
Twitter - [email protected]