Spending a Day in Gotham City
By: Shawn Warner
Just a short 45 minute drive outside the quiet hamlet of my hometown of Arbutus waits all the excitement and thrills of the big city, but I am not talking about Baltimore or even D.C. I'm talking about another city, a city built of towering metal monoliths and full of dangerous adventure, I'm talking about none other than Gotham City. That's right, smack dab in the middle of Six Flags America Amusement Park beats the dark heart of Batman's beleaguered battleground where I along with my wife Stacy, my son Justin and fellow B&B writer Lewis Lane rose to the challenges of the Joker's Jinx, a rollercoaster with a track so twisted and perilous the design could have only come from a mind equally twisted, the Penguin's Blizzard River, a trip down a frigid, flowing waterway that snakes through roiling rapids drenching the riders to the bone before all is said and done, however these are just two of the multitude of D.C. Comics themed attractions at Six Flags.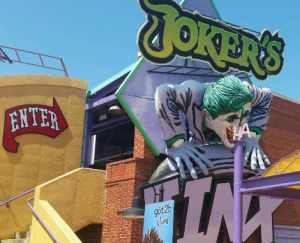 It was a balmy August Wednesday, a day that would normally find me at my local comic book shop, Universal Comics, picking up my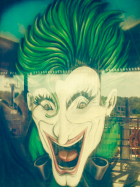 weekly NCBD offerings, but this was not to be a normal Wednesday my friends and fellow comic book connoisseurs. Instead of spending the day in the comic book store, I would spend it in a comic book! The wrought iron gates of Gotham rose before us, a most intimidating sight, still we pressed on into the mass of like-minded thrill seekers bustling from one scream inducing attraction to another. Our first stop of the day was The Joker's Jinx; this ride was more torture device than amusement. Once seated and strapped into the deceptively quaint little coaster the train takes off completely unexpectedly going from a dead stand still to more than 60 miles per hour in a single heartbeat. The ride is over before you realize what you have just experienced as your body arrives back in the station your mind is still fighting to make sense of the coiled steel track and the impossible speed at which you just negotiated said track.
The next steel coaster we endeavored to conquer was courtesy of Krypton's last son Kal-El better known here on Earth as Superman. The Ride of Steel is easily the tallest structure in the park and very likely one of the tallest rollercoasters on the east coast; the clanking of the chain as you are pulled up the almost completely vertical incline leading to the first heart stopping drop is almost deafening, it is all your mind is concentrating on, then suddenly silence as the chain drive stops and gravity kicks in rocketing you down an almost straight descent, you are pinned to the back of your seat as the plunge continues ending in a hairpin turn that slams you against the side of your car. The Ride of Steel is not only the highest of Six Flags coasters it is likewise the longest and in my opinion, as well as my son's, the best. Coming in a very close second, however is the Bat Wing, the only rollercoaster I have ever been on where you ride completely horizontal, once strapped into your restraints you are then reclined until facing the sky. At first this peculiar position is extremely off-putting but, once the ride begins and the car is turned on the track to the point where you are now facing the ground the sensation of flying is unbelievably exhilarating, and just a little scary.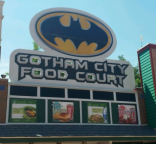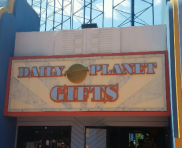 The rides of Gotham City are certainly the biggest draw but the entire section of the park maintains a D.C. Comics theme; the gift shops are full of t-shirts, action figures and pretty much any piece of comic book paraphernalia you would expect to find in your local shop, minus any actual comic books, sadly. The food court also continues the D.C. Comics theme as do the carnival type games of chance where for a nominal fee you can toss rings, or shoot basketballs or throw darts to win stuffed toys of Batman, Joker, Harley Quinn or a satin cape featuring your favorite D.C. character's logo or likeness. The only real disappointment of the day was that the Batman stunt show had been temporarily shut down, so we had to be content with seeing a Tim Burton-era style Batmobile, which very uncharacteristically of the Dark Knight had a flat tire. That seemed to be indicative of the lack of upkeep done to preserve these treasures; every single one of the attractions in Gotham City could have done with a fresh coat of paint; there was an air of dilapidation surrounding rides there were at one time the star attractions. I couldn't help imagining how great it would have been to visit this park in the 90's and how now would be the perfect time to re-invigorate and renovate this fantastic corner of Six Flags where so much comic book magic has come to life.

The park closed at 8 p.m. which seemed rather early for an amusement park to close its gates for the evening, in fact we were more than willing to stay at least another hour to fill with the thrills and chills of Gotham City. All in all though the day was an absolute blast, in fact we are already planning a return trip to Gotham City in October when Six Flags hosts Fright Fest beginning September 26th and running through Halloween. So if you happen to be in the Baltimore area be sure to make time for a visit to the closest thing to Gotham City outside of a comic book and head on out to Six Flags.
All the photos in this article were taken by Bag and Bored staff writer Lewis Lane, who was finally coaxed into riding a rollercoaster by the end of the day.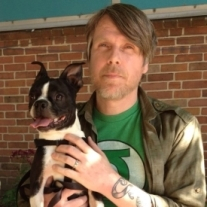 Shawn is an aspiring writer/ artist who has been reading, collecting and living comic books for over 30 years. He lives in Baltimore with his wife, their son, lots of cats, dogs and other various finned and furry friends.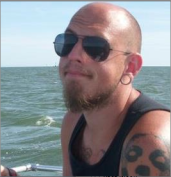 Lewis is nerd from Baltimore that is forced to work when he'd much rather spend his time reading comics, playing video games and getting fat.