Fear and Loathing in Las Vegas: Great White Whale Edition #1
Adaptation: Troy Little
(IDW-2016)
The top was down on the cherry red convertible as he raced across the nothing that was the desert west of Vegas. The dry air was running over him like a drug-addled ghost.  In 1971 this had been deemed a search for the "American Dream", but Troy Little was on his own vison quest for truth.   Unlike the '71 trek, psychological suicide was not Little's means to enlightenment…art was.  
After finishing his, Fear and Loathing in Las Vegas, graphic novel in 2015, Little went on a promotional signing tour that followed the route from Hunter S. Thompson's Gonzo-journalist adventure as close as possible.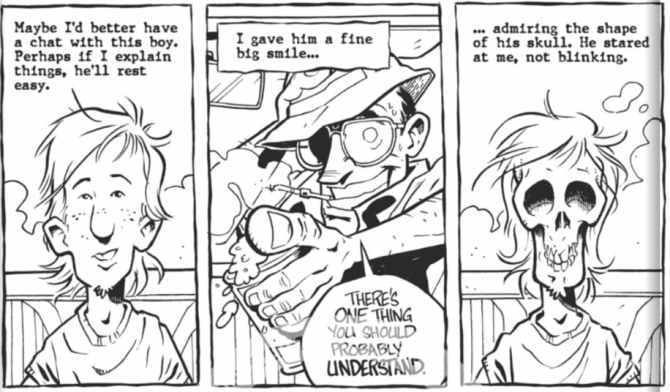 A half a year later IDW has dropped a black and white "Great White Whale" edition that will feature a treasure-trove of extra content into every issue. 
Issue one is 48-pages, and includes a short story, written and drawn by Little, chronicling his journey from California to Vegas.
An adaptation of a novel is difficult in general.  Capturing the feel and essence of a book like Fear and Loathing in Las Vegas is a nightmare. However, Little was up for the challenge.
Hunter S. Thompson's words are what sets him apart.  The Gonzo writing is his and his alone.  In Little's adaptation he smartly lets the late Thompson's words speak for themselves.  He has cut them down, but not set them on a path they shouldn't be going down.  The matter of fact story telling, mixed with the rantings of a lunatic, are laid out perfectly, and flow with ease through the first issue of this story. 
The way the narration is in a typed font was a great touch to represent the history that this property has in book form, and not let the Depp classic be the shadow cast on this adaptation.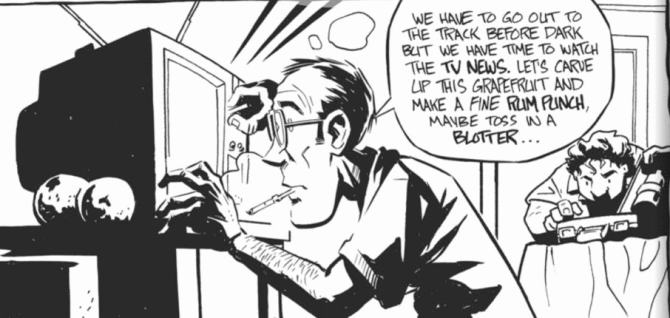 The narration and dialogue is lean and crisp, but the art is what sets this adaptation apart and makes this an amazing visual triumph.  It carries the influence of Ralph Steadman, the Gonzo artist synonymous with Thompson's books, without trying to be that exactly.  Little's style is more cartoonish, with a looser and more whimsical flare than the hard edged chaotic style of Steadman.  And with this "Great White Whale" edition being black and white, it really lets the art stand on its own.  The color edition is nice, but I think the black and white actually works better for this story.
The genius of Little's art style is that it moves in and out of the character's drug induced states.  As Raoul Duke (Thompson's pseudonym while covering the '71 Mint 400 motorcycle race assignment in Vegas) and Dr. Gonzo become more manic and crazed during their ether and cocaine binges, so does the art.  When they start to come down from the drugs, the art follows their lead, and becomes more normalized.  The art isn't just an across the board "drug-effect", though.  Every drug has its own signature that captures the difference of emotions and thinking that it prompts.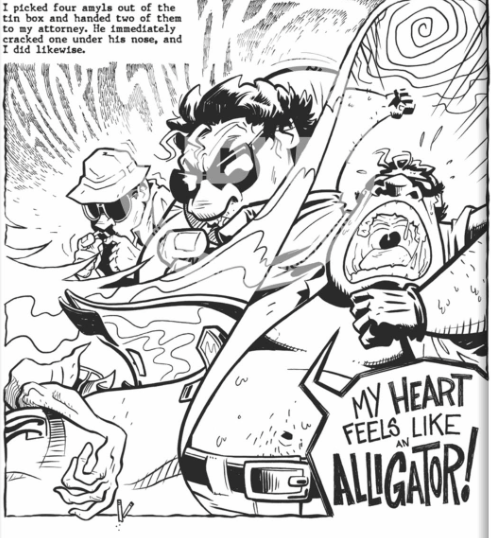 Essentially, Little brings to the forefront three characters in issue #1.  Raoul, Dr. Gonzo, and the possessive nature brought on by the contents of their trunk, i.e, lots and lots of booze and illegal substances.
This first installment of Troy Little's Fear and Loathing in Las Vegas has a hearty page count that gives you more than you could ask for at a 4.99 price-point.  Every aspect was cared for in a loving and Gonzo-ish way.  If you are a fan of Hunter S. Thompson, this "Great White Whale" edition is a must have.  And if you love great works of art, you need this in your long box as well.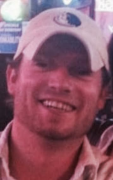 Jonathan Winchester is a writer from Dallas, TX where he lives with his wife Maddie and their annoying cat.  He believes Han was the lone shooter, that nothing looks better than a silver age comic in Mylar, and that there is no better feeling than walking into a dimly lit movie theater.
Twitter- @TexasWingnut