(IDW 2015)
Story / creators: Chris Ryall and Gabriel Rodriguez
Colors: Jay Fotos
Letters: Shawn Lee
Traveling from the depths of space, the female cyborg warrior Onyx arrives on Earth in the year 2083, but will her quest save the world or destroy it? It will fall to a special military team sent into the jungle to investigate the aftermath of meteor that struck Lagos, in Nigeria, to decide whether Onyx is indeed friend of foe, but when a deadly alien spore begins infecting the Earth it could soon destroy them and the entire world.
The artist Gabriel Rodriguez of Locke & Key and Zombies vs. Robots writer Chris Ryall have teamed up to bring us Onyx, a star knight for the next generation! This new IDW series from storytellers / creators Chris Ryall and Gabriel Rodriguez, featuring art by Rodriguez, colors by Jay Fotos, and letters by Shawn Lee, introduces us to Onyx, a cyborg whose mission has brought her to Earth during its most dire hour of need.
In 2083 the world's population has exceeded 10 billion; vast city-states have developed across the world. These huge, overcrowded metropolises have cut a swathe across the natural world as mankind's needs continued to grow; now the remaining animals and vegetation exist only in small, protected natural preserves. The International Global Defense Corp maintains order and global survival. When a meteor inexplicably evades the IGDC's satellite early warning system and crashes into a giant city in Nigeria, a team of high-tech soldiers is dispatched into the jungle to check it out. Attacked by mutated wildlife, they also encounter Onyx who has just arrived on Earth to stop a deadly Galactic Doom Spore from infecting our world.
Chris Ryall and Gabriel Rodriguez have previously worked on several comic series together: including Clive Barker's The Great and Secret Show, George A. Romero's Land of the Dead, and Beowulf, but this is the first time they have collaborated together to create an entirely new title of their own. Onyx #1 blends exciting Sci-Fi themes and all-out action with Ryall's and Rodriguez's intricately structured vision of the future. The timeframe and setting is skillfully established across the opening pages, Onyx's arrival on Earth is handled really well, and the mystery of the missing IGDC army team Zain builds as team Avin heads for the jungle.
I like how we are introduced to the IGDC army team Avin while they are en route to their mission. Ryall and Rodriguez makes each of the characters in the team feel really distinct and individual, we've got tough talking marines here, there's also a navigator, an astrophysicist, geologist, and even someone from Psi Ops with telepathic abilities. The camaraderie between team Avin is well developed, but it is perhaps Abigail, our ìLoner from Psi Ops, who stands out the most, and her struggle to filter out the static thoughts of her team mates gives us some inkling of just how strong her psi powers can be - even overwhelming in some instances.
After some high-altitude drama in the skies over the jungle, the soldiers finally get to meet Onyx, and it's from this point the issue really hits its stride. In a seamless blend of action and exposition, we learn about Onyx's origin, that she is bonded to her armor, and discover the Spore's terrifying power to infect life forms and transform them into raging monsters. Onyx's mission is to wipe out these alien spores, which also infected her own world, Pelimosa. Now Onyx's lonely quest to stop the Spore destroying other worlds has brought her to Earth, and she's prepared to take whatever action is necessary to complete her mission - even if it means ending us.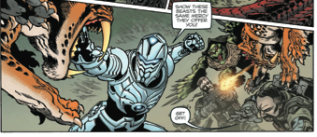 The art by Gabriel Rodriguez is stunning, the layout of every page conveys the kinetic action perfectly, and really pulls you into the story. From the huge city and meteor strike, through to the action in the jungle, and Onyx's introduction and flashback to events on her home planet, Rodriguez's work is utterly superb. The detail lavished on Onyx's armor and the way its energy-blade weapons function is all beautifully rendered. The mutated wildlife is also graphically depicted, as is the fate of team Zain, which also is equally gruesome. Add in the excellent colors by Jay Fotos and lettering by Shawn Lee, and Onyx #1 is one mighty fine looking book.
Onyx unashamedly wears its influences on its sleeve, with Rom The Space Knight (A character which I'm also a massive fan of as well!) obviously being one of the biggest inspirations for this new Sci-Fi action-adventure series, but what comes across most is Chris Ryall's and co-creator Gabriel Rodriguez's wish to make Onyx a true collaboration on every level.
This first issue rounds off with Onyx and the army team Avin preparing to take the fight to the Spore mutations, but with seeds of mistrust already taking root, its looks certain that challenging times await them all. I really enjoyed Onyx #1, there is a wealth of potential here, Onyx is a brilliant creation, and the situations and characters Ryall and Rodriguez have established in this first issue alone are just begging to be explored further. With its great story and terrific visuals Onyx #1, gets the series off to a fantastic start, and it's certainly a worthy addition to your pull list.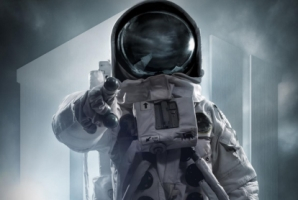 Paul Bowler is a self-Confessed Sci-Fi Geek, Doctor Who fan, and Zombie Disposal Expert. He likes movies, comic books, and all things PS3. He likes to write about his interests, would love to write a novel one day, and also enjoys chatting to the many people he has gotten to know on Twitter. When he's not busy being an Impossible Astronaut, he likes to take a break from his adventures in time and space to enjoy some of his favorite TV shows and movies, preferably with a nice cuppa tea & a sandwich! You can follow him on Twitter @paul_bowler, or find him at his website, Sci-Fi Jubilee.