(IDW 2016)
Writer: John Barber
Art: Livid Ramdondelli
Letters: Tom B Long
Regular Cover: Andrew Griffith & Josh Burcham
The brand new era continues in IDW's Transformers #52 as All Hail Optimus: Part 3 builds on the implications of Optimus Prime's decision to annex Earth and make it part of Cybertron's Council of Worlds during the series' blockbusting 50th issue. Optimus may have declared that Earth is his territory now, but a recent face-off between the Autobots and the EDC on the lawn of the White House has only compound the situation and soured relations.  In order to achieve his goal Optimus Prime realizes he must now reach out to Cybertron and form a coalition with some old friends, and even some of his oldest enemies.
Optimus Prime is determined to save the Earth, even if the people of Earth want it or not! Writer John Barber begins to clarify the all encompassing ideology at the heart of Optimus' vision for Earth and its place in the Cybertron Council of Worlds during this powerful issue of IDW Publishing's Transformers series. The consequences of Optimus Prime's annexing of Earth now spills over into the complex social-political arena of the Transformers universe, where all parties have agendas of their own and Prime's intentions are now called into question.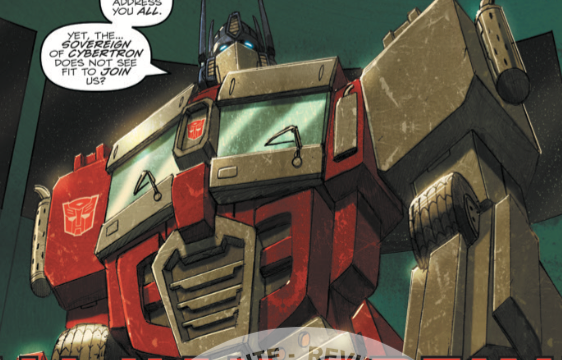 Transformers #52 ramps up the tension, political intrigue, and power-struggles between all the different factions involved.  It's the kind of issue that John Barber excels at, were the simmering tension bubbles away beneath the surface, and the vast cast of Transformer characters involved all get their moment in the spotlight. With Galvatron, now in control of the Onyx Interface, he observes Optimus Primes actions from his secret lair on Earth, while Blackrock, having embraced his Cybertronian heritage, reaches out to Skywarp for help. Meanwhile at the Icon on Cybertron, the meeting between the council and Optimus Prime doesn't go smoothly, especially with the chosen one and ruler Cybertron, Starscream, doing his level best to throw a spanner in the works at every given opportunity.
Starscream's constant jibes and play on words, together with his fellow council member's reservations, hint that Oprimus' designs - however honorable and well meaning - might actually be more akin to being compared to the Primes of old who took power for themselves. In some ways, Starscream actually has a point, with Colonists feeling aggrieved after being seemingly abandoned by their "Space Messiah", conflict also brewing on Earth, and innocent bystanders such as Sterling getting caught in the crossfire, it all fuels Starscream's argument, and even those closest to Prime find it impossible to support his cause.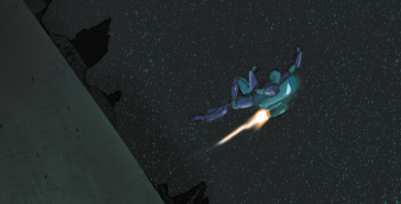 The artwork by Livid Ramdondelli is beautiful done, every scene is packed with characters, and the dark political tone is captured perfectly. If anything, the actual meeting on Cybertron is a brilliantly dramatic and grim affair, Ramdonelli infuses every scene with tension, and the dark atmosphere will have you hanging on every word. Likewise, the exchanges between Starscream and Bumblebee afford another fascinating insight into these characters and the circumstances that have thrown them together. We also get a volcanic showdown between Galavatron and Arcee in Argentina that is another of this issues big highlights, and Glavatron's coaxing of Arcee's doubts about Prime's motives also draws some surprisingly uncomfortable comparisons with Prowl. Livid Ramdondelli does some fantastic work in this issue, every page has an almost cinematic feel to it, and the color and lighting shades employed throughout are simply breathtaking.
Optimus Prime and Aileron take a quick trip to the Cybertronian colonly on Caminus for an audience with the mistress of the flame, before events come to a head between Soundwave and Optimus Prime on Sanctuary Station orbiting Jupiter's moon, Io. Transformers #52 is one of those key instances in a comic book series were not one single line - fantastic work here by letterer Tom B Long on this dialogue intense issue by the way - doesn't only just serve to further the plot or refine the characters, but also completely blindsides you with some important revelations concerning past events - including the Energon Seed planted by Shockwave and developments concerning who was really responsible for Horri-Bull's death.
A surprise cliff-hanger on Cybertron rounds off this deeply compelling issue. Transformers #52 sees John Barber pulling out all the stops to bring numerous plot threads, back stories, and intriguing characters developments to the fore, which, together with Livid Ramdondelli's stunning artwork, and  a wealth of impressive variant covers to choose from, makes this issue of Transformers an absolute gripping read from beginning to end.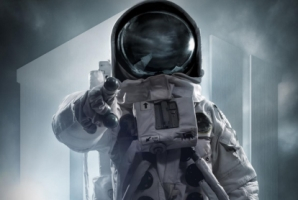 Paul Bowler is a self-Confessed Sci-Fi Geek, Doctor Who fan, and Zombie Disposal Expert. He likes movies, comic books, and all things PS3. He likes to write about his interests, would love to write a novel one day, and also enjoys chatting to the many people he has gotten to know on Twitter. When he's not busy being an Impossible Astronaut, he likes to take a break from his adventures in time and space to enjoy some of his favourite tv shows and movies, preferably with a nice cuppa tea & a sandwich! You can follow him on Twitter @paul_bowler, or find him at his website, Sci-Fi Jubilee.