(Titan Comics 2016)
Writer: Caven Scott
Art: Adriana Melo
Colorist: Matheus Lopes
Letterers: Richard Starkings & Comiccraft's Jimmy Betancourt
Main Cover: Shea Standefer
The ninth Doctor returns, along with companions Rose and former time agent Captain Jack Harkness, in Doctor Who The Ninth Doctor #1, the brand new ongoing series from Titan Comics. While busy setting up temporal beacons on a distant world, the TARDIS intercepts a strange message. Following the transmission back to its source could lead to clues about why Jack's mind was wiped, but when they arrive on Gharusa Prime the Doctor and his friends are stunned to discover it's a world where the 9th Doctor has become a celebrity!
This new series from Titan Comics follows the ongoing adventures of the ninth Doctor, Rose, and Jack, and it seems that some time has passed since they were involved in helping bring about peace in the galactic temporal war between the Union and the Lect in the last five-part Titan Comics mini-series. The breathtaking pace of the TV series' 2005 return is beautifully harnessed by Caven Scott's fast-paced storyline; Doctormania Part 1 certainly alludes to all the familiar tropes of that exciting, formative period of the new Doctor Who television series, with snappy dialogue, fun one-liners, and a plethora of in-jokes and pop culture references. Indeed, the ninth Doctor and his companions are overwhelmed to find that he is somehow a celebrity on Gharusa Prime, but it is their encounter with uber Doctor Who fan, the lovely Yani, that totally steals the show in this issue.
Caven Scott does a great job setting up this new three-part story arc, Doctormania, and this first issue quickly throws the Doctor and his companion's right into the heart of the action.  Its great to see adventures featuring the ninth Doctor, Rose, and Jack again, their time spent traveling together in Doctor Who series 1 in 2005 was all too short, they made a wonderful team, and its nice to revisit this period of the TV show and these characters again. Scott has also got Christopher Eccleston's fantastic performance as the ninth Doctor spot on, all of his incarnations character traits are present and correct, and there's even a nod to the programs current timey-wimey catchphrase when its gloriously lampooned by the ninth Doctor during a particularly wry aside to Rose.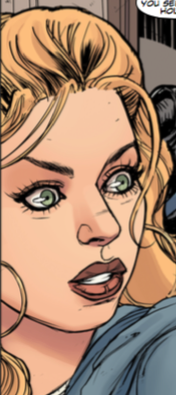 Adriana Melo's artwork for Doctor Who The Ninth Doctor #1 is of a high standard, the page layouts are straightforward, and overall the different situations and locals are all very well realized, from the dramatic opening where the Doctor, Rose, and Jack escape the snapping jaws of a giant millipede-like creature, to the TARDIS interior, there's also some impressive views of Gharusa Prime during the Doctor's exciting set-too with his own self-styled celebrity interloper and a Whoomobile, and Melo even gets the chance to reinvent some cute looking robots from the classic series' distant past in a way that transforms them into a highly formidable threat! Adriana Melo draws a great ninth Doctor, some of the expressions and mannerisms mirror Christopher Eccleston's portrayal as the last of the Time Lord perfectly. However, the likenesses of Rose and Jack do seem a bit off sometimes, which is a shame. Yani is another wonderful character, and her scenes are brilliantly portrayed. Colorist Matheus Lopes also does a fine job balancing vivid tones and somewhat softer shades with ease throughout this issue, brining added depth and clarity, ensuring every scene reflects the pace and mood of the story. 
This issue builds to an exciting cliff-hanger, after the Doctor and Jack get arrested and Rose goes all comic book reporter on us when she follows up a new lead to bookshop, where she finds a mysterious crystal, and the true enemy is revealed at last!
I'm a big fan of Christopher Eccleston's 9th Doctor and the 2005 series of Doctor Who in general, so I was really looking forward to this new Titan Comics series. While it's not as "fantastic" as I might've hoped, Doctor Who The Ninth Doctor #1 gets the thee-part Doctormania storyline off to a good start, Cavan Scott weaves a concise web of intrigue around the Doctor and his companions, and the art by Adriana Melo really evokes the looks and feel of this era. Minor quibbles aside,  Doctor Who The Ninth Doctor #1 is a fun and exciting issue, and its centrally well worth a look if, like me, you are a fan of this era of Doctor Who.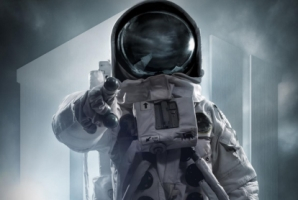 Paul Bowler is a self-Confessed Sci-Fi Geek, Doctor Who fan, and Zombie Disposal Expert. He likes movies, comic books, and all things PS3. He likes to write about his interests, would love to write a novel one day, and also enjoys chatting to the many people he has gotten to know on Twitter. When he's not busy being an Impossible Astronaut, he likes to take a break from his adventures in time and space to enjoy some of his favorite tv shows and movies, preferably with a nice cuppa tea & a sandwich! You can follow him on Twitter @paul_bowler, or find him at his website, Sci-Fi Jubilee.