(Boom! Studios 2015)
Written by Curt Pires
Illustrated by David Rubin
Colors by Michael Garland
Letters by Colin Bell
Everyone who loves to read has had that moment when they're reading a good book and discover that time has passed without you knowing about it. For me that's one of the greatest feelings in the world. (As long as I'm not late for something.)
Curt Pires has taken that concept and brought in a touch of horror in his latest book from Boom! Studios, The Fiction #1, out this week. Pires has had success with other books like Theremin and Mayday, one a historical fiction and the other a gritty crime book. This time he delves a little deeper into the realm of fantasy, exploring the connections that a group of children form when they play together and the ways that those connections can become a lasting bond.
Tyler and Kassie have found themselves to be the last of a group of four friends who once upon a time found a magic book that sucked them into the fictional world contained within its pages. When they were kids, one of the four vanished, and more recently another has disappeared. Somehow that book was found at the crime scene. Now Kassie and Tyler have decided that the only way to find their two missing friends is to find the book and go inside, where they believe their friends are trapped.
The idea of getting into a story is nothing new, but Pires presents it in a more sinister way than I've ever seen it before. There something almost parasitic about the book and that strange twist on the story makes it more infectious in the reading.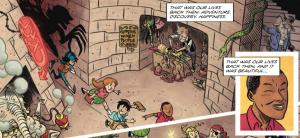 David Rubin (Hero, The Rise of Aurora West) illustrates the book and his whimsical style is perfect for the fantastical nature of the story. Just like in a classic fable, there's an opportunity in his art to be weirdly terrifying if the need arises. It reminds me of Iain Laurie's work in And Then Emily Was Gone, that strange mix of cartoon and the supremely odd that creates an unsettling feeling in the pit of your stomach. When Rubin decides that the art needs to be dark, it is such a great contrast to the lighter side of the story that it hits you in the perfect way.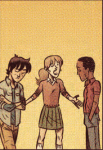 Colors are a huge part in how this book is perceived. There's a great technique (perhaps a filter?) that Michael Garland uses on some of the flashback panels that make them look like they're on newsprint. The other flashback stuff is as bright as a Disney cartoon, and seems more hopeful than the "older people" panels. Perhaps an analogy to the freedom of childhood? Perhaps I'm reading too much into it.
The Fiction takes the phrase "getting into a book" to a whole new level. Curt Pires and David Rubin bring just the right amount of the weird and the sane to this book, and make it feel like something you should have read when you were younger. Keep an eye on this one, or at least dog-ear the page.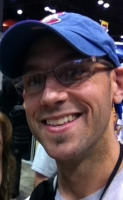 Brad Gischia is a writer and artist living in the frozen Upper Peninsula of Michigan. He is married and has three kids and a dog, all who put up with his incessant prattling about comic books.
Twitter - [email protected]