(Titan Comics 2015)
Written by Alan Martin
Drawn by Jamie Hewlett, Brett Parson, Warwick Johnson-Cadwell, Jonathan Edwards, and Phillip Bond
Additional Artwork by Jim Mahfood and Craig Knowles
Lettering by Jim Campbell and the artists
I hate to even say this, but I'd never heard of Tank Girl until I saw the Lori Petty movie from 1995. Now that I think back on it, the thing that sticks in my memory the most was Lori Petty's performance and the actual comic images that were shown in between scenes. It was the first time I'd seen Jamie Hewlett's work, and I have loved it ever since. So in that sense (and probably in that sense only) the film was a success.
Since it's first publication in 1988, Tank Girl has become a cult hit around the world. Creators Jamie Hewlett and Alan Martin made a gritty, fast-talking heroine, the femmiest of feminists, and Tank Girl is everything you could want from a comic book and a little more. It has humor and sardonic wit, girls, guns, anthropomorphic kangaroos, tanks…roll all that into a blender with punk music and a pack of coffin nails and you have what Tank Girl has become, a greatly entertaining comic.
With the re-launch of 21st Century Tank Girl, from Titan Comics, we get more of the same. This format takes the form of short stories within the Tank Girl universe. The original team of Hewlett and Martin are still on call and take the reins for the first story. The rest of the art is divided amongst four other artists, who all bring their own sense of style and flair to the book.
Each story is penned by Martin, so you know that it will have all of the wit he's put into the comic since it inception. Tank Girl is a chain-smoking, tank-driving punk. Any notions you may have to higher purpose can be joyfully tossed aside, giving you the opportunity to just sit back and enjoy what you're reading.

Warwick Johnson-Cadwell draws the short titled "Easy", a story that has nothing but sound effects and the art to let you know what's going on. He's got very stylized art, it feels European to me (rightly or wrongly) with the elongated figures and heavily lined qualities.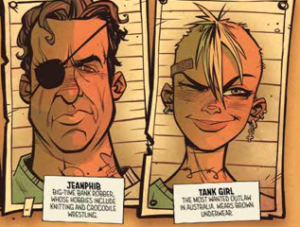 Brett Parson takes art duties over in "The Runny Man". His work is fantastic and I can't wait to see more of it. His characters are near-caricatures, but wholly great. It reminds me a little of Humberto Ramos' early work on books from Cliffhanger with a bunch of MAD magazine thrown in for good measure.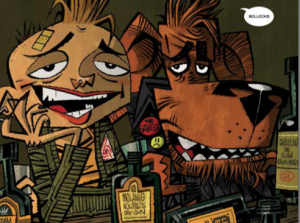 Jonathan Edwards draws in "Sundrenched Martain Superholiday" a travelogue of pinups with text that reminds me of the art you see in cartoons like Johnny Test from Cartoon Network. It's a fun and exaggerated style that harkens back to early 90's cable network cartoons, that surprisingly, feels nostalgic now.
21st Century Tank Girl #1 proves that no matter the century there will always be room for a chain-smoking, tank-driving punk and her loveable band of misfits. It's a great showcase of art and short story, wholly worth your time and money.  If the Tank Girl Team continues in this vein then it has found a permanent spot on my pull.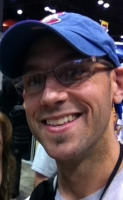 Brad Gischia is a writer and artist living in the frozen Upper Peninsula of Michigan. He is married and has three kids and a dog, all who put up with his incessant prattling about comic books.
Twitter - brad@comicwasteland